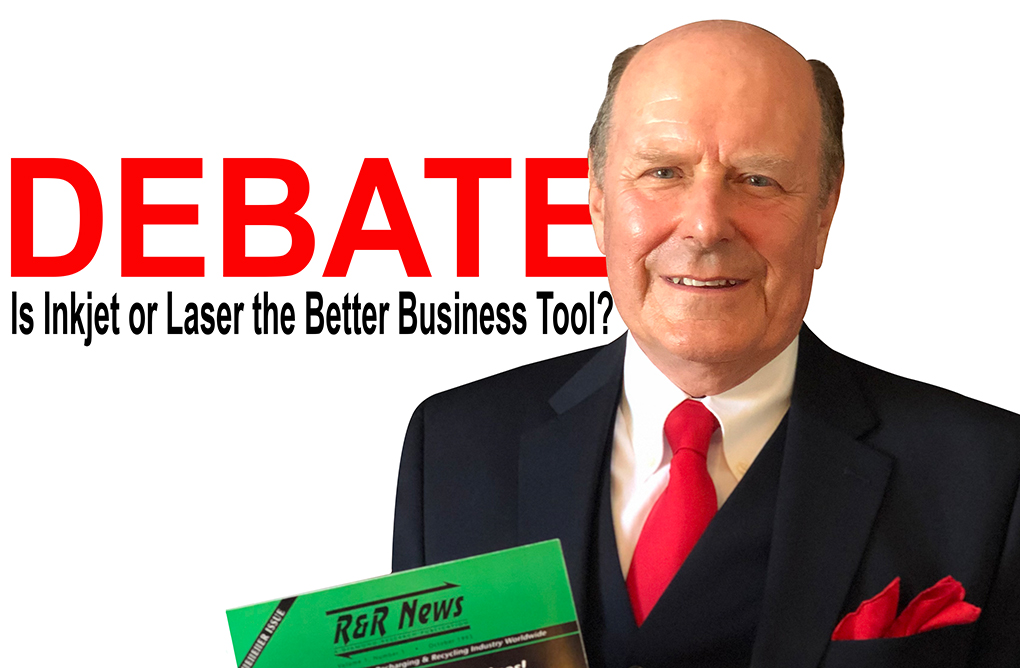 Debate: Toner & Laser Supplies Will Continue to Dominate
Debate Topic: Is Inkjet or Laser the Better Business Tool?
Arguing in favor of inkjet is Jarek Yang. Yang is Senior Product Manager at Ninestar Image Tech Limited. Since joining Ninestar in 2004, Yang has been responsible for researching and developing inkjet & ink products for the company. As one of his past accomplishments, he led a team to launch Eco-Saver series inkjet cartridges. His experiences in this field allow him gaining some unique insight into the inkjet market.  Click here and read his response.
Arguing in favor of laser (toner) is Graham Galliford. Galliford is a world-renowned consultant having worked in the field of toner-based printing technology since 1974. The particular emphasis of his firm, Galliford Consulting & Marketing, is on digital printing with electrostatic toner. Operating from a unique facility for R&D on digital printing materials Galliford has completed many projects concerning the formulation, manufacture, application and marketing of these products and been a regular speaker at conferences in North America, Europe and Asia on all aspects of the digital printing and the toner business from technology to marketing to manufacturing. He has given over 80 presentations to industry gatherings over the last 30 years including Seminars on Digital Printing Technologies and Chemically Prepared Toner Technology and Markets.  Read his argument below:
---
Debate: Toner & Laser Supplies Will Continue to Dominate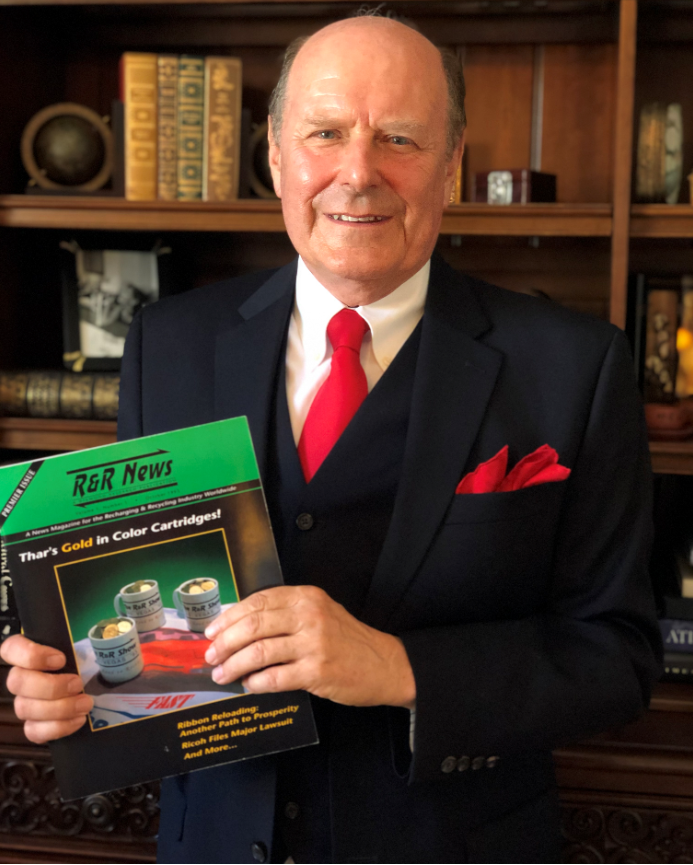 How is "dominate" defined? It can mean rule or control, exert the supreme determining influence, overlook from a superior height or be predominant in something. To most, I believe, it is the latter that would be recognized as the indication of the dominance of one print technology compared to another, but dominance in what way? Is it in the number of cartridges sold to the market, the value of supplies sold to the market, profit made in sales to the market or the number of pages printed by users? I believe dominance is defined by the latter.
Why is toner-based printing currently dominant in the global office printing market? The predominance of the volume of prints made using toner compared to inkjet for business will continue, because of the large number of toner-based printers in the installed base, and the higher average monthly print volume for toner-based devices. In addition to this, the advantages in hard copy characteristics mean that there is a user preference for pages printed using toner.
Worldwide Printer Page Volumes
The total toner that will be consumed worldwide will continue to be about 180,000 metric tons per year and this will be used to make the equivalent of 2.75 trillion pages. Eighty thousand metric tons of toner is used in desktop laser printers each year.  Therefore, globally 1.2 trillion A4-equivalent pages are printed by toner-based printers/MFPs. This compares to slightly less than one-half trillion by inkjet.
Worldwide page volumes printed from office printers are severely down in 2020, due to many offices being closed and many remote workers are not able to print at home. This is not only because of lockdowns, but also as the Covid-19 pandemic changes where and how work is done. Published research from International Data Corporation forecasts that total page volume will fall 13.7 percent from 3.2 trillion pages in 2019 to 2.8 trillion pages in 2020. It is predicted that the market will bounce back slightly in 2021, but page volume is now predicted to see a negative compound annual growth rate (CAGR) of -4.8 percent through 2024.
Over recent years, there has been a growing preference for digital collaboration in business and this will continue in the post-Covid world. This digital transformation will give rise to the growth of cloud print, digital workflow and changed print infrastructure. There may be a shift to the use of more distributed printers instead of larger workgroup printers. The pandemic has and will continue to accelerate the digital transformation of business and this will have an effect on print volumes. The predicted worldwide print volume is shown in the chart that follows.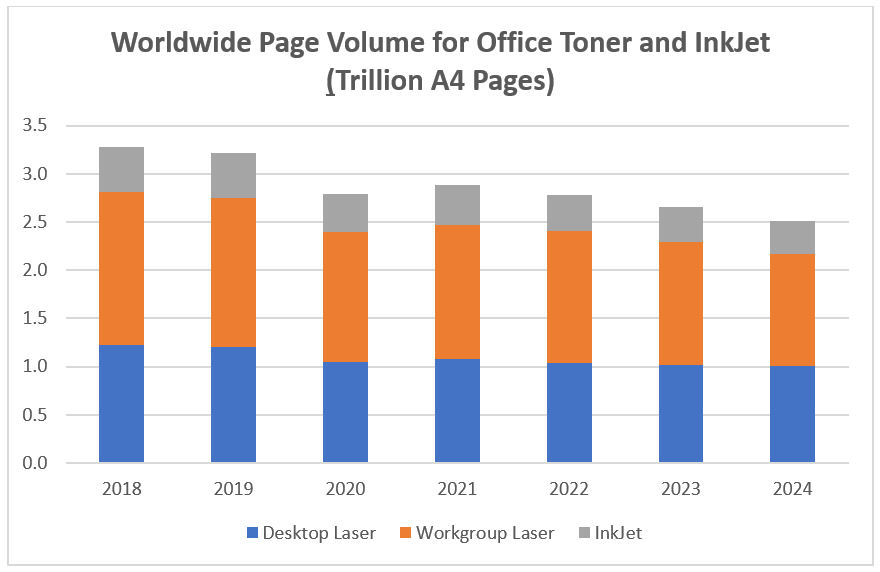 Average Monthly Page Volume and Digital Transformation
So, total page volume worldwide will decrease, and the average number of pages printed per printer will also decline with the growing digital transformation of the office. However, the average number of pages printed per month by toner-based printers will remain much higher than that of inkjet. Shown below is the predicted average monthly print volume from office printers by technology.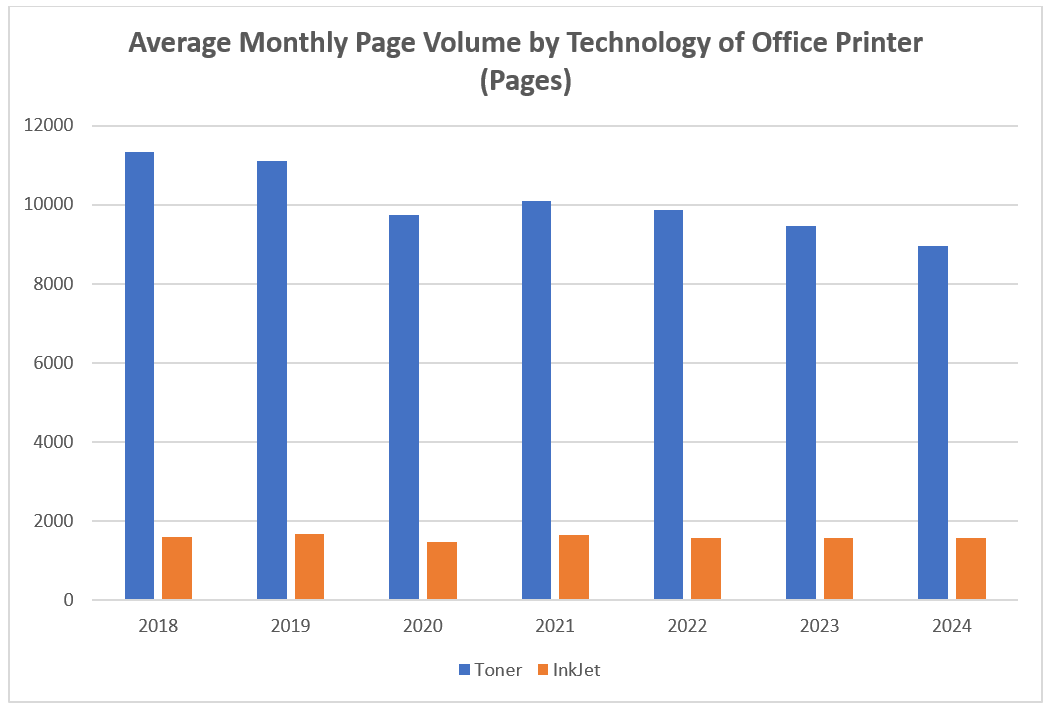 Typically, the job type produced on laser printers is different from inkjet. The jobs printed on laser printers tend to be longer runs of multi-page documents. Such documents are less subject to digital transformation than simpler single-page types which are more typically produced using inkjet.
From the current moderated level, it is sure that business will resume substantially, meaning that business printing will resume substantially too. Changes in the working environment predicted are that 25 percent of workers will continue to work from home either 100 percent or a proportion of the time.
As a result, the digital transformation in documents in business will continue and likely accelerate. However, when working remotely, some workers will need to print. A large proportion of employees who were printing regularly in the office and are now working from home are printing less and working more digitally. Those that do have a printer at home are unlikely to have a device that adheres to the tight security standards that would be expected in a corporate environment so printing on an office device through cloud printing will become more prevalent. Cloud print services are emerging as an effective way to implement a cost-effective print infrastructure enabling reduced capital expenditure and operating costs and is expected to expand.
Why Are Laser Toner Printers Dominant?
The existing installed base of toner-based printers is robust and is not going to be reduced substantially in the near future. The forecast for the worldwide office printer installed base is shown below: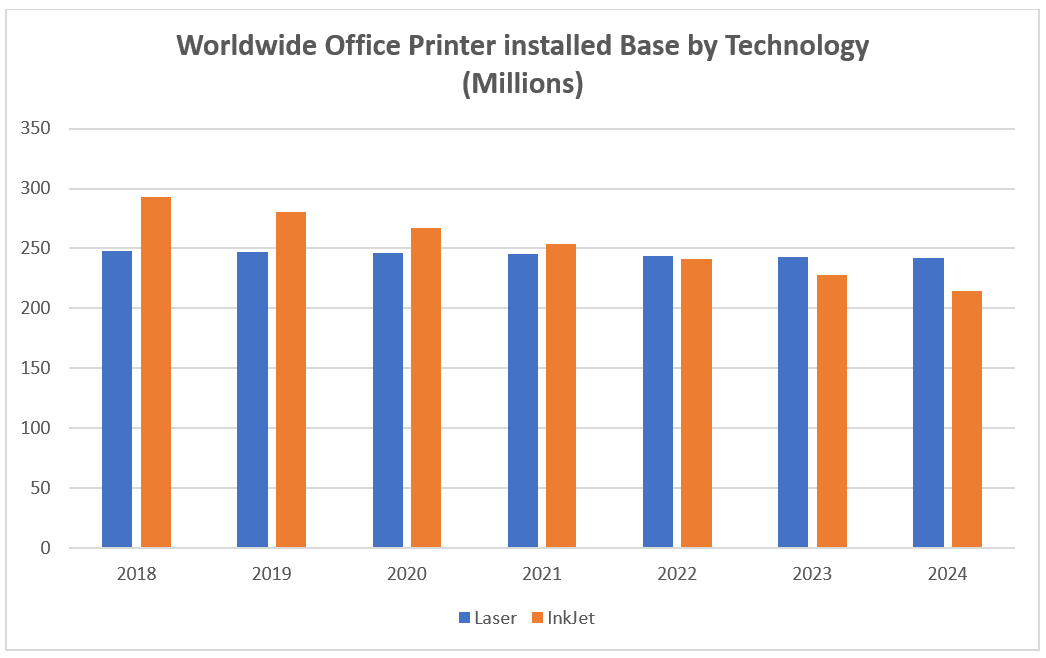 There is, as can be seen, going to be a continued decline in the installed base of printers and this is, of course, signaling a change in work practices from digital transformation. The installed base of inkjet machines however will decrease more steeply than that of toner-based printers.
Already printer shipments worldwide contracted 7.5 percent to 21.1 million units in the first quarter of 2020. This was due to COVID-19 supply chain disruption as most manufacturers have their manufacturing plants in China. However, in that quarter there was growth in color laser MFPs in the 21-30 ppm range of three percent and ink tank inkjet devices grew 5.5 percent.
Why Toner?
So, this shows that toner-based printing will dominate the market in the coming years, but what are the attributes that distinguish laser-printed hard copy from inkjet prints and make that product more desirable?
Total Cost of Ownership per Page
Typically, the cost of a toner cartridge per page is around three cents and the cost of inkjet cartridges is six cents per page. However, a better comparison is in total cost of ownership per page.
Toner-based printers are at a small disadvantage here. Printer total cost of ownership per page includes the capital cost for the hardware, cartridges, and other operating costs. In the U.S., the total cost of ownership per page for typical office inkjet printers is 1.35 cents for monochrome and 4.93 cents for color printing. This compares to 2.87 cents and 8.77 cents for color for office laser printers of similar class. This difference in cost is able to be justified because of better efficiency and quality of the hard copy produced by laser printers.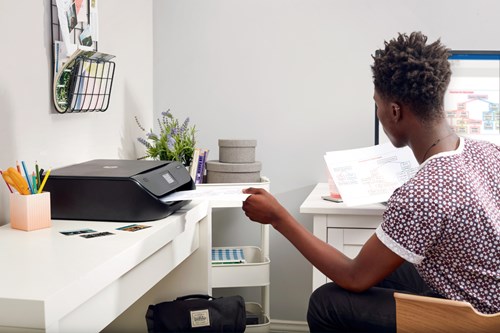 Archival Quality
An important area is that of durability. Toner prints have better archival quality. The attributes of lightfastness and water fastness are especially important for this, and it is here that toner excels. Toner-based printers are also less subject to paper quality variances. Toner-based print quality on a wider range of papers is better than inkjet. Certainly, inkjet excels at printing vivid exhibit-quality photos on special papers, but the proportion of pages of this type of output printed globally is a small proportion of the total. Advancements in toner and printer technology have allowed color desktop laser printers to today produce high-quality color photographs with added reliability, endurance, and economic benefits.
Efficiency and Convenience
Laser printers satisfy the demands of a workplace, printing faster than inkjet printers and therefore are capable of a higher monthly print volume. Desktop laser printers are the workhorse of offices because of the capability to quickly print large amounts of documents. The maximum monthly duty cycle and recommended monthly print volume are much lower for inkjet devices than laser printers. Typically, toner cartridges can print a significantly higher number of pages than inkjet cartridges. Toner cartridges are more convenient because they last longer. Typical inkjet cartridges contain an ink volume that can print between 130 and 1000 pages, while toner cartridge has page yields from 2,000 to more than 10,000 pages. More recent developments of CISS and ink tank printers have allowed inkjet printer to overcome this disadvantage.
It is not in question that printing in business, wherever that is conducted, will continue to be an important element. Toner-based printing clearly will dominate that space for many years to come.
---
*This article is also published in our latest magazine, click to download the whole PDF for free which includes this feature: Debate: Toner & Laser Supplies Will Continue to Dominate.
Read the counter-argument in the debate: Inkjet is a Better Business Tool
Read other articles by the Graham Galliford:
Debate: Toner & Laser Supplies Will Continue to Dominate
Comment:
Please add your comments below about this article, "Debate: Toner & Laser Supplies Will Continue to Dominate."
https://o1.rtcdn.net/uploads/2020/12/Debate-laser-Galliford.jpg
668
1020
Graham Galliford
https://o1.rtcdn.net/uploads/2020/07/RT-logo-old-big-old-jiazi-3.png
Graham Galliford
2020-12-17 16:00:05
2020-12-18 10:50:45
Debate: Toner & Laser Supplies Will Continue to Dominate