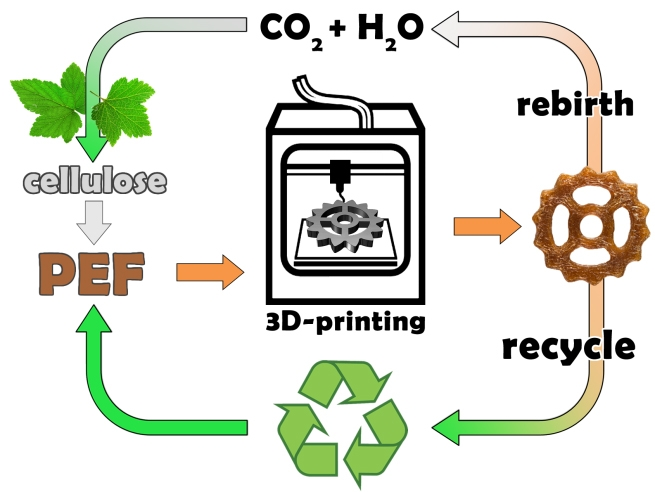 3D Printing Material Made from Biomass Developed

Originally written and published at 3dprint.com
Russian Researchers Develop New Recyclable 3D Printing Polymer out of Biomass Material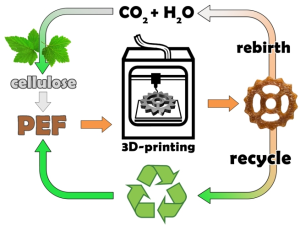 When it comes to 3D printing materials, you won't come across a more popular choice than plastic – there are all sorts of plastics to choose from, and it's also the cheapest of the 3D printing materials. However, plastic definitely has its issues – landfills around the world are filling up with plastics, and the material is depleting fossil feedstocks, as well as forming CO2 in production and combustion processes. A team of researchers with the Russian Academy of Sciences (RAS) in Moscow have developed a 3D printable polymer made entirely from biomass that negates these issues.
Additive manufacturing processes are typically better for the environment than other forms of manufacturing, but plastic waste is still a worldwide issue. Plastics are made up of a range of synthetic, or semi-synthetic, malleable organic materials, and many efforts have been made to use recycled plastic to 3D print objects like prosthetics, leaves that make up a floating Christmas tree, bee boxes, and supplies for astronauts in space.
3D printing polymers have their own disadvantages, such as being attacked by organic solvents, shrinking when heated, and poor adhesion to the print bed, all of which can cause printing errors. But the RAS researchers, who are working with elected RAS member Prof. Dr. Valentine P. Ananikov, have developed a material process that's not only sustainable, but also eliminates these problems.
They developed a polymer from cellulose called polyethylene-2,5-furandicarboxylate (PEF) that can be easily, and inexpensively, used to 3D print high-quality objects that are recyclable and highly solvent-resistant. The researchers detailed their work in a paper, titled "Three-Dimensional Printing with Biomass-Derived PEF for Carbon-Neutral Manufacturing," in the journal Angewandte Chemie; co-authors include Dr. Fedor A. Kucherov, Dr. Evgeny G. Gordeev, Dr. Alexey S. Kashin, and Prof. Dr. Ananikov.
The abstract reads, "Biomass-derived poly(ethylene-2,5-furandicarboxylate) (PEF) has been used for fused deposition modeling (FDM) 3D printing. A complete cycle from cellulose to the printed object has been performed. The printed PEF objects created in the present study show higher chemical resistance than objects printed with commonly available materials (acrylonitrile butadiene styrene (ABS), polylactic acid (PLA), glycol-modified poly(ethylene terephthalate) (PETG)).
The studied PEF polymer has shown key advantages for 3D printing: optimal adhesion, thermoplasticity, lack of delamination and low heat shrinkage. The high thermal stability of PEF and relatively low temperature that is necessary for extrusion are optimal for recycling printed objects and minimizing waste. Several successive cycles of 3D printing and recycling were successfully shown. The suggested approach for extending additive manufacturing to carbon-neutral materials opens a new direction in the field of sustainable development."
The researchers melted powdered polymer in an oven to create a filament, which was then formed, through hot drawing, to a 2.85 mm diameter. Then they drew digital models using Autodesk 123D Design and successfully printed them on an Ultimaker 2, as that particular 3D printer's feeder is farther away from the print head and allows for smaller segments of experimental material to not directly contact the mechanical parts. The 3D printed objects had smooth, high quality surfaces, and the layers were "firmly bound to each other."
The PEF objects, along with objects printed out of PETG, PLA, and ABS, were then subjected to tests, which demonstrated that the PEF objects were more resistant to an aggressive solvent called dichloromethane.
PEF material has high thermal stability, which meant that the 3D printed test objects were able to be melted, re-made into filament, and printed again multiple times. PEF also has a greater polarity than other materials, and the research team believes that this structural diversity means that the material will have new applications.
In addition, according to the researchers' computer calculations, the building blocks that make up PEF may actually have non-linear fragments; these fragments form a spiral twist, which offer "access to new types of geometry."
https://o1.rtcdn.net/uploads/2017/11/Biomass-PEF-3D-printing.png
492
655
https://o1.rtcdn.net/uploads/2020/07/RT-logo-old-big-old-jiazi-3.png
2017-11-02 03:58:54
2017-11-02 05:39:15
3D Printing Material Made from Biomass Developed