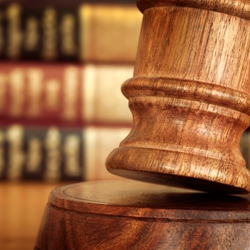 Aftermarket Protects its IP: OEM Set to be Sued
As reported by Recycling Times Media Corporation (RT Media), one large Aftermarket print consumables company is set to sue a large OEM.
According to information gleaned by RT Media, the recent filing of court papers suggests the news could break very soon. While there have been several cases where Aftermarket players have successfully sued OEMs, this new case may be the first involving a cartridge remanufacturer.
In the last year, at least 87 Aftermarket companies have been sued by the OEMs—and countless hundreds over the last 15 years.
Many Aftermarket companies have been developing their own patented imaging technologies. Some Aftermarket CEOs are concerned that their patents are being ignored. "Respect for IPRs (Intellectual Property Rights) is a two-way street," one CEO confided to RT Media. "We respect the IPRs of the OEMs. They must respect ours as well."
Lawsuits between the Aftermarket and OEMs continue to be one of the big challenges facing the industry. Not only are there costly lawsuit expenses, but a company's image may be at risk, affecting customers' recognition and loyalty. Therefore, only by respecting the IP of others, and actively developing patented products of its own, can the Aftermarket survive fierce competition and avoid any lawsuits.
As the leading industry media group, RT Media is cooperating with Innopat Intellectual Property Co—a specialized intellectual property law practice—to co-launch the global imaging patent website: www.Patent-Smart.com. Browsers can easily search imaging patents from all over the world, covering mainly the United States, Europe and China. There will be about 3,000 patents online by February, 2016. Hundreds of the hot issue patents are already there.
Apart from finding the patent information easily, browsers can also read the latest industry legal news and the legal feature articles regarding the hot issues, to help individual companies adjust their legal strategies.
For more information, please visit: www.Patent-Smart.com. Become a subscriber now to get 1-year free e-magazine subscription as well. Subscribe now!
About PatentSmart Website
PatentSmart is a cutting-edge, web-based, patent database that serves the global print consumables industry. Its mission is to inform, educate and empower subscribers so they can conscientiously respect the intellectual property of others, while avoiding costly legal landmines. PatentSmart provides advance-searching functions facilitating quick, professional and reliable searches of worldwide imaging patents.
• Search the original, complete, professional, updated patent information (what, from whom, when and where);
• Download actual patent documents
• Demonstrate your respect for the intellectual property of others
• Keep in touch with the latest, hottest legal news.
• Avoid using infringing components and costly lawsuits.
• Help your business to survive!
About RT Media
Recycling Times Media Corporation (RT Media) educates, informs and provides networking and business opportunities for the 2D and 3D printing industry. The RT Media international team comprises talent from Australia, America, Germany, Spain, Mexico, Hong Kong and China.
RT Media is the organizer of RemaxWorld Expo, the world's largest print consumables trade show event held each year in Zhuhai, China—the world capital of print consumables manufacturing. RT Media also organizes the RT Imaging Summit & Expo—Americas, RT Imaging Summit & Expo—Europe and World Toner Conference. RT Media publishes regular inTouch TV News bulletins and monthly editions of the Recycling Times magazine for the global industry-separately with Chinese, English, Spanish, Korean and Russian editions.
In the 3D printing arena, RT Media organizes the world leading professional 3D printing trade shows—Inside 3D Printing Conference and Expo—Shanghai and iPrint 3D Expo. RT Media was also the first to publish a monthly Chinese magazine focusing on the 3D printing industry—3D Printing World.
Contact Us:
www.Patent-Smart.com
PatentSmart@iRecyclingTimes.com
https://o1.rtcdn.net/uploads/2016/09/0910-ps.jpg
250
250
rtm.master
https://o1.rtcdn.net/uploads/2020/07/RT-logo-old-big-old-jiazi-3.png
rtm.master
2016-09-30 14:12:51
2017-01-04 00:40:25
Aftermarket Protects its IP: OEM Set to be Sued