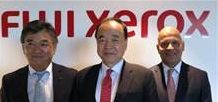 Fuji Xerox Offers Apology to Staff
Fuji Xerox bosses apologize to staff
The Fuji Xerox president and its Asia Pacific president are in the country to personally apologize to the company's 400 Australian staff for the 'sales at any cost' culture and massive accounting irregularities revealed to have taken place under Neil Whittaker's time as CEO in Australia and New Zealand, and the subsequent damage to the company's morale and reputation.
President Hiroshi Kurihara and Asia Pacific president Isamu Sekine are here telling Australian staff and printers that the company has taken all necessary steps to ensure that its corporate governance will never again allow the possibility of a similar situation from occurring again, which saw top salesmen paid huge commissions on sales improperly booked, internal checks and balances weakened, and the company racking up a $450m internal loss.
Kurih
ara says, "I have apologized. Fuji Xerox has now put all systems in place to make sure that our integrity and reputation will be restored. We have acted on all the suggestions made in the initial independent report. We will never again have a situation where sales incentives are allowed to cloud judgment. We are also in the process of appointing a chairman for Fuji Xerox Australia who will be responsible for governance." That chairman is expected to arrive in the next couple of months, once a visa is approved.
Asia Pacific president Isame Sekine says, "There was no issue with cash flow in the company,
and no contracts were breached, it was an internal accounting problem."
Speaking to Proprint the top brass said that Fuji Xerox customers, including commercial printers, were not financially impacted by the scandal, and will not be. Kurihara says, "The issue was an internal accounting irregularity, which essentially came down to the type of leases that sales were booked under. Printers have not and will not be paying more for their hardware, software, services or click charges. As far as they are concerned there is no impact."
For Fuji Xerox itself though there has been a high impact, with multiple staff departures in Australia, a dip in sales – although local CEO Sunil Gupta says it is not certain if this is due to the issue or is just cyclical – and damage to its reputation. In New Zealand, the company has entered a voluntary suspension of sales to government departments and institutions.
The company is considering legal action against the people involved, it has already taken advice from lawyers, but is yet to decide if it will press ahead with action. It is not saying who it is considering suing, but it is almost certain to be the Mr A named in the Fujifilm investigative report, named by New Zealand MP Winston Peters as Neil Whittaker, and may also include his former Aston Martin driving top salesman Dean Murray.
The Fujifilm investigative report revealed a 'sales at any cost' culture, a Tokyo head office with its eye off the ball as it struggled with stagnating sales, and an autonomous local boss – Whittaker –   who changed the structure of the local business to weaken the power of its legal and financial departments over its sales arm. He also damaged morale in Australia by paying the Kiwi salesmen he brought over higher commissions than the locals. Whittaker resigned as Fuji Xerox Australia managing director after an unannounced audit by regional HQ in Singapore last year. Murray went at the same time.
Fuji Xerox Australia managing director Sunil Gupta says, "The issue is now behind us. We have corrected our procedures and processes and put systems in place to make sure this is no longer part of our business. Ethics and integrity are the foundations of our business.
"Our focus now is on our customers. Fuji Xerox is now a solutions and services business. We have positioned the company to enable our customers to be those who benefit from the digital disruption. We are focused on helping our customers significantly improve their performance and productivity, and therefore their profitability."
Commercial printers represent around a third of the Fuji Xerox business. It remains the market leader in Australia. Gupta says, "We are driving forward with innovation that will see our customers at the forefront of the market in existing and emerging opportunities. The graphic communications sector is our priority number one."
http://www.proprint.com.au/News/391313,fuji-xerox-bosses-apologies-to-staff.aspx
https://o1.rtcdn.net/uploads/2017/08/BOSSES-1-e1502259950356.jpg
102
218
https://o1.rtcdn.net/uploads/2020/07/RT-logo-old-big-old-jiazi-3.png
2017-08-09 06:22:02
2017-08-09 06:44:15
Fuji Xerox Offers Apology to Staff