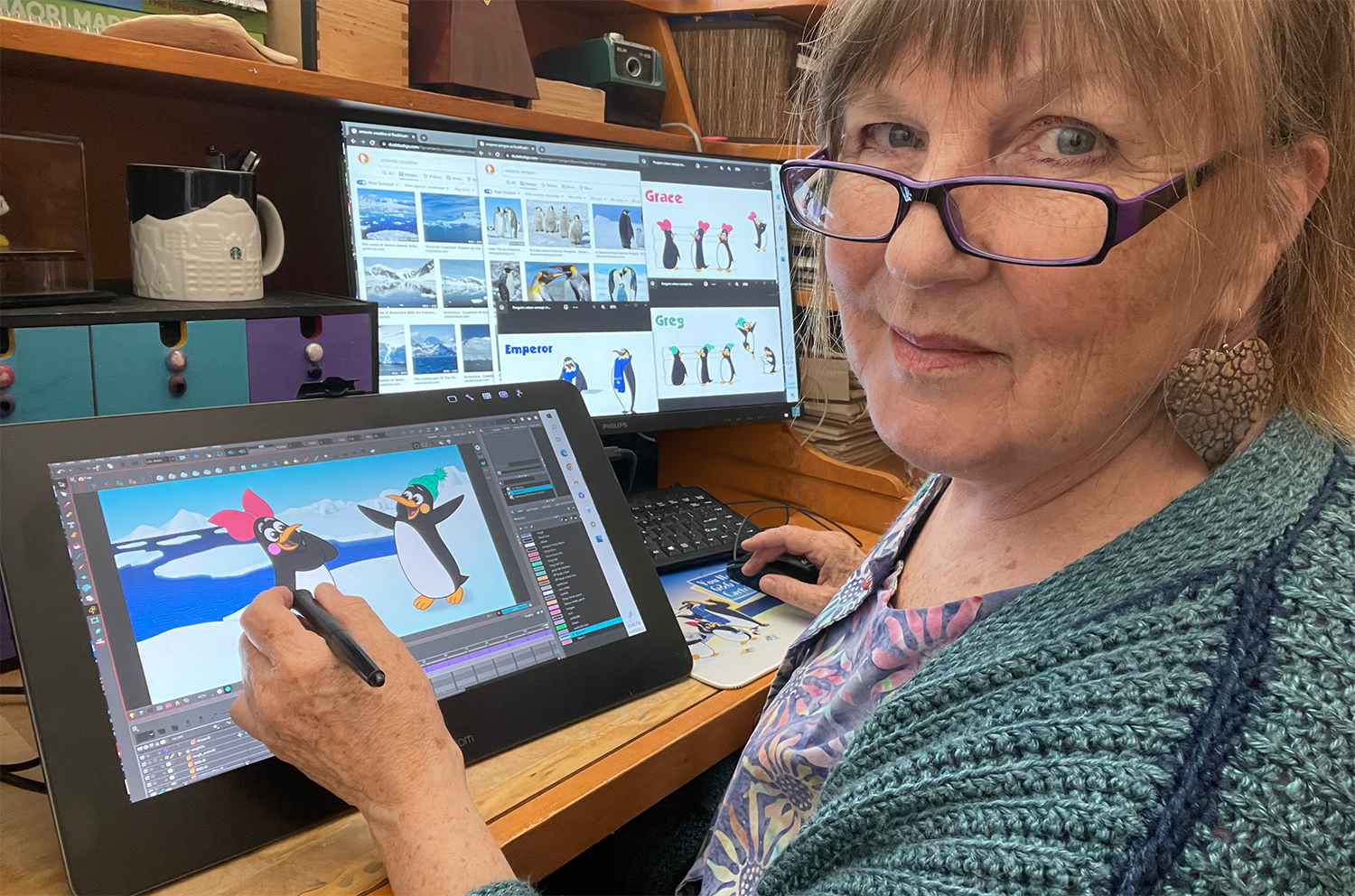 G&G Penguins Get More Help from Former Disney Animator
G&G Penguins Get More Help from Former Disney Animator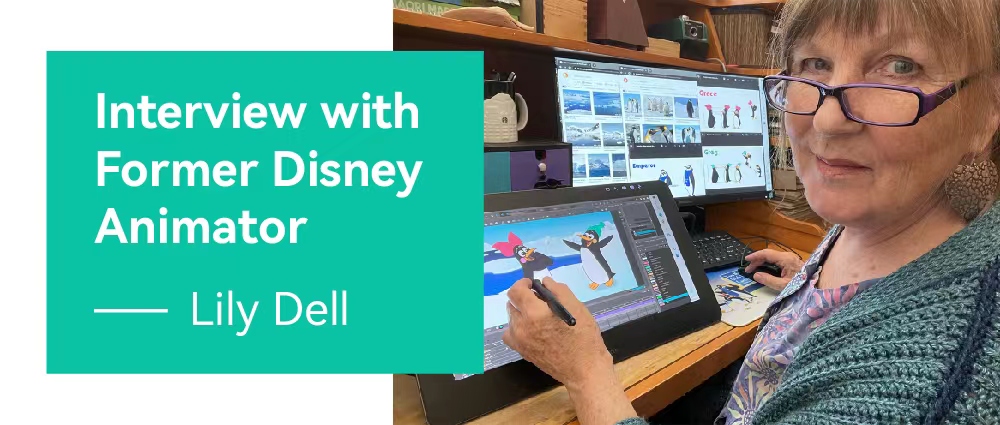 Lily Dell (pictured) took time out from creating her latest animated short film to discuss the project with the G&G team.
Now living in New Zealand, Lily has spent most of her life creating onscreen animations including well-known and loved Disney sequels including The Lion King, Cinderella, and Jungle Book.
"I always enjoy discussing the design processes that go into creating an entertaining piece of animation," she said. "The same is true for G&G when it comes to animating their penguin mascot. It's been a thrill to create the distinctive characteristics of Emperor, Grace, and Greg penguins."
"Most people are not aware of many hours that go into creating a few seconds of animation," she added. "Facial expressions and moods, blinking eyes, and vibrating eyebrows all take time to create so that you can witness the characters come to life."
How important are the voices of each character?
"As I have mentioned previously (click to read the previous interview), each character needs a distinctive voice of their own so they can be clearly recognized. There need to be differences in pitch, tone quality, pronunciation style, and the choice of words used."
I have created Emperor penguin with a calm, professional, cultured voice. I think this helps portray G&G as a reliable, professional, and serious-minded brand.
Meanwhile, Greg has a youthful, cheeky voice. Grace owns a lively, self-assured, and opinionated voice. These characteristics can portray other qualities of G&G as well. I perceive they reveal confident, optimistic, and innovative energy."
How can three penguin characters add value to a brand like G&G?
"The three G&G characters are 'doing life' in their world. It is a fantasy world where they have human-like experiences such as going on holidays, living in an igloo home, and having a printer to print out their holiday snaps. On the animation project I am currently working on, Greg goes fishing to satisfy Grace's appetite. They are working, playing, and solving life's problems together.
I create an entertaining story on film that uses these quirky penguins in their fantasy world to share some truths. Yes, it helps to develop a brand. In this case, it shows how the G&G brand can make 'doing life' easier, with more fun and joy."
To what extent has your previous work as a Disney animator helped you to develop these G&G characters?
"Disney has always set a very high standard when it comes to storytelling and entertainment. There is no doubt that Mickey Mouse is one of the most appealing animated characters in history. I was fortunate to work for Disney for several years, which gave me the opportunity to learn from all those that went before me. I hope that I have been able to bring a little of that magic into the G&G stories."
Will there be more?
G&G is using entertainment to deliver its key messages about its world-renowned, gold-standard print consumables and service available from all its global distributors and partners. Backed by strong R&D, G&G offers an outstanding, efficient, smooth printing experience for those who work or study.
Following the success of the first short film "Holiday Photos", Lily Dell is developing a fresh story, "Gone Fishing" for release in mid-2023. Emperor penguin, Greg, and Grace will return to share another adventure. Click here to learn more about G&G's penguin mascots.
G&G is looking for those who could have creative ideas for future episodes featuring Emperor penguin, Greg, and Grace. The company is providing an opportunity for budding scriptwriters to bring their own stories to life in a G&G animation with the help of the magical touch of a former Disney animator!
Send your story to marketing_center@ggimage.com to see this dream come true.
---
Related:
Comment:
Please add your comments below about this news story, "G&G Penguins Get More Help from Former Disney Animator" or join the conversation on Linkedin
https://o1.rtcdn.net/uploads/2023/03/Lily-at-work-20-March-23.png
992
1500
David Gibbons
https://o1.rtcdn.net/uploads/2020/07/RT-logo-old-big-old-jiazi-3.png
David Gibbons
2023-03-21 12:40:15
2023-03-22 05:59:08
G&G Penguins Get More Help from Former Disney Animator