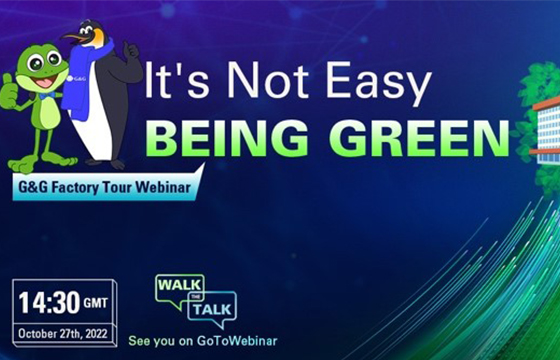 G&G Showcases Its Remanufacturing Capabilities in "Walk the Talk" Webinar
 G&G Showcases Its Remanufacturing Capabilities in "Walk the Talk" Webinar
A virtual tour of G&G's remanufacturing factory in Zhuhai, China, has revealed how empty inkjet and toner cartridges are collected from around the world, selected for reuse, and remanufactured on the production lines.

According to Samuel Liang, G&G's Sales and Marketing Manager, misleading information has been spread around claiming the Chinese only make compatibles and don't care about the environment and remanufacturing. "As someone who lives in China and works at G&G, I know such blanket statements are unfair and untrue" he said.
Following the successful Patent Talk Webinar that highlighted innovation and patents, G&G held its third webinar in its "Walk the Talk" series—the factory tour episode that focused on remanufacturing.
"There's a well-known saying, 'seeing is believing'," said Liang. "We wanted to reveal quite openly that we are in the cartridge remanufacturing business as we always have been since Ninestar started in 2000."
Collection facility: sorting & grading
G&G's remanufacturing process starts with a strong empties collection program. The 12,000 square meter warehouse in HongWan Port, Zhuhai sees more than 750,000 cartridges—from many collection agencies around the world—sorted every month. Skilled technicians sort and grade the empties according to G&G's Empty Cartridge Grading standards and policies.
Strict empties management systems
Complying with the European Union's first sale doctrine, G&G conducts strict empties management systems throughout its remanufacturing process. Every shipment that arrives from the EU must be documented, sorted, graded, and stored separately. For cartridges remanufactured by G&G to return to the EU, they must comply with the Bill of Materials and SKUs for EU and EEA models.
G&G started its recycling programs in Europe, USA, and China in 2020 to create a "closed loop" experience for end users wanting to minimize their carbon footprints. In 2021 alone, 230,218 cartridges were collected in Europe and the USA for recycling—from G&G's own collection campaign—with up to 80% of them being remanufactured.
Remanufacturing production lines
After being sorted and graded, the inkjet cartridges are cleaned with G&G's tailor-made, automated production line. This has increased efficiency up to 20% and saves up to 65% water, which is a green initiative of itself. The sewage produced in the cleaning process is properly handled in an advanced sewage treatment station to avoid any pollutants entering the environment.
Toner cartridges are remanufactured in a manner that fully maintains and preserves the integrity of the structure of the original OEM cartridge. In G&G's remanufactured cartridges, two different toner powders are used. One is sourced from world class toner suppliers in China and Japan. The other is the 100% recycled original toner from cartridges collected in recycling programs, widely used in G&G Reborn copier cartridges.
"It's Not Easy Being Green!" As a follower of sustainable development, G&G has made a long term remanufacturing strategy to reduce the environmental impacts of its products and contribute to a greener planet for future generations.
Click here to watch the recording of G&G factory tour. For more information or to suggest a "Walk the Talk" webinar topic, please contact marketing_center@ggimage.com.
---
Related:
Comment:
Please leave your comments below for the story "G&G Showcases Its Remanufacturing Capabilities in "Walk the Talk" Webinar"
https://o1.rtcdn.net/uploads/2022/11/Banner-2.jpg
360
560
Wanza Wang
https://o1.rtcdn.net/uploads/2020/07/RT-logo-old-big-old-jiazi-3.png
Wanza Wang
2022-11-08 09:47:50
2022-11-08 09:47:50
G&G Showcases Its Remanufacturing Capabilities in "Walk the Talk" Webinar