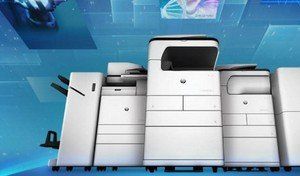 HP Honors Promise to Disrupt the Copier Industry: Ships "World's Most Advanced and Secure A3 Printers"
In a major shakeup to all major markets worldwide HP has released its next generation portfolio that includes 54 SKUs. HP says the release is designed to provide its qualified channel partners the ability to offer higher levels of customization that meet a wider range of customers' printing needs.
A statement from HP says, "The new A3 portfolio transforms today's copier experience for customers and service professionals by offering advanced security features unmatched in the marketplace, affordable color via HP's PageWide printing technology, and longer device uptime via HP's Smart Device Services technology."
Many in the industry have taken to social media channels to react to the news. Philip Rosenthale: "I say fantastic! I'm extremely happy to see a premier brand like HP jump into the MFP ARENA. This gives me hope for the future of our industry. For awhile there it looked like everyone was jumping out of the game not into it."
Tuan Tran, General Manager & Global Head, Office Printing Solutions, HP Inc. said, "We set out to offer our partners a robust portfolio of A3 MFPs with disruptive technologies and a range of finishing options to meet current and future printing needs." He added "Today, we're delivering on that promise, along with our mission to continue reinventing the market. Using the vast knowledge we've gained through our large-scale commercial printers, we streamlined our designs, improved print speeds and enabled higher-quality printing for a lower cost."
A press release from HP adds:
HP has signed and on-boarded more than 500 resellers worldwide, representing many of the largest and fastest growing partners in their respective geographies. With the arrival of the A3 portfolio, partners now have new ways to grow revenue and margins in this $55 billion channel-led opportunity.
"We worked side-by-side with our partners, discussing their needs, assessing their preferred tools and gaining a better understanding of their business models," said Aurelio Maruggi, General Manager, A3 Solutions at HP, Inc. "This co-innovation not only strengthened our relationships, but had a direct, positive impact on the final portfolio."
Advancing security and protecting networks
Embedded with the most advanced security features available on the market, that are necessary to combat the growing number of threats targeting business MFPs, the new HP A3 printers are the world's most secure enterprise MFPs in the market. Considering that modern MFPs now behave more like PCs, and the fact that less than two percentii of the world's hundreds of millions of them are properly secured, improving print security is a top priority for businesses. HP's enterprise-class MFPs incorporate a comprehensive suite of security features that protect devices, data and documents, creating a layered security approach needed to combat advanced attacks.
Cloud-based innovation and reduced costs
HP's portfolio of A3 MFPs — including three PageWide platforms and thirteen LaserJet platforms — benefit from the new, cloud-based proprietary service optimization platform, HP Smart Device Services (SDS). SDS delivers maximum device uptime by integrating advanced diagnostics, device specific troubleshooting and remote remediation capabilities into the industry leading MPS tool sets resellers use today.
The HP PageWide Pro devices make color printing more affordableiii, while simultaneously providing best-in-class print speedsiv. The single and multifunction devices have print speeds ranging from 35 ppm to 60 ppm (up to 80 ppm in General Office mode). PageWide technology is also more sustainable — consuming up to one-seventhv the energy of competing color laser machines in the same class while producing significantly less packaging waste associated with supplies and long life consumables.
Availability
HP's A3 MFPs are available through qualified channel partners, or directly through HP. More information can be found here.
About HP
HP Inc. creates technology that makes life better for everyone, everywhere. Through our portfolio of printers, PCs, mobile devices, solutions, and services, we engineer experiences that amaze. More information about HP Inc. is available at http://www.hp.com.
i Applies to HP Enterprise-class devices with FutureSmart firmware 3.7 or above and is based on HP review of 2016 published embedded security features of competitive in-class printers. Only HP offers a combination of security features for integrity checking down to the BIOS with self-healing capabilities. For a list of compatible products, visit: http://h20195.www2.hp.com/V2/GetDocument.aspx?docname=4AA6-1178ENW. For more information, visit: www.hp.com/go/printersecurityclaims
ii Message based on HP internal global market sizing data divided by HP shipments as of December 2016 of Enterprise-class printers and MFP's priced $599 and above that uniquely include (or could be upgraded) with a combination of security features for integrity checking down to the BIOS with self-healing capabilities. For more information about HP's unique printing security, select a link on the right
iii Lowest cost per color page claim applies to devices that are not sold under contract: Comparison of HP PageWide A3 devices with the majority of in-class color ink/laser MFPs ($3000-$7499/ EUR 2775-EUR 6935), and color ink/laser single function printers ($1500-$2999/ EUR 1390-EUR 2770) as of January/February 2017; market share as reported by IDC as of Q4 2016. Cost per page (CPP) reported by gap intelligence Pricing & Promotions Report January/February 2017, comparisons for devices/supplies not sold under contract are based on published specifications of the manufacturers' highest-capacity cartridges, inclusive of long life consumables and page yield. Average HP yield based on ISO/IEC 24711and continuous printing in default mode. Actual yield varies based on content of printed pages and other factors. For more information, see http://www.hp.com/go/learnaboutsupplies and www.hp.com/go/PageWideClaims
iv Comparison based on manufacturers' published specifications of pages per minute of all A3 color business printers ($1,500-$2,999) and MFPs ($3,000-$7,499) as of February 2016, excluding other HP PageWide products, as reported by IDC as of Q4 2016. HP PageWide speeds based on General Office mode and exclude first page. Learn more at hp.com/go/printerspeeds or hp.com/go/PageWideClaims.
v Energy claim based on TEC data reported on energystar.gov as of March 2017. Data normalized to determine energy efficiency of in-class A3 color laser printers ($1,500-$2,999) and MFPs ($3,000-$7,499) as of February 2017, excluding other HP PageWide products, as reported by IDC as of Q4 2016. Subject to device settings. Actual results may vary.
https://o1.rtcdn.net/uploads/2017/05/TN-77768_A3HPimage_original.jpg
176
300
rtm.master
https://o1.rtcdn.net/uploads/2020/07/RT-logo-old-big-old-jiazi-3.png
rtm.master
2017-05-06 00:08:36
2017-05-08 09:03:52
HP Honors Promise to Disrupt the Copier Industry: Ships "World's Most Advanced and Secure A3 Printers"