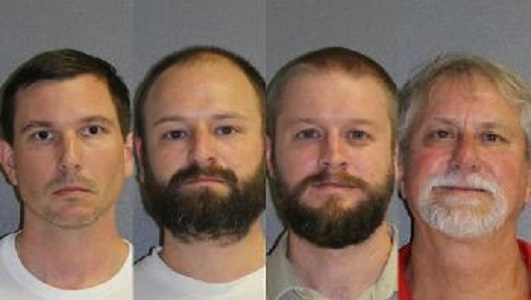 Owners of U.S. Furniture Company Receive Charges Again
Frank Fernandez and Patricio G. Balona from news-journalonline.com reported
Feds file fraud, money laundering charges against Haynes Brothers' Furniture family
Owners of Haynes Brothers' Furniture accused two years ago in a scheme officials said defrauded a copier company of more than $20 million, now face federal charges — even after a Florida prosecutor said they committed no crimes.
David Haynes and his sons Jason Haynes and Kyle Haynes were each charged with racketeering and grand theft in November 2015 by Florida's statewide prosecutor. That prosecutor dropped all charges in October 2016.
Now, a special agent with U.S. Immigration and Customs Enforcement, Homeland Security Investigations has filed new federal charges accusing the men of conducting financial transactions affecting interstate and foreign commerce and using proceeds of an unlawful activity, namely mail fraud and wire fraud.
Federal investigators also said the Hayneses, who have five Volusia County furniture stores, conspired to launder money by engaging in monetary transactions knowing the money was derived from merchandise that was criminally obtained.
The Hayneses and two other men, Bryan Day and Robert Lee Fisher, are accused of fraudulently reselling consumables for copiers, mostly toner cartridges, that they obtained by falsifying the number of copies they made, according to the federal complaint. Investigators said Xerox Corp. lost $25 million in the scheme and that those accused made more than $9 million by selling the consumables, mostly to a Miami buyer, according to the federal complaint filed July 24.
State racketeering and theft charges against Fisher are pending, and he is awaiting trial in Volusia County. Fisher is also a registered sexual predator.
David Haynes did not return a message left on his voicemail on Wednesday afternoon. His sons and the other men could not be reached.
Daytona Beach Attorney Sam Masters, who represents David Haynes, pointed to a statement by Statewide Prosecutor Nick Cox to The News-Journal in an October 2016 story about the charges being
dropped. In that story, Cox said about the defendants: "They were absolutely paying for every piece of toner they bought. Whatever they were billed by Xerox they paid for." Cox did not return messages left Thursday.
Masters said the allegations in the latest criminal complaint are based on the same information.
"All I can say is that the government is alleging the same facts as in the previous case — a case where our statewide prosecutor had determined that no crime had been committed," Masters said.
Masters said he could not comment on details in the federal complaint, such as why the Haynes brothers, Day and Fisher would need more than 50 copiers or thousands of toner cartridges or the the claim by Xerox that it should have received a lot more money than it did for the toner.
"I can't get into specifics of the case," Masters said.
Masters said he and some other Florida attorneys would serve as local counsels, but the men would also retain lawyers in New York.
In 2015, statewide prosecutors said the Hayneses set up the "ghost" companies including HDH Graphics LLC and Aldar Securities, pretending to be in the copying business so they could obtain ink and toner in an agreement where they only paid for copies printed.
State investigators compared the use of toner to other businesses in the area. They found that the Volusia County School Board, for example, with 73 machines, ordered 79 toner cartridges from Fisher from June 2012 to June 2013. In that same time frame, Aldar Securities ordered 22,033 toner cartridges.
State investigators said then, starting in 2008 and until about June 2013, the Hayneses, Day and Fisher obtained $9.4 million dollars from the sale of the illegally obtained ink and toner. Of that money, the Hayneses transferred $1.5 million to HDH Graphics LLC, which they used to buy property. The family also transferred about $187,000 to the furniture business and approximately $300,000 to each other, investigators said.
Fisher received more than $7.3 million of the $9.4 million, investigators said.
HDH Investments purchased four warehousing properties from September 2008 to March 2013 in Ormond Beach, according to property records.
In October 2016, statewide prosecutors dropped the charges against the Hayneses and Day, saying the Hayneses had paid for the toner.
In the federal complaint filed by Special Agent Joshua A. Haslinger who is based in Buffalo, New York, investigators said they reviewed documents from the racketeering and grand theft charges and concluded that the Hayneses, Day and Fisher, continuously deceived Xerox and created ghost companies so Xerox would keep shipping them ink and toner. Xerox made several notifications to Fisher, a copier dealer, about their concern about the large amount of ink and toner the Hayneses bought, but they and Fisher continued to mislead the corporation, federal investigators said.
In the five-year span, HDH Graphics and Aldar Securities also made hundreds of wire transfers to Xerox in reporting purported meter reads, copying numbers that were not accurate, investigators said.
The complaint states HDH received Xerox printers from Fisher but "never made prints for legitimate business purposes. Having so many printers was to deceive Xerox into believing that HDH was making a large amount of prints, thus justifying the ordering of a large amount of toner."
In the complaint, a memo from HDH to an employee gives specific directions on how to report the number of prints, and receive and ship toner. Investigators said the Hayneses falsely claimed to have made millions of copies, paying Xerox for more than 61 million prints, but receiving enough ink and toner to make more than 250 million. The Hayneses' companies had no records that any printing paper was ever purchased or their that their machines — more than 50 copiers — were ever serviced, investigators said.
The group only stopped dealing in ink and toner when Xerox stopped shipping them the product in June 2013, federal authorities said.
In arriving at the wire and mail fraud charges, federal investigators said the men placed orders to Xerox causing hundreds of shipments by UPS and Federal Express to HDH Graphics LLC and Aldar Securities. The group also made 668 wire transfers from Florida to Xerox in New York, the complaint states.
The complaint also said there is probable cause that the group conspired to commit money laundering by making bank transactions knowing that the funds were from an unlawful activity.
https://o1.rtcdn.net/uploads/2017/08/Haynes-Brothers-Furniture-531-300.jpg
300
531
https://o1.rtcdn.net/uploads/2020/07/RT-logo-old-big-old-jiazi-3.png
2017-08-07 03:58:59
2017-08-07 07:54:54
Owners of U.S. Furniture Company Receive Charges Again