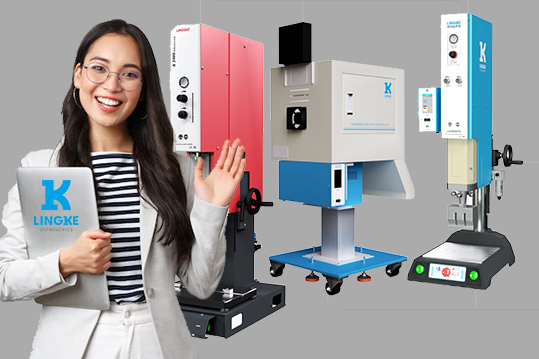 Perfect Plastics Welding Solution Developed by Lingke Ultrasonics
Perfect Plastics Welding Solution Developed by Lingke Ultrasonics
A wide range of industries, including medical, cleaning, consumables, electronics and fabrics are set to benefit from new ultrasonic welding technology developed and owned by Lingke Ultrasonics.
The ultrasonic welding technology can be used for the permanent joining of two plastic parts, for a wide range of products including printer cartridges and packaging. Other daily necessity products include auto parts, stationery and toys, non-woven fabrics, and metal welding.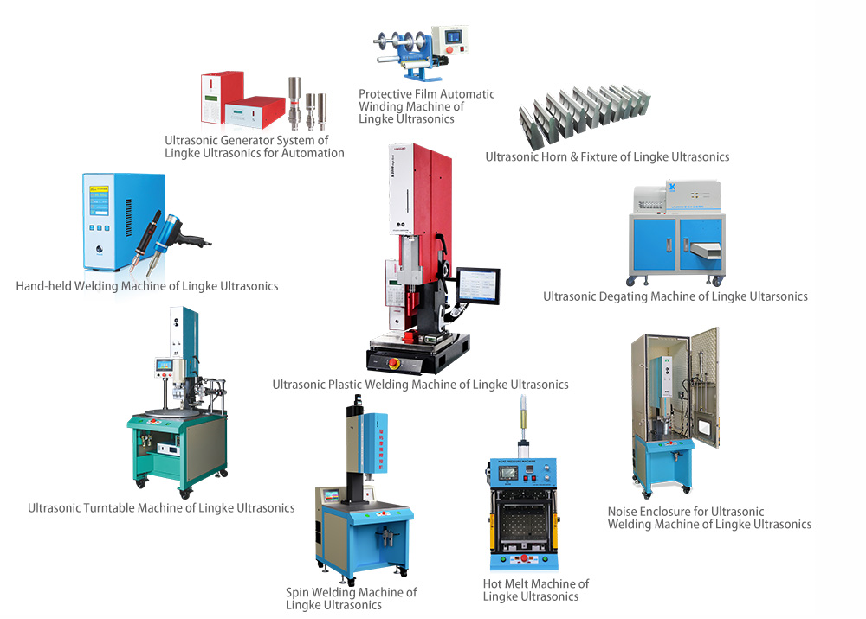 The printer cartridge industry, with its high use of injection molding will benefit.
Commonly used in daily life, such as welding between two half shells of electric toothbrush, plastic toys, writing utensils and other welding products that focus on welding aesthetics; salad and cheese bags, beverage cartons and capsule coffee sealing packaging; printer cartridges, vacuum cleaner bags, Plastic products with high sealing requirements such as medical infusion collectors; can also be used for welding of non-ferrous metal filaments or sheets such as copper, silver, aluminum, nickel, etc.
Lingke Ultrasonic welding equipment is suitable for welding a variety of thermoplastics, its brand Linggao ultrasonic welding accuracy can reach up to 0.01 mm; use heavy-duty linear slides to carry, intelligent electronic control lifting; CNC machining of the whole body; integrated double valve design, High standard functional configuration such as safety grating. It is suitable for lamination and embossing of non-woven materials, embossing of surgical masks, baby diapers, etc., or in the automotive industry such as instrument panel instruments, center consoles or cup holders. It has provided a large number of stable and high-quality ultrasonic plastic welding equipment and application solutions for various industries and enterprises at home and abroad.
The main products of Lingke Ultrasonics include ultrasonic plastic welding machines, ultrasonic automatic matching, rotary friction welding machines, hot melt welding machines, ultrasonic nozzle vibration machines, and ultrasonic mold.
Ultrasonic plastic welding machine:
Ultrasonic welding does not require the addition of solvents, adhesives or other auxiliary materials. High-frequency mechanical vibration is generated by ultrasonic energy, causing high-speed friction and heat generation between the two parts of the plastic product, reaching the melting point of the product, making the joint melt rapidly, and cooling and shaping under a certain pressure. By improving the welding accuracy of the equipment and ensuring the welding process is stable and consistent with the product, the brand of Lingke Ultrasonic has improved the welding accuracy to 0.01mm. The whole equipment is CNC processed and has super rigidity. The latest L3000 series of Lingke's L3000Plus, L3000Pro, etc. Equipment digital intelligent upgrade, time, energy, pressure, stroke and other welding modes to choose from; intelligent operating system, equipped with 10-inch full-color high-definition intelligent touch screen, independent RS485, 232 communication port, fast docking automation equipment… Lingke Ultrasonic also provides welding head fixtures, ultrasonic automation supporting products and services, and can achieve equipment production, sales and delivery in the fastest one day. Provide manufacturers with the most complete supply configuration, convenient for customers to purchase, deploy, and use the whole process of one-stop service, and build a complete ultrasonic plastic welding application service system.
Nozzle shaker
The newly developed Lingke LA-2000 nozzle vibrating machine has two models, horizontal and vertical, which are suitable for a variety of plastic nozzle vibrating and falling scenarios. LA-2000 Nozzle Vibration Machine uses the principle of ultrasonic mechanical vibration, so that the welding head presses the casting for tens of thousands of high-frequency vibrations per second, and separates the runners on the product. It is mostly used to vibrate hard and brittle plastics. artifact. LA-2000 system operation is equipped with a full-color high-definition touch screen, digital welding parameter setting, intuitive and accurate, and intelligent operation; the original imported piezoelectric ceramic transducer is used to ensure strong and stable output. After injection molding of plastic products, it takes time and effort to cut off unnecessary nozzles. Using the ultrasonic cutting nozzle technology, the nozzles of plastic products can be quickly separated, which greatly improves the production efficiency.
Intelligent hot melt welding machine:
The intelligent hot-melt welding machine controls the temperature of the heating plate workpiece mold through the temperature controller to weld plastic products. After reaching the set welding temperature, the cylinder descends and the welding point melts; under the pressure of the cylinder, the welding point on the surface of the product reaches a certain degree of melting, the cylinder rises, and solidifies and forms at room temperature, thus forming a strong molecular chain to achieve purpose of welding. It can be processed for special models for nut implantation, riveting and forming. Equipped with imported bearings, it works smoothly without jamming and the machine head does not sway; closed circuit design, the operating system is equipped with a 4.3-inch full-color high-definition touch screen, the development and design of the product automatic propulsion module, multi-stage hot melt welding system program, intelligent operation; with grating Protection system, constant temperature numerical control heating, greatly improve welding quality and safety.
Lingke Ultrasonics will exhibit at RemaxWorld 2022 during November 3-5, 2022. International visitors unable to get to China this year can still meet with the exhibitors, including Lingke Ultrasonics.
By registering online, RT Media will assist them to meet face-to-face with exhibitors in private meetings, or in other formats. It is a free service for all international buyers.
Register now to connect with exhibitors and suppliers at RemaxWorld 2022!

About RemaxWorld
RemaxWorld—the world's largest trade show for home and office printers, copiers and supplies—has 450+ small, medium and well-known giants exhibiting NEW products and solutions.
---
Related:
Ultrasonic Welding Safer Alternative for Plastic Manufacturing
Comment:
Please leave your comments below for the story "Perfect Plastics Welding Solution Developed by Lingke Ultrasonics."
https://o1.rtcdn.net/uploads/2022/10/Lingke-final.jpg
359
539
Maggie Wang
https://o1.rtcdn.net/uploads/2020/07/RT-logo-old-big-old-jiazi-3.png
Maggie Wang
2022-10-14 11:31:10
2022-10-14 16:37:47
Perfect Plastics Welding Solution Developed by Lingke Ultrasonics