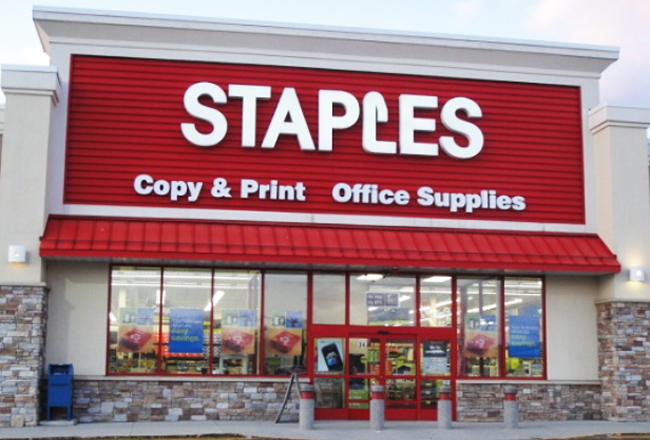 Staples Investors Sue Over $6.9B Sycamore Buyout
Dorothy Atkins reported on Law360
Staples Inc. shareholders launched two separate putative class actions in Massachusetts federal court Tuesday, claiming the office supply retailer and its board misrepresented or omitted material information in its proxy statement to investors about Sycamore Partners's proposed $6.9 billion acquisition of the chain.
Shareholders Stephen Bushansky and Michael Huntley each filed lawsuits alleging Staples failed to disclose key information about the data underlying financial analyses recommending the deal in violation of the Securities Exchange Act of 1934, and Bushansky's suit asks the court to block a Sept. 6 shareholder vote on the deal.
"Unless remedied, Staples' public stockholders will be forced to make a voting or appraisal decision on the proposed transaction without full disclosure of all material information concerning the proposed transaction being provided to them," Bushansky's complaint says.
The suits come in the wake of Staples' June 28 announcement that Sycamore Partners Management LP had agreed to buy Staples' common stock for $10.25 in cash per share through its wholly owned subsidiary Arch Parent Inc.
Staples has been in negotiations with five different potential buyers since August 2016, and during negotiations, bids for the company reached as high as $11.55 per share, according to the Bushansky's complaint. At one point, Sycamore offered to pay up to $11.50 per share, but the company later reduced its offer after the other parties pulled out of negotiations, Bushansky complaint says.
The currently proposed transaction is valued at approximately $6.9 billion, and on Aug. 3, Staples filed a proxy statement with the U.S. Securities and Exchange Commission, recommending that stockholders vote in favor of the deal, according to court documents.
But both lawsuits claim that the proxy statement omits or misrepresents material information about the data Staples' financial advisers at Barclays Capital Inc. and Morgan Stanley & Co. LLC relied on to analyze the value of the company.
"Staples stockholders need such information to cast a fully informed vote or make an appraisal decision in connection with the proposed transaction," Bushansky's suit says.
In addition to the alleged omissions regarding the financial analyses, Bushansky's complaint claims that the company didn't disclose potential conflicts of interest that Staples' insiders have in the acquisition. Insiders stand to reap "substantial" financial benefits for securing the deal with Sycamore, and its executive officers stand to receive multimillion-dollar cash severance payments in the form of golden parachutes, the suit says.
Both suits ask the court to enjoin the transaction, and they are seeking rescissory damages.
As of June 26, there were approximately 653,441,161 shares of Staples' common stock issued and outstanding, according to Bushansky's complaint.
A representative for Staples said Tuesday the company doesn't comment on pending litigation. Counsel for Bushansky and Huntley didn't immediately respond Tuesday to requests for comment.
Bushansky is represented by Mitchell J. Matorin of the Matorin Law Office LLC and Richard A. Acocelli, Michael A. Rogovin and Kelly C. Keenan of Weiss Law LLP. Huntley is also represented by Matorin and Donald J. Enright and Elizabeth K. Tripodi of Levi & Korsinsky LLP.
Counsel information for Staples wasn't immediately available Tuesday.
https://o1.rtcdn.net/uploads/2017/08/Staples.jpg
440
650
https://o1.rtcdn.net/uploads/2020/07/RT-logo-old-big-old-jiazi-3.png
2017-08-16 07:22:57
2017-08-16 07:28:26
Staples Investors Sue Over $6.9B Sycamore Buyout