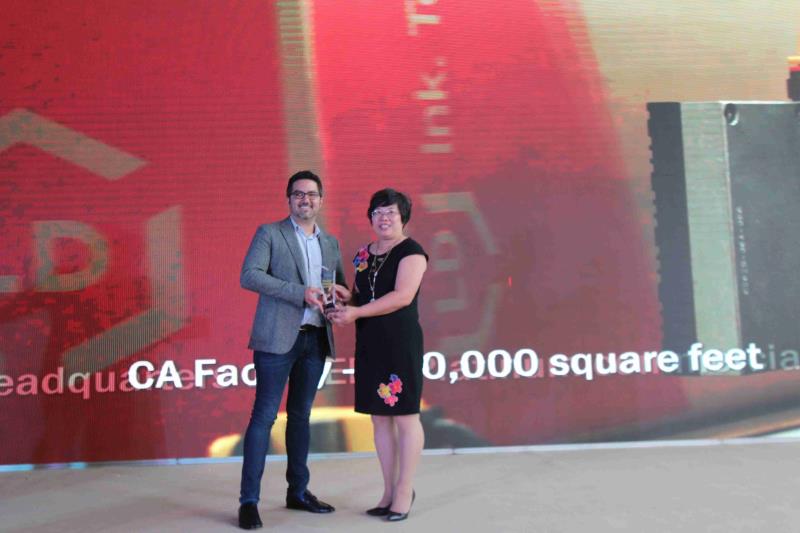 Winners of the 2017 Annual RT Global Imaging Awards Announced at Ceremony in Zhuhai
Nineteen innovative individuals, companies and organizations from 5 countries were honored at the 2017 Annual RT Global Imaging Awards.
On October 12, nearly 80 audience gathered at Annual RT Global Imaging Awards ceremony held during the 2017 RemaxWorld expo in Zhuhai. A great variety of different sectors and industries from all over the world were represented.
The judges were looking for individuals and organizations with achievements in the past year backed up by verifiable evidence from third parties.
Tony Lee, managing director of RT media, stated in his welcoming speech, "It's a great opportunity for us to review the big events over the past year and share the joy of success!"
The ceremony was hosted by RT Media organization and the awards were distributed as follows:
Diamond Pioneering Award is awarded to
Jackson Wang, senior VP of Ninestar
for his vision and enterprise that saw the launch in 1991, of the Ninestar Group which has become the largest supplier of Aftermarket printing supplies in the world, the first OEM printer manufacturer in China, and the acquirer of iconic global brands including Static Control Components and Lexmark, thus permanently altering the divide between OEM and the Aftermarket in the imaging industry.
Anti-Counterfeiting Award is awarded to
The Imaging Supplies Coalition
for its continued leadership to rid the market of counterfeit and patent infringing product through the publishing of articles and white papers, and its training with US Customs & Border Authorities that has resulted in a significant improvement in enforcement efforts.
E-commerce Leadership Award is awarded to
LD Products
for becoming the largest and most successful independent Internet retailer of aftermarket consumables in the world through its well organized e-commerce platform based on its long term credentials of reliability and support.
Environment Betterment Award is awarded to
Mito Color Imaging Co., Ltd
for its leadership, since 2003, to consistently provide environmentally-friendly remanufactured supplies to global markets that significantly reduce energy and raw material consumption while meeting international ISO14001, ISO9001, STMC and QC08000 standards and being awarded Chinese Environmental Labelling Product certification.
Excellent Service Award is in equal shares awarded to
Clover Imaging Group
for providing excellent quality products as the world's largest cartridge remanufacturer backed up by flexible, quality service and quick customer support with a world class, intuitive and functional website.
James Douglas, managing director
for his tireless efforts in personally driving to visit, train and mentor each and every one of his customers, throughout Australia, providing them with dedicated support to remanufacture and sell high quality, non-infringing Aftermarket supplies to their customers.
Global Brand Award is awarded to
Ninestar Group
for successfully increasing their brand to include Static Control and Lemark while investing heavily into becoming the largest brand for developing, manufacturing and providing the greatest range of cartridge chip solutions for the Aftermarket.
Industry Breakthrough Award is in equal shares awarded to
Zhuhai Print-Rite New Materials Corporation Ltd
for innovatively researching, developing and manufacturing a wide variety of specialist inks for unique industries including indoor & outdoor advertising, photographic portraits, ceramics, UV, toughened glass, textile printing, decorative building materials, health care and daily life.
Eric Smith, president of Impression Products
for winning the US Supreme Court case that saw two wrongful first-sale patent laws overturned after holding true to his convictions and the faith of his loyal staff since 2011.
Legal Defender Award is awarded to
Ed O'Connor, lawyer
for his vision, perseverance over many years and logical arguments that eventually saw the overturning of the Mallinkrodt and Jazz Photo patent laws by the US Supreme Court resulting in a positive impact for the remanufacturing industry in many industries for decades to come.
Outstanding Marketing Award is awarded to
Indian Toners & Developers
for celebrating its 25th year after successfully developing its own monochrome toner formulations and growing its international and domestic manufacturing business to 3,600 metric tons, having added 1,200 metric tons  in the last three years alone.
Quality Leader Award is awarded to
UniNet Imaging Inc America
for focussing innovatively and consistently in providing high quality products with high quality back up support over many years including their new range of iColor Label machines.
Technology Innovation Award is awarded to
Hubei Dinglong Co., Ltd
for its pioneering efforts in breaking foreign monopolies with the researching and developing a world-class series of high-tech products including chemical polymerized toner, system-on-a-chip technology and magnetic carriers.
Buyers' Choice Award is in equal shares awarded to
Zhono Chips
for the innovativeness of its research and development team to find solutions and for using the highest quality components which substantially reduces field failures and out of box defects with its cartridge microchip products.
Suzhou GoldenGreen Technologies
for successfully developing the second largest OPC drum manufacturing business in the world, being listed as a public company and acquiring buisinesses to strengthen a vertically based business model.
Jadi Chemicals Sdn Bhd
for its ability to deliver consistency and reliability to all its customers across the world with high quality toners developed, formulated and manufactured in its own plants.
Amida (Zhuhai Jialianxin Imaging Products Co., Ltd.)
for developing its own patented design using a zero waste toner powder and an east-torefill toner hopper that gives consumers around the world a more economical printing solution.
Shenzhen Asta Official Consumable Company
for its dedication in keeping its customers informed about new market information covering a wide range of 2,000 Aftermarket imaging products over 16 brands.
https://o1.rtcdn.net/uploads/2017/10/979017040.jpg
533
800
https://o1.rtcdn.net/uploads/2020/07/RT-logo-old-big-old-jiazi-3.png
2017-10-13 04:43:41
2017-10-17 01:12:21
Winners of the 2017 Annual RT Global Imaging Awards Announced at Ceremony in Zhuhai