RemaxWorld Summit 2018

【Facts & Figures】
Date: October 17, 2018
Venue: Zhuhai International Convention & Exhibition Center
Summit Theme: Conflict and Compromise: what are the solutions?
Ticket price US$199
Sponsor:

For sponsorship and summit tickets, please contact:
+86 756 3919263
【Summit Program】
Summit Theme:Conflict and Compromise: what are the solutions?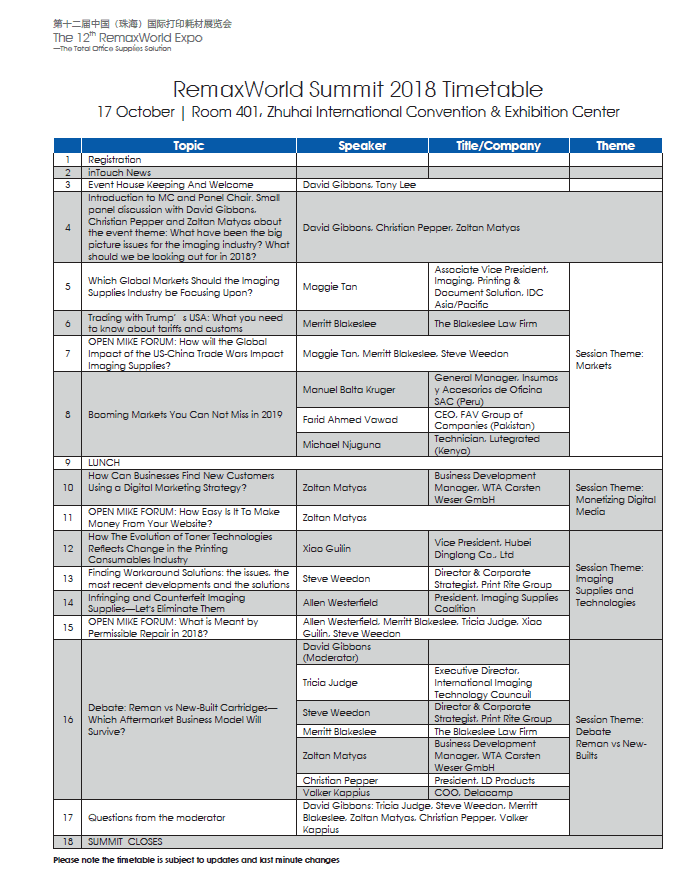 【Summit Speakers】
Tricia Judge

Executive Director, International Imaging Technology Council

Judge has served as the executive director of the International Imaging Technology Council, a not-for-profit trade association serving imaging supplies remanufacturers and dealers, for 17 years. Judge was the executive editor of Recharger magazine. A lawyer for 30 years, Judge also has litigation experience. Judge's work has been published in Recharger, and several other industry magazines, and has won critical acclaim for her writing and industry advocacy.
She has assisted in the preparation of six friend of-the-court briefs. Judge has presented the position of the industry to the International Trade Commission.
Merritt R. Blakeslee

The Blakeslee Law Firm, Washington, D.C., USA

Merritt Blakeslee has practiced in the fields of international law and international trade regulation since 1991. His practice focuses on international trade and specifically on disputes lying at the intersection between international trade and intellectual property law. His principal practice areas include Section 337 investigations at the U.S. International Trade Commisson; Customs counseling, enforcement, and litigation; and anticounterfeiting and trademark protection.  He has represented clients in thirteen Section 337 investigations, including investigations brought by Canon and Lexmark.  He counsels clients on how to operate legally in the difficult legal environment of the printer consumables aftermarket.  He has written and lectured extensively on this topic, particularly in Recycling Times and at imaging summits organized by RT Media.
Christian Pepper

President, Channel Partner Division, LD Products

Pepper has more than 20 years executive and management experience in European and American markets, held leadership, sales and marketing positions within printer
OEMs, hardware and consumables remanufacturers. He is a regular contributor and speaker within the Imaging and Managed Print Service industry.
Zoltan Matyas

Business Development Manager of WTA

Zoltan Matyas has a 15+ year track record in the Imaging Aftermarket, and is an active member of the European remanufacturing industry. He is also an expert in developing digital marketing and social media strategies for both for B2B and B2C operations in and outside of the industry. He holds a University Degree in Digital and Social Media Marketing, as well as being an active practitioner in consulting and developing digital marketing projects for SMEs in various sectors. He is familiar with concepts such as online engagement, community management, digital lead generation, and inbound and content marketing.
Volker Kappius
COO, DELACAMP
Volker O. Kappius is the COO at Delacamp. He has a University degree in International Management, Marketing and Organizational Psychology from the University of Hamburg as well as postgraduate degree in Business Ethics from the University of Hagen. Before joining Delacamp in 2005, Kappius worked as a partner for a Hamburg based consulting company specializing in the Telecom and Banking sectors. Before joining the consulting company, he worked as a key account manager for Dell Computers in Frankfurt.
Maggie Tan
Associate Vice President, Imaging, Printing & Document Solution, IDC Asia/Pacific
Maggie Tan is an Associate Vice President with IDC's Asia/Pacific Imaging, Printing and Document Solution (IPDS) group. Based in Malaysia, Maggie drives the research and consulting agenda across various segments of IPDS in 14 different countries in Asia/Pacific. Specifically, she looks into how printing workflow has evolved from desktop to industrial printing from mature to emerging countries in Asia/Pacific.  Maggie has more than fifteen years of experience in the IPDS arena, particularly for Large Format Printers, Printer Consumables and Page Volume research.  Prior to joining the Asia/Pacific team, Maggie was the head of ASEAN research, overlooking the research team from IT to communication research for Indonesia, Malaysia, Philippines, and Thailand.
Allen Westerfield
President, Imaging Supplies Coalition
Allen joined the ISC in Dec. 2006 after his retirement from Lexmark International, where he held numerous executive positions in printer product marketing. Prior to joining Lexmark, Mr. Westerfield was employed by IBM.
During his 15-year career with Lexmark, Mr. Westerfield held the position as Director of Product Marketing for both the Enterprise and Consumer Business Units. He also held the positions of Marketing Director US, and the Director of Marketing Asia Pacific. In these positions Westerfield announced and evolved the OPTRA laser printer product line, introduced Lexmark's first color laser, Lexmark's first inkjet printers and Lexmark's first MFD's. Westerfield was the planning manager for the introduction of IBM's first desk top laser printer, the 4019. Westerfield also contributed to significant growth in Lexmark's Asia Pacific Business from 2000 through 2004. Mr. Westerfield is a graduate of Brescia University and received an MBA from the University of Kentucky. He also graduated from the IBM Systems Research Institute. Westerfield is a frequent speaker and author on anti-counterfeiting subjects.
Dan Todd
Partner & President
Dan Todd has almost 30 years' experience in the imaging industry, holding several executive level positions with large international corporations over the years.  He has extensive experience in imaging manufacturing related components to include Organic Photo Conductors, Mono & Color Toners and related imaging components.  In addition to his manufacturing background Dan has also led the International Operations and Logistics groups for companies such as Mitsubishi Chemical America & Mitsubishi Kagaku Imaging Corporation.  In these roles his experience in international supply chain management and distribution were key in the support of the imaging division for the companies he supported. Dan is currently President of Office Solutions International focusing on servicing the imaging channel in the United States with remanufactured supplies for the dealer channel.
Steve Weedon
Director & Corporate Strategist, Print-Rite Group
Steve Weedon is an award winning CEO who has held senior management positions at various OEMs as well as Katun Corp and SCC. He was the original founder of The Recycler Magazine and of trade shows in Europe. He also established Static Control's Worldwide Subsidiaries and relocated to the US to become Executive Vice President. Weedon headed up the global Cartridge World network after it was acquired in 2016. He joined Print-Rite Group in January 2018, responsible for directing its new global approach to the laser and copier markets.
Manuel Balta Kruger
General Manager, Insumos y Accesorios de Oficina SAC
Experience in various areas (commercial, real estate, technology), seeking to make valuable contributions and always taking advantage of both positive and negative experiences to grow professionally.
Farid Ahmed Vawad
CEO, FAV Group of Companies
FAV & Co deals in all type of toners, toner products and consumables used in photocopiers, printers & multifunction products irrespective of the brands and models. FAV & Co also procures the reprocessed quality document management equipment with maximum shelf life to facilitate their customers around the globe to have their document management requirement met within their office at cost effective prices.
Please print your ticket and present it with your business card and passport in exchange for your RemaxWorld Summit 2018 Pass upon arrival at the event.