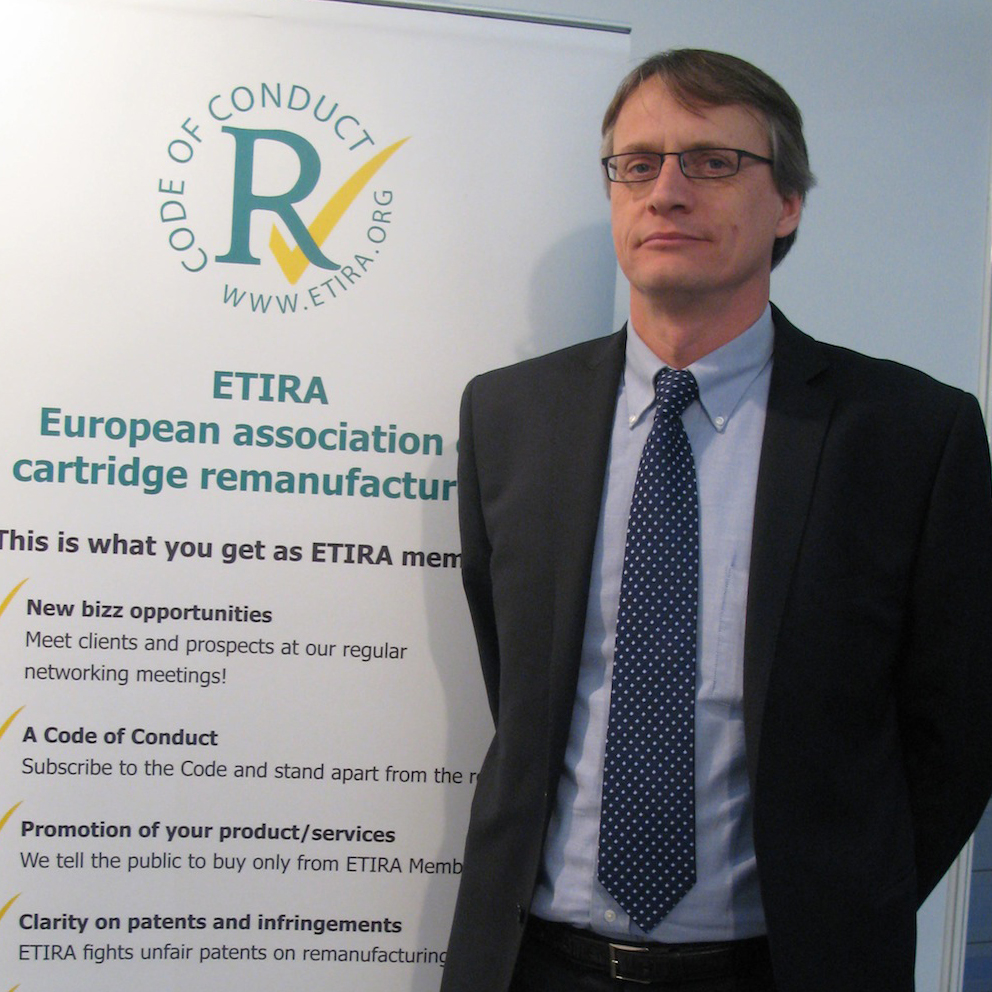 Association Grows its Influence Through Green Initiatives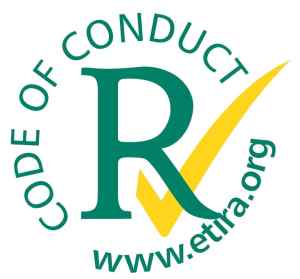 The European Toner and Inkjet Remanufacturers' Association (ETIRA), has represented the interests of remanufacturers of (Original Equipment Manufacturers) OEM cartridges and related service providers across the European Union (EU) since 2003. We work on topics like quality/standardization, legal and regulatory advice, public relations, member contact platforms and more. Our code of conduct, depicted by the ticked-R collective mark, gives our members a competitive advantage in the industry.
To enhance our outreach, ETIRA is also active in Central Europe, the Brussels-based European remanufacturing council. ETIRA now has 40 members.
2018 was another busy year for the European Toner and Inkjet Remanufacturers Association(ETIRA).  In summer, we thanked outgoing President Christian Wernhart for 12 years at the helm of our association. Industry veteran David Connett is now leading ETIRA on its path to growth.
Last year, the EU made the circular economy a key policy initiative. This was music to our ears, as cartridge remanufacturing is textbook circular economics. A February 2018 EU Commission report on cartridge reuse, which we had asked for, clearly called for more EU action to promote remanufactured cartridges.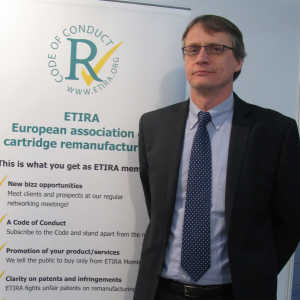 If you reuse your cartridge as a cartridge for as many cycles as possible and thereafter recycle its materials, you have the lowest environmental footprint possible. Building on that study, ETIRA is now actively lobbying the EU to facilitate the reuse of cartridges. We call for an EU ecolabel for remanufactured cartridges, and for public procurement programmes to give preference to remanufactured products.
We also called for an end to OEM anti-remanufacturing practices such as the employment of smart chips, unfriendly cartridge designs, patents on cartridge reuse, market lockout sales structures, refusals to honor printer warranties and more.
For too long, the OEMs have refused to further "green" the printing process. The only thing they did was to reduce printer energy use, but we argued that doing so has delivered little environmental benefit. If we really want to "clean up" printing, you need to reuse the paper and the cartridges!
We also insisted that the EU acts against the patent-infringing, non-OEM new-build cartridges, or "clones" as we call them. These products from Asia have achieved a large market share, mainly because they are very cheap.
But this fast growth came with a cost: the quality of many products is not so good. Also, many do not respect OEM patents, so if you buy them you too can be sued by the OEM.  ETIRA published a free "Guide to Clones," which educates our members on the risks they run when buying non-OEM new-built cartridges.
Recently, we identified another worrisome issue with the clones. In late 2018, ETIRA and others had a German laboratory test eight to nine clones purchased off the internet, and it turned out that most of them contained levels of the flame retardant DecaBDE above the allowed EU limit. DecaBDE has been banned in the EU for many years and may be used in materials of products like electronics but up to only .1 percent. It was shocking to see that some contained levels up to 14 to 17 times the allowed limit!
This problem occurred not only under the small suppliers, but also the well-known large Asian names apparently use too much of a chemical that is basically prohibited in the EU for health and safety reasons!
This is why we are telling the EU that now is the time for them to act. We are being squeezed between the OEMs and the clones, as a result, the European cartridge remanufacturing industry is able to remanufacture only 10 to 20 percent of all OEM cartridges put on the market. Yet, if all the aforementioned market barriers were removed, that number could be 75 to 90 percent!
So at a time when the EU wants more products to be reused, and citizens and companies are trying to lower their carbon dioxide footprint and reduce their use of natural resources, a remanufactured OEM cartridge should be the first choice of all business and personal cartridge users in the European Union.
Under the 2018 circular economy initiative, the ETIRA message is coming across. We are seeing growing interest in our work from authorities at the EU and the national level. Our work will result in more opportunities for cartridge remanufacturing, and a cleaner Europe. Follow us on Facebook and Linkedin to stay tuned! For more information, visit www.etira.org.
https://o1.rtcdn.net/uploads/2019/05/ETIRA-vincent-van-dijk.jpg
992
992
Vincent van Dijk
https://o1.rtcdn.net/uploads/2020/07/RT-logo-old-big-old-jiazi-3.png
Vincent van Dijk
2019-05-21 18:06:00
2020-05-19 17:56:09
Association Grows its Influence Through Green Initiatives