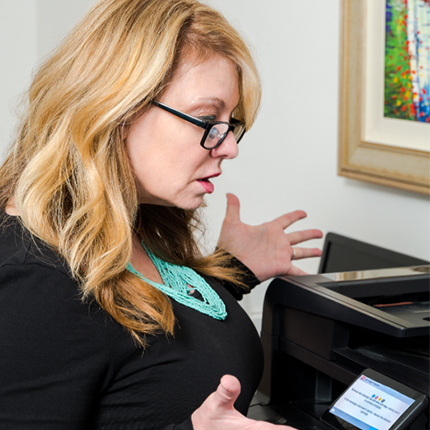 Firmware Threat Grows More Bold and Vicious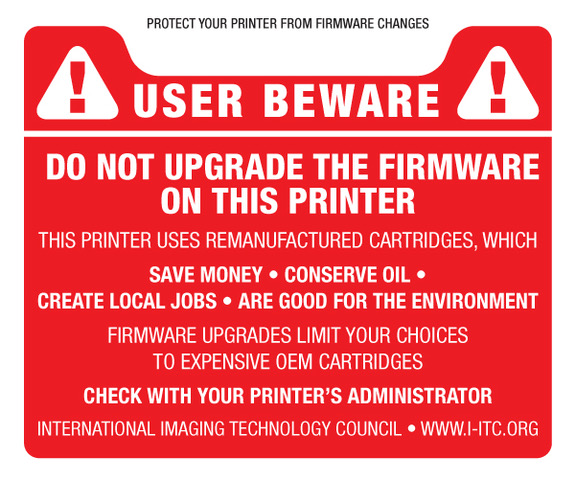 Modern chip technology is a miracle that allows consumers to enjoy a host of features from their machines. Manufacturers use it to monitor their products' performance and make improvement in subsequent generations.
However, chip technology can also be abused. When chips are used to monitor supply usage in printers, for example, they can become an impediment to product performance. In 1999, the first "killer" chip was introduced. Chips in Lexmark printers shut off the printer when they detected that a remanufactured printer cartridge is in use.
The bundling of beneficial security technology in chips with printing functions appears initially to be a plus for consumers, but it sometimes ends up having a sinister, convoluted impact. The chips have long been the target of aftermarket ire, and the "dark side" of similar technology bundling was at the core of legal battles between Microsoft and U.S. antitrust officials decades ago.
Consumers were unhappy when their devices limited their choices for supplies. It didn't take long for class action lawsuits against Lexmark and other OEMs to be brought by disgruntled printer users. These helped keep chip abuse in check, or at least, made it expensive for the OEMs. Legally, these chips had to have a legitimate business purpose in order to survive legal scrutiny. Therefore chips that monitored toner levels, for example, were considered justified, however chips designed to merely lock out competition were not.
HP employed chips also, but their earlier models didn't lock out competition. They provided a variety of information to the consumer that was appreciated, gauges for toner levels, information on page count, etc. Aftermarket replacement chips didn't provide this information, and the cartridges they were affixed to were seen as less valuable because of the dimunition in function. This gave HP a competitive edge, but did not keep aftermarket cartridges from functioning.
These early chips were overcome when smart aftermarket companies, like Static Control, developed replacement chips that disabled the "kill" feature and allowed for reuse. The market for aftermarket chips became robust.
Then the OEMs added a new tool to its competitive arsenal: firmware. By downloading from the OEM what is supposed to be an "upgrade," consumers became complicit in changing legitimate chips into killer chips.
In May 1999, Lexmark changed the encryption code on its in its firmware that communicated with an iButton chip in the printer and cartridge. With this simple remote change, any aftermarket chip solution in use failed.
Remanufacturers scrambled to download the new firmware, but the damage was already done. Thousands of cartridges around the globe failed, leaving consumers infuriated (and locked into buying new ones.) And rendering entire inventories of aftermarket chips and products worthless.
As it had with the chips before it, the aftermarket found ways around some firmware. And again, class action lawyers summoned OEMs into court for the aggravation its firmware caused consumers. These battled have waged for decades.
However, consumers and the aftermarket are now confronting a very blatant attack from HP with a new round of firmware that is as inscrutable as it is destructive. It is either a time bomb, waiting until the the printer is in service for a time. Or it automatically changes the firmware so it disables all aftermarket chips. Either way, it is insidious, as the aftermarket cartridge works for a while, but then is disabled. And the firmware affects a host of popular printers.
HP955 (Print Model 8720) Firmware Upgrade
Since April 9, 2019, a HP 8720 printer using an HP955 cartridge will display the upgrade message on the screen when connected to WIFI.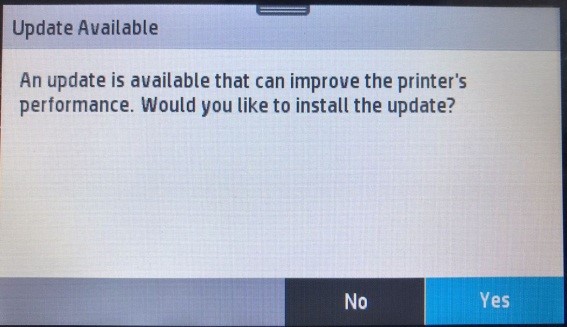 If "Yes" is chosen, the printer will display the following warning information when a cartridge with an unused non-original chip is installed. If a cartridge where a non-original chip is used is already installed and an end user chooses "Yes," the similar warning message will display sometime after the upgrade.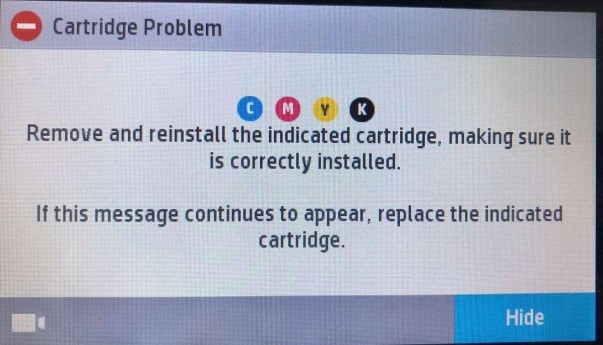 HP printer update options
A HP printer normally provides three options to the update as shown below.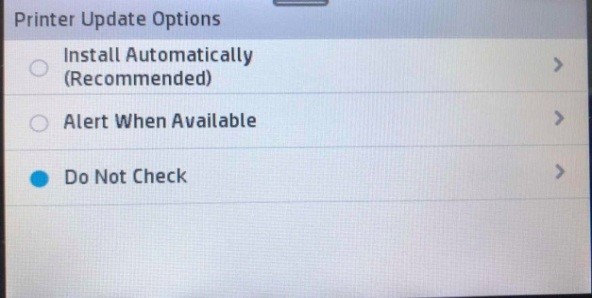 If the end user chooses "do not check", the printer will pop up a message strongly recommending the update checking.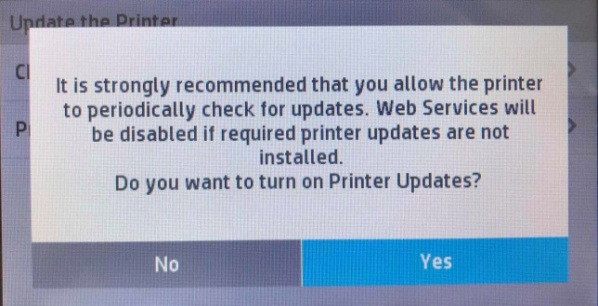 Aftermarket chip companies are hard at work finding a solution, but this quest is vexing as the source is elusive. Until the solutions are found, dealers are having to service unhappy customers.
Time to take (Class) Action?
HP's own internal documents (and packaging) alert the consumer that this scenario could happen. "Dynamic security enabled printer. Only intended to be used with cartridges using an HP original chip. Cartridges using a non-HP chip may not work, and those that work today may not work in the future. More at: www.hp.com/go/learnaboutsupplies," reads a HP Partner letter, as well as a small three-inch box on the printer packaging in many languages.
These blatant anti-competitive statements could serve as notice to the consumer, as in "buyer beware." HP could argue this information gave the consumer the heads up that aftermarket cartridges might not work, and therefore any subsequent failures are to be expected, or perhaps not even actionable if the consumer becomes inconvenienced. Whether this tiny notice on the box is sufficient to lock a consumer into using only OEM cartridges is highly debatable.
This "dynamic security" program was the subject of a many class action lawsuits that were consolidated into one, which HP settled for millions. However, it might have been worth it. How many aftermarket cartridge users returned to using OEM ones to avoid a shut down?
Thu future is reasonably certain. There wil be more litigation, and more movement by OEMs into the use of firmware as a competitive weapon.
Actionable Intelligence is the leading industry analyst for information on the imaging industry, and on firmware matters in particular. They have many articles on their website regarding firmware and its related litigation (www.action-intell.com)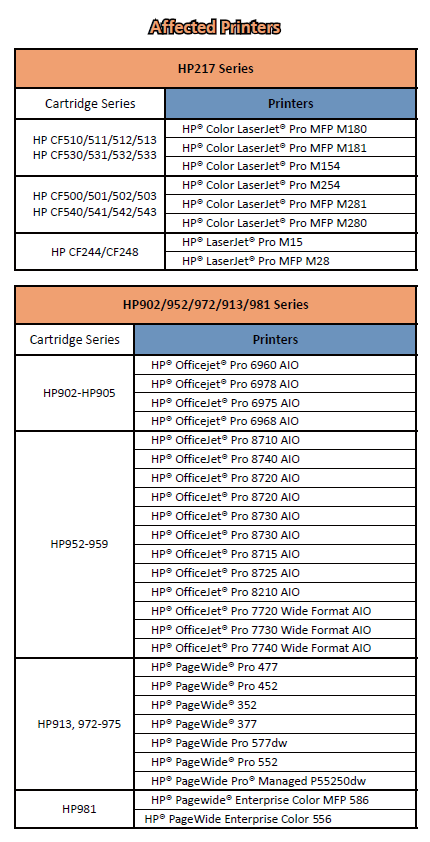 "Chips and firmware updates have become THE essential battleground between OEMs and the aftermarket. It is easy to see why." said Actionable Intelligence Executive Editor Christina Bonadio. "Without aftermarket chips, you can't have fully functional aftermarket cartridges. And while OEMs can and do roll out new chips to frustrate the aftermarket, the aftermarket has gotten a lot better at cracking them—and quickly. Remember when years ago Canon's CLI-8 chip locked out the aftermarket for a significant period of time? We just don't see that happening as much anymore.
"Now, you see firms like Apex, Static, and others announcing chips hard on the heels of OEMs' new cartridge announcements. In some instances, we have seen aftermarket chipmakers announce chips even before we have seen the OEM announce the new hardware/supplies. That is how closely third-party chipmakers are following what OEMs are launching.
"So with OEMs losing the advantage of an initial period of little aftermarket competition following a new cartridge rollout, you've got to figure they are going to do something—and that something time and again has been firmware updates that potentially lock out aftermarket solutions using aftermarket chips. And while we have seen some class-action litigation over this, we haven't seen any kind of court order that would halt this practice. But, as discussed above, because of the litigation, we've seen OEMs become a lot more upfront. Now they will say something like 'Yep. This firmware update could lock out third-party supplies.' Or 'Third-party supplies may not work in this printer either now or in the future.' And that in itself is an interesting change.
"Need more evidence that firmware/chips is the essential battlefield between OEM and the aftermarket? Take a look at Brother," Bonadio said. "Brother's two-piece toner consumables have long been relatively easy for the aftermarket to work around without infringing. So there is a ton of aftermarket solutions widely available for Brother. So what did Brother do last year? It launched its first-ever color and mono laser devices to use toner cartridges with chips. And while the aftermarket soon launched replacement chipsets, there were almost immediate reports about firmware updates from Brother that could lock out aftermarket cartridges featuring aftermarket chips."
One Solution: Keep consumers away from Firmware updates altogether. Educate them as to the insidious nature of the firmware's purpose. And leave them a reminder on their printer. Download these stickers from the Int'l ITC's website (www.i-itc.org).
Another solution: Let's get that court order that would halt the practice. The International Imaging Technology Council (Int'l ITC) intends to work with aftermarket litigators to monitor, and perhaps act, on this. Have a firmware horror story? The International Imaging Technology Council wants to hear it. Please email me at tricia@i-itc.org or go to our website at www.i-itc.org.
https://o1.rtcdn.net/uploads/2019/06/未标题-1-2.jpg
430
430
Tricia Judge
https://o1.rtcdn.net/uploads/2020/07/RT-logo-old-big-old-jiazi-3.png
Tricia Judge
2019-06-24 16:18:44
2019-06-25 16:59:48
Firmware Threat Grows More Bold and Vicious