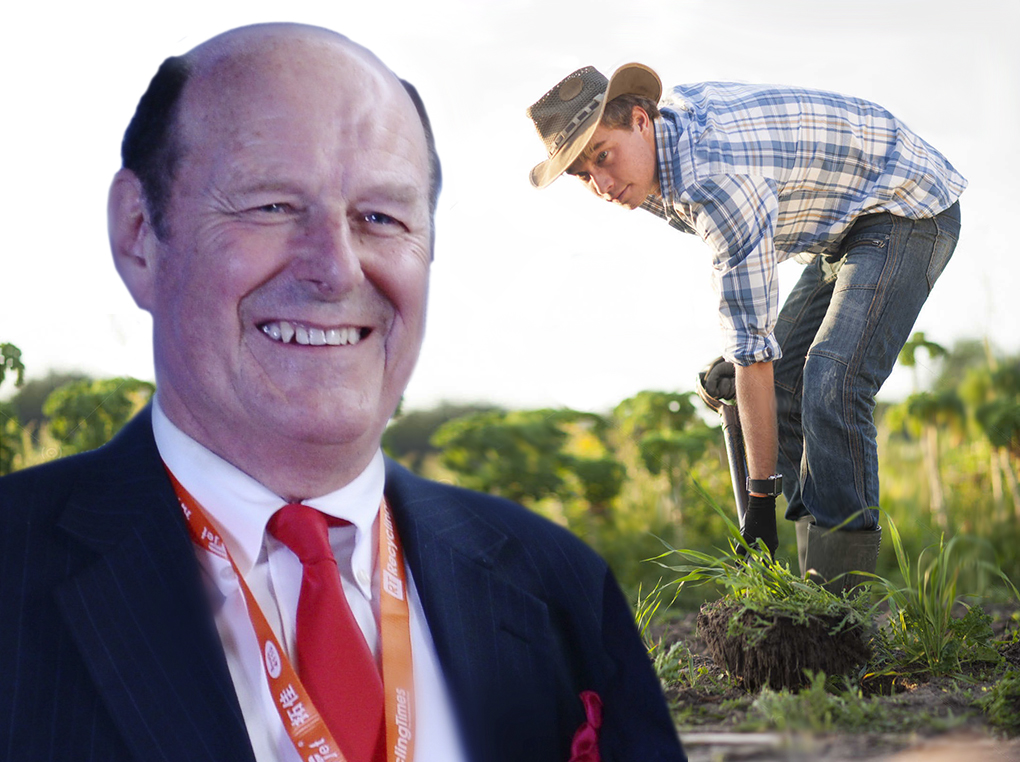 Digging Deeper into Inkjet Ink Market Share
Digging Deeper into Inkjet Ink Market Share
Market Share of Inkjet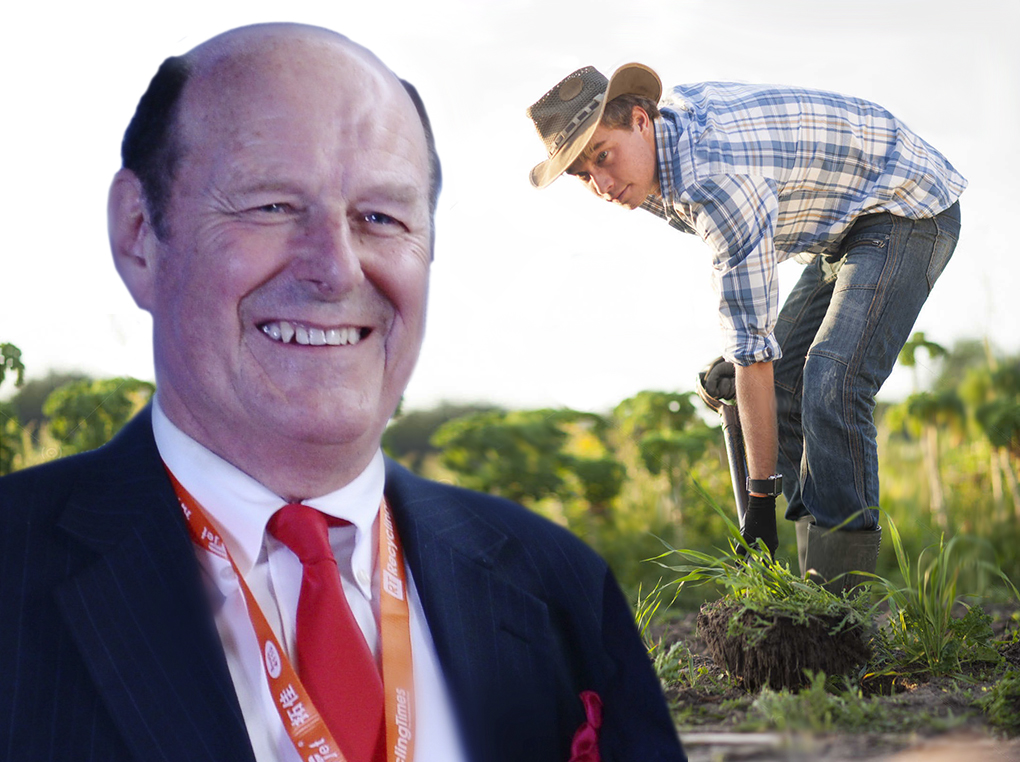 When considering the market share of a market that has differentiated product approaches there are complications to be resolved.
Firstly, the market itself has to be defined. In this article, the market is defined as "the market for business/personal printing."
Print devices utilizing inkjet technology, as readers I am sure to know, encompass not only desktop business printers.
There are also a broad swath of markets including wide format printing, commercial print-for-pay printing, packaging printing and industrial printing of all manner of items including carpets, tiles, electrical wiring and components and many other items.
We are confining the analysis to that of business/personal printing.
The market is not exclusively served by inkjet printers. The complication is that the two major technology platforms address the market and have different cost/price structures.
As I have written before, I believe that the better way of looking at market share is to examine the page volume share. It should be noted that, in addition, the business/personal printing market covers a broad range of printer duty cycles and inkjet does not cover the whole range. Toner based printers address every sector from the desktop to central printing departments in businesses.
The market coverage of inkjet technology printers is not the same as that of those using toner. So, when considering "the market share of inkjet", it is important to confine the analysis to their common market sector, "business/personal office printing" typically served by desktop printers.
Due to the differing cost/price characteristics of each technology we need to carefully consider the manner in which we measure "market share."
One good measure of market share is actually that of page volume for each technology. The following chart shows the market share by page volume for each technology for Desktop Office Printers from 2018 to 2024.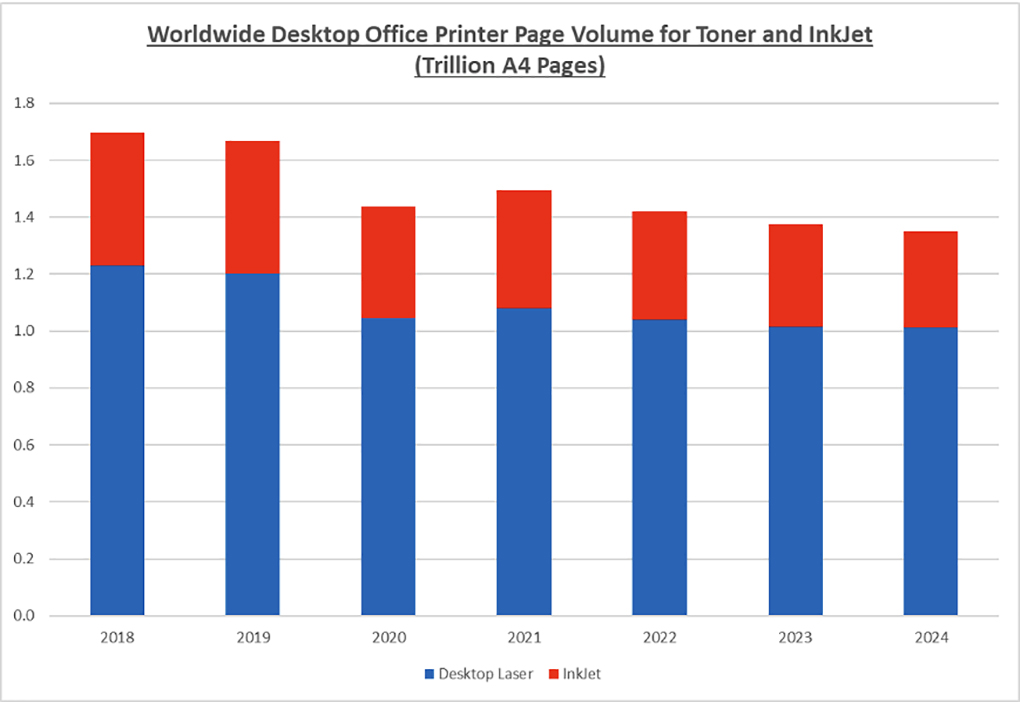 It should be noted that there was minor growth in page volume in 2021, the total desktop business/personal printer page volume has and is expected to further decline by a negative compound annual growth rate (CAGR) of -5.51% over the entire period of 2018 to 2024. This comprises for business/personal inkjet page volume by a negative CAGR of -4.4% and for business/personal laser for the same period is -2.75%.
The page volume share for each technology in 2021 and 2024 is shown in the following pie charts. Whilst there is overall page volume decline and decline in both technologies the share shifts in favor of laser over inkjet.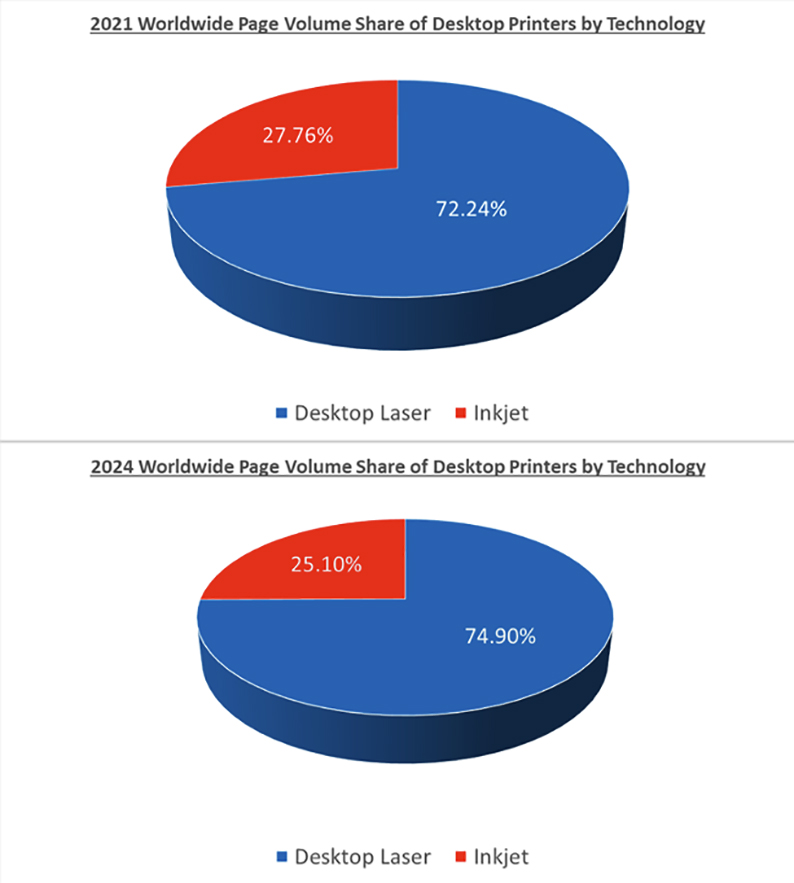 This is in spite of the fact that toner-based printers are at a small disadvantage
Total Cost of Ownership per Page (TCO).
TCO includes the capital costs for the hardware, cartridges, and other running costs. In the USA, the typical current TCO for typical office inkjet printers is US$0.0135 for monochrome and US$0.0493 for color printing.
This compares to US$0.0287 and US$0.0877 for color for office laser printers of a similar class. Using these metrics, and incorporating the split by print type as well as factoring in cost increases, market share by value is illustrated in the following charts.
Firstly, looking at value share by page type for each technology and the forecast for 2024 the data is as below.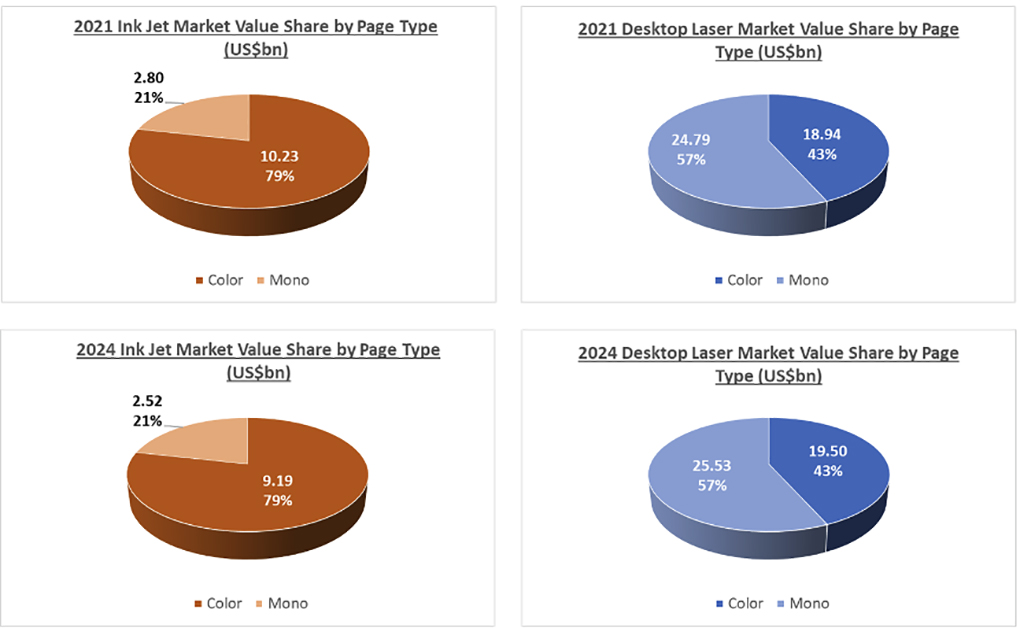 Secondly, looking at Market Value Share by Printer Type the data is as shown here.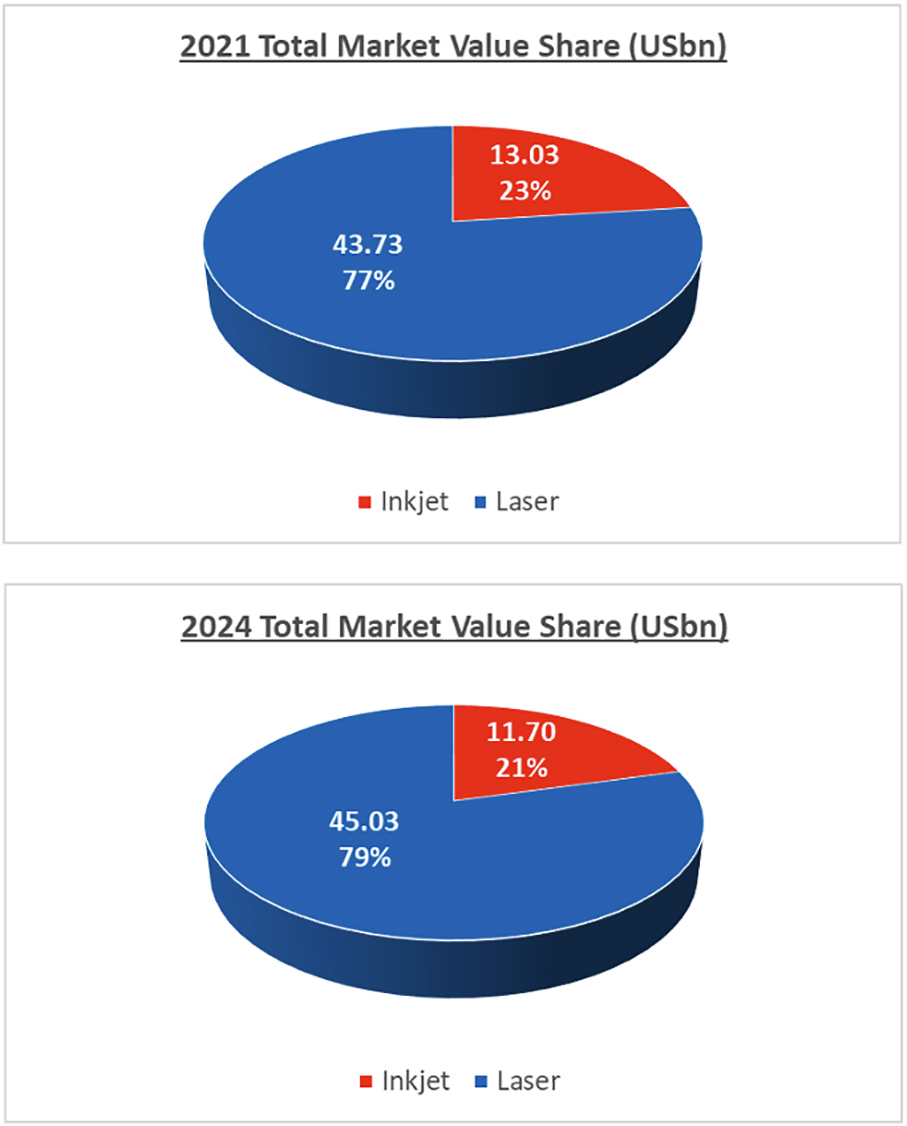 Again, this shows that the market share of Inkjet is declining slightly in contrast to the laser printer segment along with a decline in value. It should be noted that the total market value is also declining but the value share held by laser will increase slightly.
Looking at the changes in the Global Installed Base of Business/Personal printers and the split between inkjet and laser we see the following: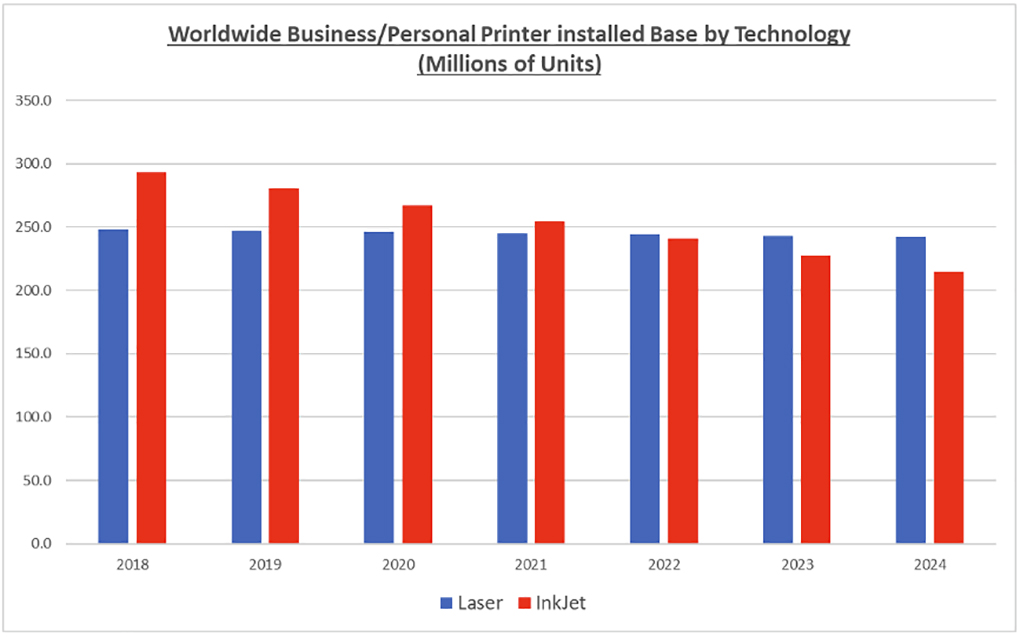 As can be seen, there is predicted to be a continued decline in the installed base of all printers. This is of course signaling a change in work practices by digital transformation. The installed base of Ink Jet machines will however decrease more steeply than that of toner-based printers.
The Market Share of Inkjet OEMs
The foregoing analyses looked at the share of the market by print volume and that of the compounded value of the cost of ownership.
By contrast, the hardware market share is differently measured by hardware value. The global total inkjet printers market size, including was valued at USD 34.24 billion in 2019 and is expected to expand at a CAGR of 5.3% from 2021 to 2027. The breadth of application of the technology is extremely wide compared to that of toner-based printing. Business and personal printing is a smaller portion of the total.
This is illustrated in the following chart of US Printer Shipment Value for all segments of the Inkjet market. The global market for Inkjet Printer Hardware shows similar diversity but regionally the split is different.
As can be seen, the portion of the US market value that is constituted by business/personal printers is about 36%. The total inkjet market is seeing the packaging industry witness rapid growth across the globe due to huge demand from the e-commerce transport and shipment, food and beverages, personal care, household care, and healthcare industries for convenience-based packaging.
This growth is creating a great demand for inkjet printers for packaging purposes, which is one of the major factors driving the market. However, when considering desktop office printers, the situation is somewhat different. There is predicted moderate growth in the value of printer shipments with multifunction printers at a CAGR of 6.71% and desktop printers at 3.32%.
This value is in contrast to the negative growth shown for page volume and overall market value and is affected by the preferred adoption of multifunction printers as well as the declining duty cycle.
Evaluating OEM hardware market share, there have been some shifts in share. This share breakdown varies according to region and country. HP still owns the largest market share, but Canon has been gaining and is a close second in market share.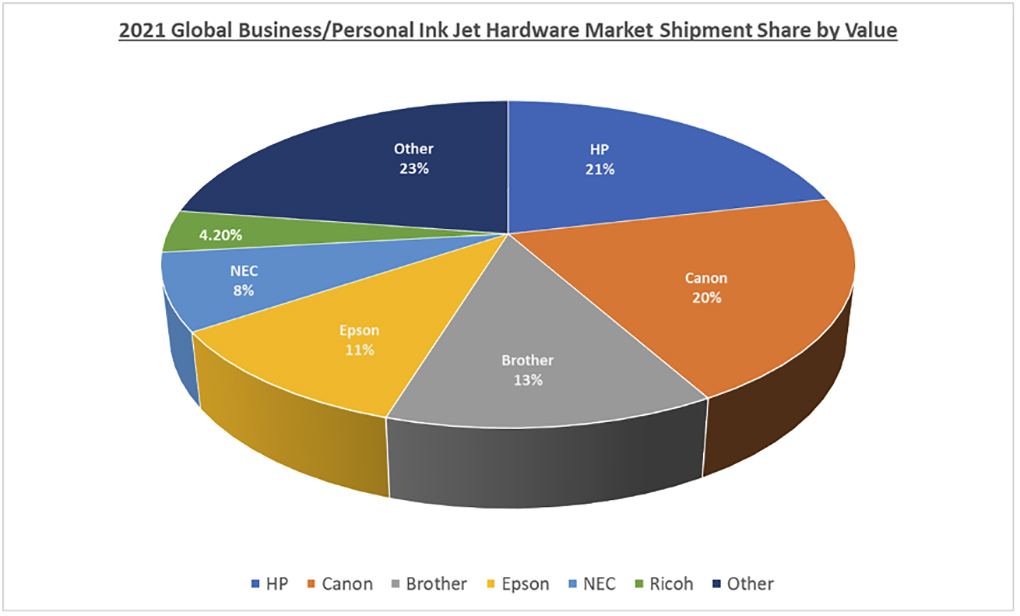 Analysis
So, taking the foregoing and looking at overall trends, it is apparent that there are subtle shifts that are affecting the business/personal printer markets for inkjet as well as for laser printers.
Worldwide page volumes printed from office printers were severely down in 2020, due to many offices being closed and many remote workers are not able to print at home. This is not only because of "lockdowns" but also because the Covid-19 pandemic changes where and how work is done.
Home-based printing for business helped there be a minor increase in page volume in 2021 but it is predicted that page volume will see a negative CAGR in the foreseeable future. ■
---
Related:
---
*This article, "Digging Deeper into Inkjet Ink Market Share," is also published on pages 14 to 16 of RT ImagingWorld magazine which can be downloaded for free.
Graham Galliford is a world-renowned consultant to the imaging industry. His work has encompassed the technology of all types of products for printing but has worked in the field of toner-based printing technology since 1974.
He founded Galliford Consulting & Marketing, a techno-commercial consulting business concerning toner-based imaging processes in 1994. The particular emphasis of the firm is on digital printing with electrostatic toner. Operating from a unique facility for R&D on digital printing materials the firm has completed many projects concerning the formulation, manufacture, application and marketing of these products. Galliford has been a regular speaker at conferences in North America, Europe and Asia on all aspects of digital printing and the toner business from technology to marketing to manufacturing. He has made over 80 presentations to industry gatherings over the last 30 years including Seminars on Digital Printing Technologies and Chemically Prepared Toner Technology and Markets.
Read other articles by Galliford:
Digging Deeper into Inkjet Ink Market Share
Comment:
Please add your comments below about this article, "Digging Deeper into Inkjet Ink Market Share."
https://o1.rtcdn.net/uploads/2022/06/Galliford-digging-up.jpg
762
1020
Graham Galliford
https://o1.rtcdn.net/uploads/2020/07/RT-logo-old-big-old-jiazi-3.png
Graham Galliford
2022-06-10 15:01:53
2022-06-10 16:07:18
Digging Deeper into Inkjet Ink Market Share