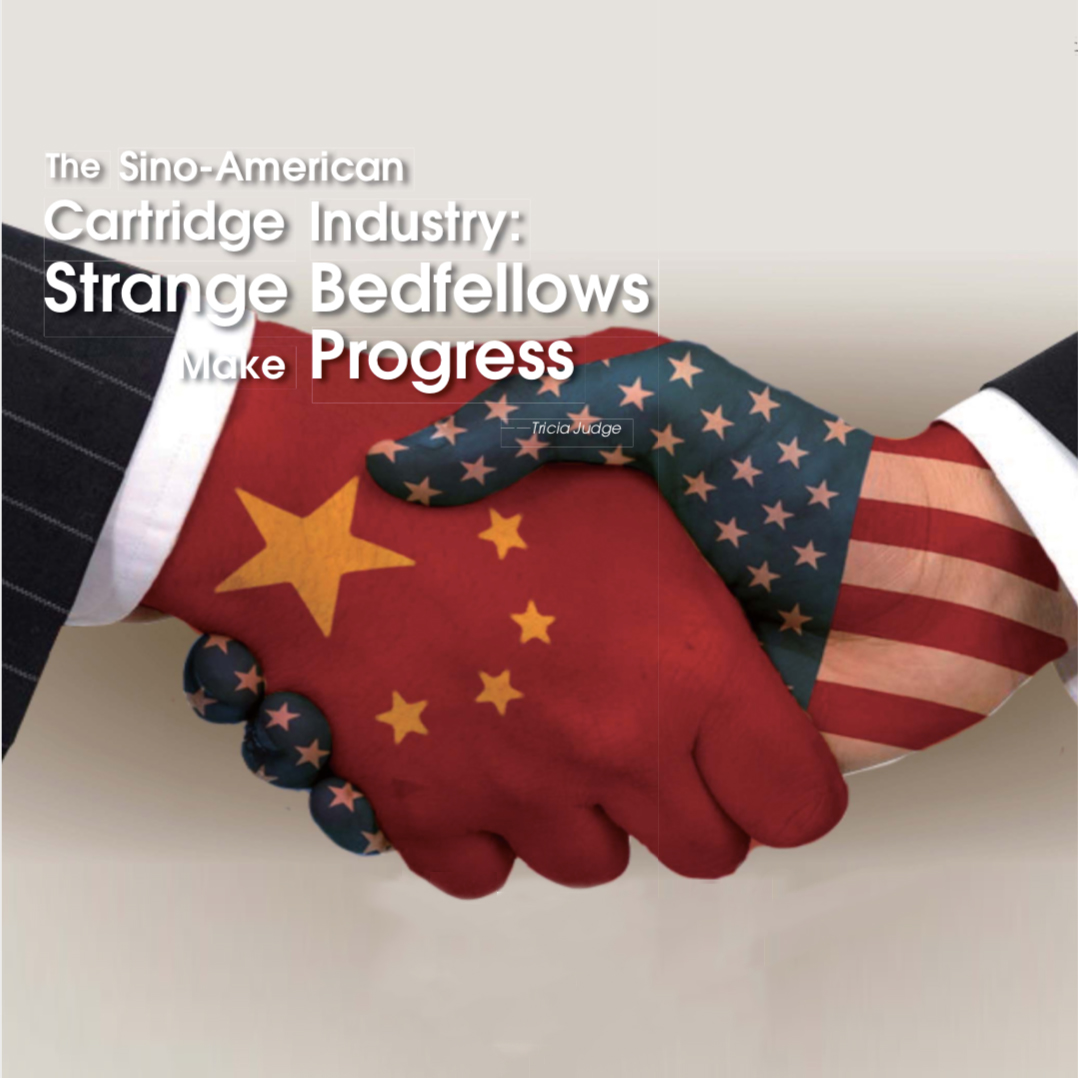 Strange Bedfellows Make Progress—the Sino-American cartridge industry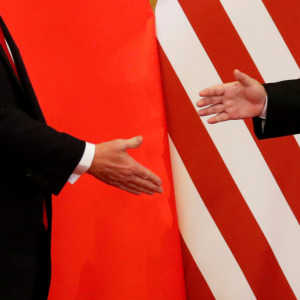 The North American imaging supplies marketplace has been severely impacted by the introduction of new-built cartridges from China. This is not news.
Industry analysts and their intelligence support the trend of consumption of new-built cartridges and away from remanufactured cartridges. The internet has driven this trend as bargain-basement-priced cartridges are sold widely across platforms.
What are the North American cartridge dealers doing? The Int'l ITC reached out to its database to ask about the impact of Chinese companies and their products.
The invitation to take part in the survey was extended and an astounding ten percent of those invited to take the survey did so. Clearly, the issue was of importance, and the comments the survey takers made bore that out. While the survey consisted of only five questions, the complex nature of the Sino-American cartridge industry relationship made for complicated answers.
The top takeaway? Low-cost new-built cartridges are in demand. Meeting that demand is not done easily. Cartridge dealers are being quite creative – and diverse–in the way, they maintain sales of remanufactured cartridges while also buying new-builds to meet the demands of the marketplaces. However, almost all admit that their relationship with their Chinese vendors is far from seamless. And the Chinese cartridges can be of high-quality, but the quality is inconsistent.
Responses
The strong showing in the "other" category was because those respondents had purchased the cartridges through a well-known North American intermediary.
"We have purchased some through Static Control Components and wholesalers such as Supplies Wholesalers and Arlington Industries," said Bill Henry, American Laser Products in Wisconsin.
Many other respondents shared similar experiences. It seems a smart way to enter the new-build marketplace, via a well-established wholesaler.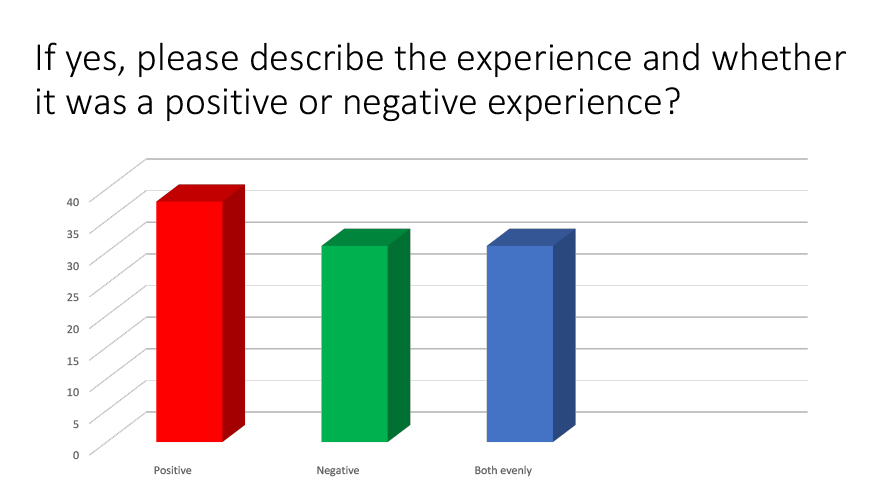 It is no surprise that the larger the company, the better the experience with Chinese suppliers.
"Being a large company in the industry, we did an in-depth supplier review. Since we took the time to correctly choose our suppliers, our experiences have been positive," said Tim Matuska, of Katun, based in Minnesota. "May I add, the customer service is far superior to North American suppliers."
There were very few wholly positive responses, as many cited communication problems.
"Our experience has been mixed. Unless there are very clear communications on purchase orders with photos of the exact product, there are many times you get something that you weren't expecting. Also, they will change something on an approved product, for a reduced production cost, without approval. We now make vendors pay a fine, double the cost of the purchase order, if anything changes. If the company is truly the manufacturer, we tell them we are willing to pay a higher cost for a better product, and once approved, no changes. We now have an employee in China, just to facilitate better communications and quality control."—Anonymous, Western States dealer.
"They were friendly and had decent customer service," said Craig Cheek, Ameritek Document Solutions in Alabama. "The language barrier was a little challenging at times. The prices were good so we finally decided to give them a try.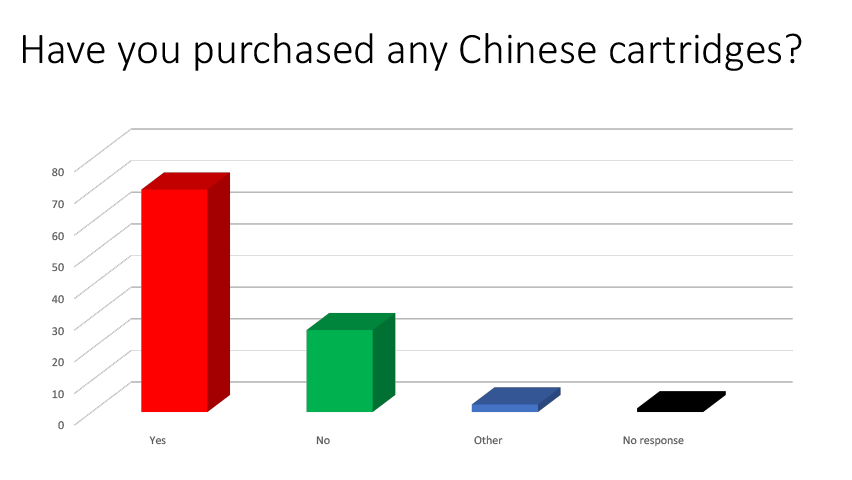 It comes as no surprise that the clear majority (70.3 percent) of North American respondents had purchased Chinese cartridges. This falls in line with what other industry analysts have reported, that there is a clear shift towards new-built cartridges. It is interesting, too, that 30 percent have refused to try them.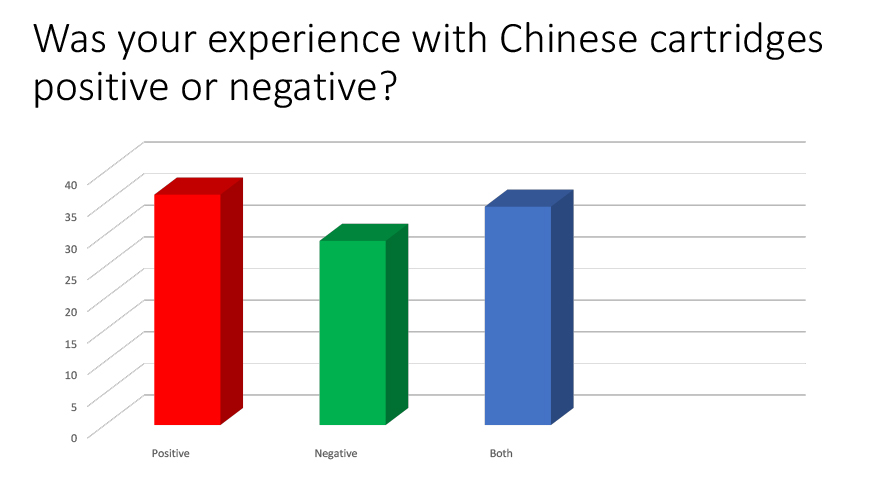 The positive respondents were forthright about the need to switch.
"The quality has greatly improved over the last few years, said Tom Landis, Cartridge World in Pennsylvania. "And it has enabled us to remain competitive."
"Our experiences have been pretty good," said an East Coast remanufacturer who prefers to remain anonymous. "It beats the heck out of remanufacturing the cartridges yourself!"
"The quality is better than expected, even better than our remanufactured toner. The cost is less than half. We still mainly use remanufactured toner. We use compatible toner for the smaller cartridges," Vincent McHenry, Laser Lab in Pennsylvania. "I have more respect for the Chinese companies and their products since we started using them."
As one of the anonymous respondents from the Midwest said, "Buyer beware."That seemed to be the theme of many of the respondents.
Even those that responded positively had some caveats for buyers. "If you've put in the upfront work necessary, and implemented your quality procedures, the outcome will be positive," said Matuska (of Katun).
"Prices are good but we have found the quality to be poor especially in the color cartridges," said Bill Henry, American Laser Products in Wisconsin.
"I was very sceptical as we build our own 100-percent remanufactured North American supplies, said Roy Raghubir, Triple A-1 Services, Toronto, Canada. "We are very satisfied and the prices are cheaper per cartridge versus our cost of components with our labor excluded. But, some high-speed cartridges do not live up."
"We have had both positive and negative experiences," said Enrique Yuni, Ink Services of Dade, LLC in Florida. "Many of them sell good quality products. And for the most part, we have had good experiences. Those of the manufacturers that want to be good are really good. However, If their culture is to compete just by price, they are probably selling garbage."
Some use the new-builds to supplement their offerings while they wait for the remanufactured alternative to become available. "I have purchased them when my regular remanufacturing partner is not yet producing a particular cartridge," said Neal Brush of Lasers Image in Virginia. "I have actually had some very good luck with most of the ones I have used. I do always go back to my US-based remanufacturing partner when they release their product."
Those respondents with reservations cited failures and, once again, poor communication for reasons they had mixed or negative experiences. "The quality of the product varies greatly," said Paul Mervis, Encore Images in Maryland. "And technical support is virtually non-existent."
In one word? "Spotty," said Ken Benjamin from Greentree in California.
Another respondent used the word "sketchy" to describe his experience.
"They have cheap and thin plastic shells, bad seals, and early failures," said Irwin Brooks, Iguana Inks and Toner in Utah. "Don't buy them."
"BAD. They use parts in cartridges that are not OEM size so that they cannot be remanufactured. Generally, just poorly made. And so cheap, they are hard to compete with on the internet," shared an anonymous respondent from the southeast.
Here's a twist as well. At what point does the Chinese cartridge with sufficient quality become too expensive?
"Ten years ago, we lost 10,000 Canadian dollars (US$7,513) on bad quality cartridges. This supplier refused to give us credit," said Shri Bran, Tonex OSS, in Surrey, Canada.
"Now more quality companies have good products, but prices have gone up quite a bit on most of the cartridges. Now they are getting close to where we can efficiently remanufacture them in our country (for a competitive price). Larger companies are manufacturing a quality product, but prices are quite high. Another problem is they set a minimum order quantity on most of the cartridges and have a long lead time. Then they want to receive the money first and send the goods later. Sometimes you get the product after the printers have been discontinued."
"Our experience has been neutral to negative," said Richard DiPasquale, Printer Components in New York. "While Chinese Compatible cartridges have filled in some gaps, the risk has generally not been worth the reward as the quality is too inconsistent."
What is your opinion of Chinese companies in the industry in general?
This question allowed the respondents to unleash their love— or frustration— with the Chinese manufacturers and the products they are producing. Clearly, this group was divided into two camps: those that see these cartridges as a necessary evil, and those that wish they would just go away.
However, there are other issues beyond price and quality. Our respondents question Chinese sales tactics. The products also damage the environment in a way that remanufactured do not. They also pose a litigation risk as they present potential intellectual property issues. Finally, almost all decry the economic impact of the new-built cartridges on the North American marketplace.
"I wish they were not available, it is killing our industry in the United States," said Scott Hallmark from Laser Imaging in Texas.
"There is the issue of unfair competition in that they steal intellectual property, then build exact duplicates and undermine the OEM and the remanufacturing industry," Brush said. "The cartridges are impossible to compete against when the customer only cares about price."
"While their ability to engineer and market a cartridge is extremely fast and inexpensive, they are not producing to a high enough quality standard to be successful in the various conditions here in the United States" said DiPasquale. "Patent infringement is also of the utmost concern and most resellers do not have the time or resources to monitor it."
"The quality was decent in monochrome but inconsistent in color. Some SKUs were ok in color and others were bad," Cheek said. "The low prices have hurt our margins and have definitely disrupted the traditional domestic remanufacturing industry."
"They won´t let go of any sale. They offer what you asked for, but if you seek a lower price, they adjust down the quality. If you ask for higher quality, they claim they have a near-OEM quality option," said Gaby Salido, XTRA from Hermosillo, Mexico. "Let´s face it, their prices are unbeatable. I still don´t know how they are able to offer those very low prices. I wonder if they are dumping them here?"
"They make a very cheap product. It's not recyclable. And if it's defective, they say to throw it out," said John Gemmell, High Tech Laser Products Ltd., Markham, Canada. "The low-end toners work ok and are very cheap to buy. But they end up in landfills. Their products are not reusable, hurting North America's economy. Remanufacturing Jobs are lost. How long do we wait for our politicians to get involved?"
"I long for the good old days before China invaded our industry," said Mike Henry, Macro Solutions LLC in Oregon.
Clearly, there are no cut-and-dried answers for successfully or easily doing business with China. However, doing business with China is not easily avoided. This creates a new dimension to an already complicated business. So, in summary, let's let a few industry veterans have the final word.
"I am sorry to use them but use them I must in order to remain competitive," said William Stevens from Newwave Technologies in Ohio.
"I would prefer that they not be in the industry, but I understand that we must deal with the reality of global competition," Bill Henry concludes.
https://o1.rtcdn.net/uploads/2019/05/Sino-US-relations.jpg
1078
1078
Tricia Judge
https://o1.rtcdn.net/uploads/2020/07/RT-logo-old-big-old-jiazi-3.png
Tricia Judge
2019-05-09 19:02:05
2019-05-21 11:47:55
Strange Bedfellows Make Progress—the Sino-American cartridge industry