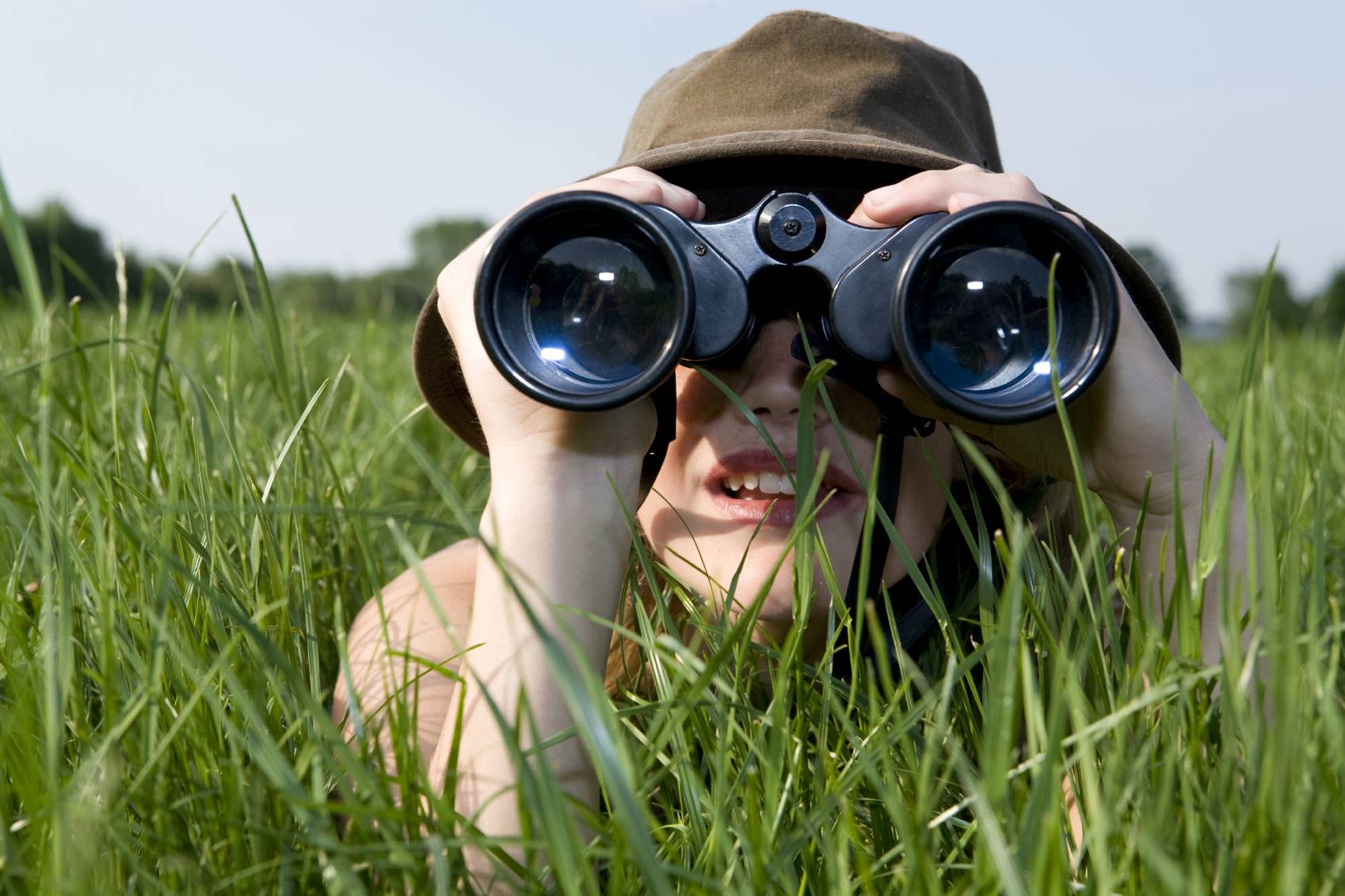 New Sustainability Study Reflects Growing Importance of Environmental Initiatives
New Sustainability Study Reflects Growing Importance of Environmental Initiatives
By Christine Dunne and Deborah Hawkins
Society is constantly seeing evidence of climate change, resource depletion, pollution, and destruction of the ecosystem. With everyone needing to play a role in reducing harm to the environment, Keypoint Intelligence deemed it important to conduct a study of efforts by office equipment vendors in this area.
This article will review some of the trends in sustainability occurring in the office equipment industry, how Keypoint Intelligence evaluated vendors for sustainability, and the winners of the evaluation.
Vendors see shift in public consciousness
Vendors are observing a shift in customer focus on sustainability; this is reflected in recent Keypoint Intelligence research. When asked what they would change about their work print environment, general office workers selected "lower the impact on the environment" as their number two response option—following "lower the cost."
The concern over the environmental impact of the print may reflect an overall attention to green behaviour as well as perceptions around the negative impact of using paper, ink/toner, and energy—in addition to disposing of print supplies and devices.
If you could change something about your work printing environment, what would you change?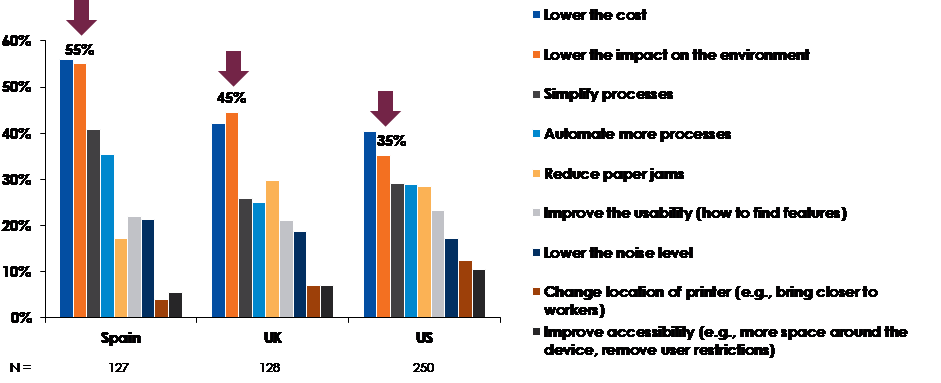 Source: Future of Office Printing (Keypoint Intelligence, 2018)
Vendors highly focused on ecolabels
Manufacturers are increasingly ensuring their products follow guidelines set forth by the various ecolabels in existence. The German ecolabel Blue Angel was first introduced in 1978 with the aim to give consumers a clear orientation on environmentally friendly purchases.
Now a variety of ecolabels are driving sustainability product development and marketing, some of which are shown in the below table. All of these directives, labels, and guidelines are evolving over time and must be constantly analyzed to fit the needs of today's society.
Timeline of ecolabelling milestones
| | | |
| --- | --- | --- |
| Ecolabel | Established | Country of Origin |
| The Blue Angel | 1978 | Germany |
| Our Common Future | 1987 | United Nations |
| Green Seal | 1989 | United States |
| The EcoMark | 1989 | Japan |
| The White Swan | 1989 | Nordic Countries |
| Energy Star | 1992 | United States |
| Rio Conference | 1992 | United Nations |
| The EU Ecolabel | 1998 | European Union |
| Agenda 21 | 2002 | United Nations |
| RoHS | 2002 | European union |
| WEEE | 2003 | European Union |
| EPEAT | 2006 | United States |
United Nationals SDGs also driving vendor efforts
Vendor sustainability efforts are also increasingly focused on the United Nations' global sustainability development goals (SDGs). Whereas ecolabels were developed with consumers in mind, the SDGs respond to a need for wider-reaching regulation. The SDGs were implemented in 2016, following the signing of the UN's Paris Agreement for mitigating climate change.
These SDGs are described by the UN as a universal call to action to end poverty, protect the planet, and ensure that all people enjoy peace and prosperity. They comprise 17 individual goals, which guide UN policy and funding until 2030 and provide real impetus for manufacturers, vendors, and service providers alike to change processes for the good of mankind. They have three pillars:
How can companies change the products they sell to have a less adverse effect on the environment comprising circular economy elements, closed loop recycling, and/or reuse?
How can manufacturing processes be adjusted to the SDGs?
How can companies help the community whether local or global?
Keypoint Intelligence vendor evaluations
With these and other trends in mind, Keypoint Intelligence identified categories by which it would evaluate office equipment vendors' current positions and offerings around sustainability. The eight categories included in information collection and evaluation were:
Company-wide vision
Achievements and targets in the office environment
Product innovations
Product labels
Environmental management
Marketing
Advocacy
Other sustainability differentiators
The information gathered was used to generate numerical scores for each vendor in each of the categories.
Keypoint Intelligence sustainability findings
Major trends that emerged from the data collection include:
All vendors are avoiding landfill and not only recycling, but also reusing and repurposing parts, devices, and components. There are still vast differences between whether this is made available free of charge, sub-contracted, or not available as well as the level of return, reuse, and repurposing relative to production.
All vendors are striving to reduce environmental impact at every step of the product lifecycle from raw materials to component suppliers, transportation, packaging, energy consumption, device longevity, emissions, as well as footprint or volume of print through managed print services (MPS) or print management.
Community contribution is increasing in importance to any vendor's offering. The relative size of companies should be guidance for the level of contribution.
All manufacturers are shifting to renewable energy sources as far as possible, and sales operations are expected to do the same.
The first tools are appearing to help guide consumers or companies on calculating their environmental impact and assessing where saving should be made. This is quite a change to the "cost-focused" assessment tools of the past ten years.
And based on its scoring exercise, Keypoint Intelligence determined three leaders in the office equipment sustainability space: HP for sustainability programs in North America and Western Europe, Ricoh for sustainable office technology in North America, and Epson for sustainable office technology in Western Europe. More information about these awards can be found in recent North America and Western Europe press releases.
Conclusion
Media coverage has elevated sustainability to become a very high-ranking priority. Industry manufacturers and vendors are already doing a tremendous amount relative to their manufacturing footprint as well as improving the energy efficiency of products; leading vendors are also hot on community contribution quite apart from office equipment.
Keypoint Intelligence expects, however, the focus for the coming years to move to the circular economy. It is no longer enough to offer a supplies recycling program. The new standard will be to directly compare the amount of recycled content in devices or renewable materials in packaging or longevity of parts or supplies. Repair and reuse will also play a more dominant role, and all of this will be at no additional cost to the user.
It is a new challenge for the industry that will require a lot of rethinking for many vendors whose main business focus has previously been profit.
For more information on Keypoint Intelligence's "Market and Vendor Insights: Sustainability" study, please contact Deanna Flanick at deanna.flanick@keypointintelligence.com.
https://o1.rtcdn.net/uploads/2019/12/Observations.jpg
1131
1698
Christine Dunne
https://o1.rtcdn.net/uploads/2020/07/RT-logo-old-big-old-jiazi-3.png
Christine Dunne
2019-12-04 16:22:07
2020-05-19 18:02:45
New Sustainability Study Reflects Growing Importance of Environmental Initiatives