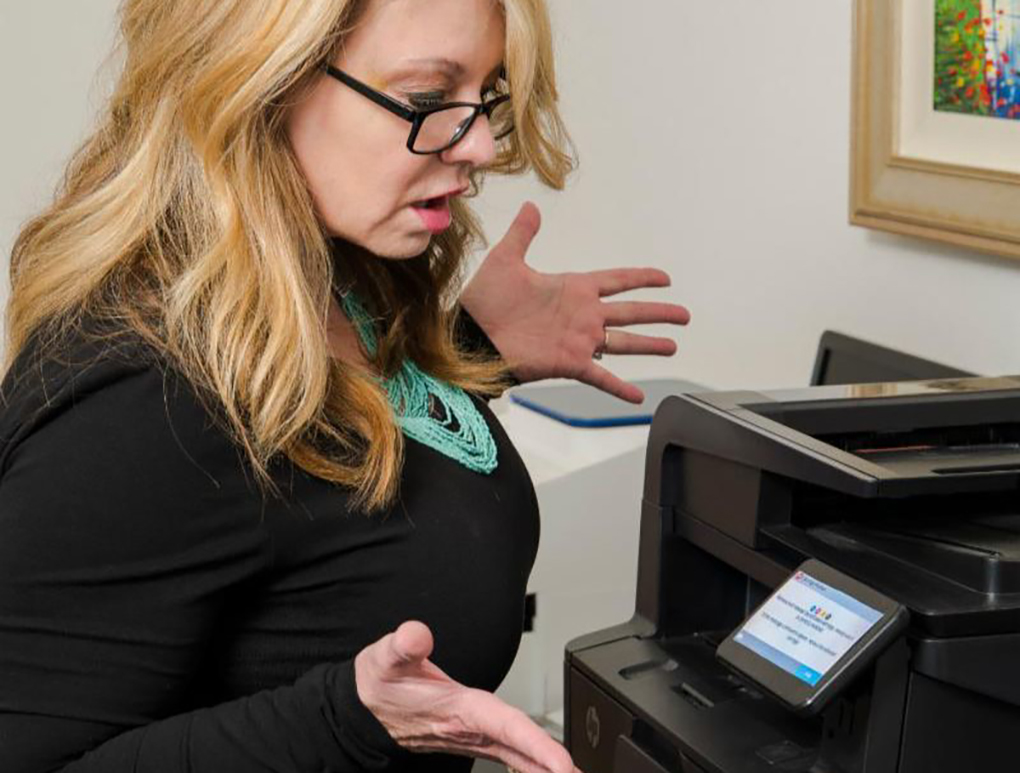 HP Releases More Diabolical Firmware Updates
HP Releases More Diabolical Firmware Updates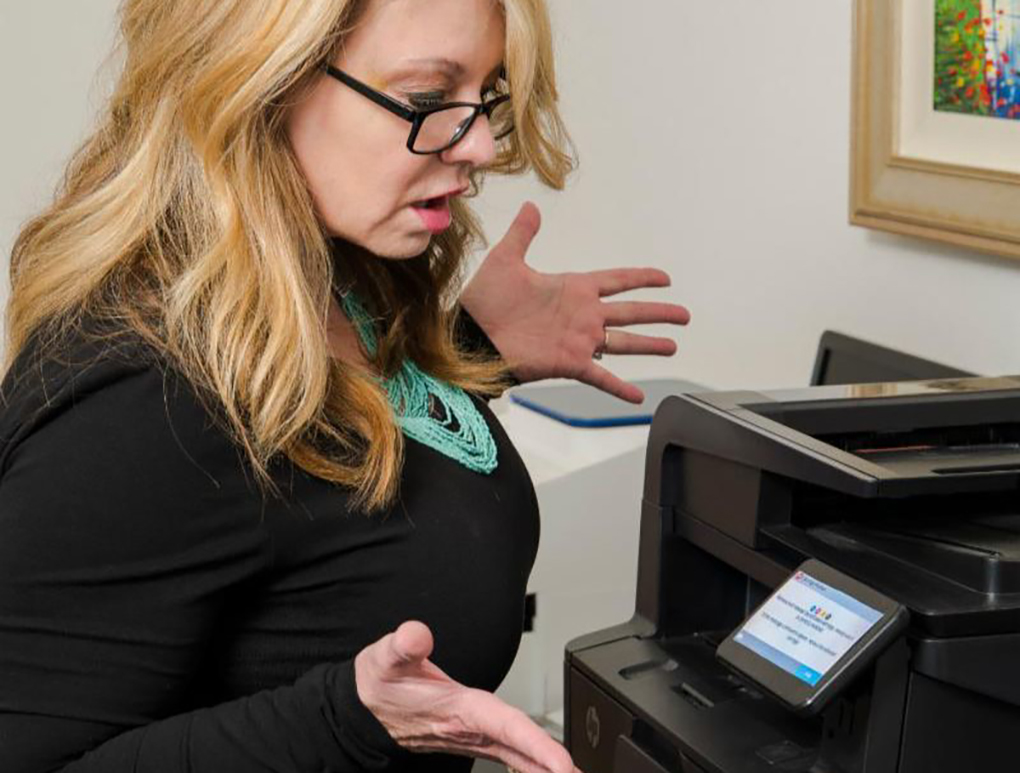 During March 2023, HP released a new firmware package that once again targets – and potentially locks out—aftermarket environmentally-friendly remanufactured cartridges.
The printer will not print and displays the error message, "Indicated cartridges blocked for containing a non-HP chip. Event Code: 10.00.46."
The firmware affects the following printers:
HP LaserJet Pro M404DN, M404DW, M404N
HP LaserJet Pro MFP M428DW, M428FDN, M428FDW
HP LaserJet Enterprise M406DN
HP LaserJet Enterprise MFP M430F
These updates are infuriating consumers, particularly because they occur automatically and without warning.  They cannot be reversed, and render full cartridges useless.  Some printers, however, can be reset so automatic updates can be turned off (see below). We encourage you to follow these steps, as your printer will perform just fine without these updates.
Class action lawsuits have been initiated over the firmware and are pending. We recently reported on the experience of one auto industry 'reman' executive who encountered the firmware lockout and was forced to throw away five perfectly good cartridges.
Environmentally friendly remanufactured cartridges are one of the targets of HP's firmware wrath.
These cartridges are original cartridges that are scientifically remanufactured and restored to their original condition.  For 30 years, remanufactured cartridges have been embraced by consumers and business customers for their better prices and lower impact on the environment.
HP doesn't like the competition, and they don't mind irritating their customers to force them into buying new cartridges with these lockout chips and updates.  Modern chip technology is a miracle that allows consumers to enjoy a host of features from their machines. Manufacturers use it to monitor their products' performance and make improvements in subsequent generations.
However, chip technology can also be abused. When chips are used to monitor supply usage in printers, for example, they can become an impediment to product performance. In 1999, the first "killer" chip was introduced. Ever since, they have been used auspiciously to "authenticate" cartridges.  Original Equipment manufacturers like HP use them to scare customers into believing that, but for their "authentication chips" malware could get into the customer's computer through the printer, but that is just not true. The authentication process is truly a way to keep non-OEM supplies from working well…or at all.
Recent chip supply issues have laid bare the truth of the OEM's deception about chips being essential to printer performance.   In Europe, the chip shortage has led Canon to introduce a host of cartridges without chips.  They explained that the supplies will work just fine without the chips, even if the machine doesn't recognize the cartridge.  It still functions just fine.
Another big lie that HP is spreading is about its superior environmental impact.  They release all sorts of greenwashing propaganda that their products and programs help the environment. Yet they are forcing customers to throw away perfectly good cartridges and drive to the store to purchase new ones. The biggest lie is their Amplify program, which is designed to force dealers to buy and resell more new cartridges, under the guise of caring for the environment.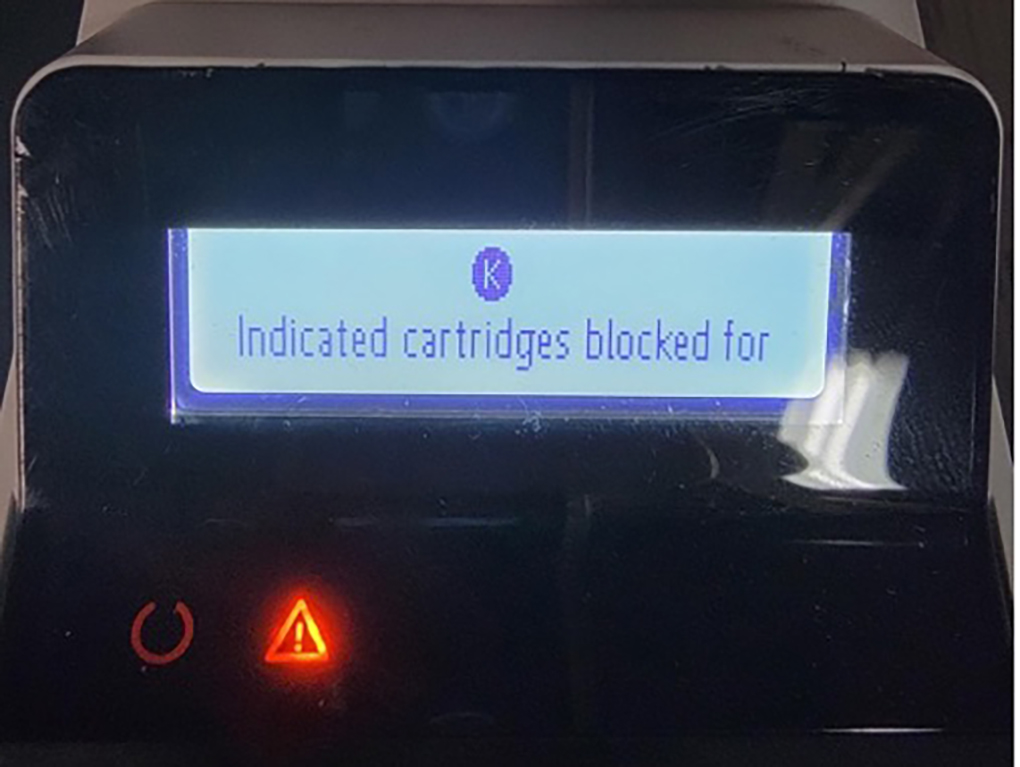 Common sense dictates that a reused cartridge is better for the environment than a new one.  Three quarts of oil are used to manufacture the average new toner cartridge.  And using it only once and tossing it only fills up landfills with industrial-grade plastic that won't degrade for a thousand years.  Remanufacturing that cartridge several times keeps that cartridge functioning for up to eight cycles.  After that, remanufacturers like Clover Imaging Group, the world's largest remanufacturer, will see to it that the cartridge is properly recycled.  Not exported to a North American or foreign dump.
Want to end automatic firmware updates on these printers?
Printers with auto-update set on their printers will receive this firmware update. Click HERE to find the steps to turn off automatic updates on the 404 series: If you do not have auto updates enabled on your printer and receive an option to update your firmware, DO NOT ACCEPT the firmware update.
Owners of HP 428 series printers are condemned to receive these updates.  Their users are not able to turn off automatic firmware updates.
Have you been subjected to a cartridge lockout? Let me know at tricia@i-itc.org.
---
Tricia Judge has served as the executive director of the International Imaging Technology Council—a not-for-profit trade association serving imaging supplies remanufacturers and dealers, for 25 years. Judge was the executive editor of Recharger magazine. A lawyer for 35 years, Judge also has litigation experience. Judge's work has been published in Recharger and several other industry magazines. She has won critical acclaim for her writing and industry advocacy. She has assisted in the preparation of six friend-of-the-court briefs. Judge has presented the position of the industry to the International Trade Commission. She can be contacted by email at: tricia@I-itc.org 
---
Recent Firmware-Related Stories:
Comment:
Please add your comments below for this story, "HP Releases More Diabolical Firmware Updates" or join the conversation on Linkedin
https://o1.rtcdn.net/uploads/2023/03/Annoying-firmware-updates.jpg
773
1020
Tricia Judge
https://o1.rtcdn.net/uploads/2020/07/RT-logo-old-big-old-jiazi-3.png
Tricia Judge
2023-03-23 09:09:01
2023-03-23 09:09:01
HP Releases More Diabolical Firmware Updates