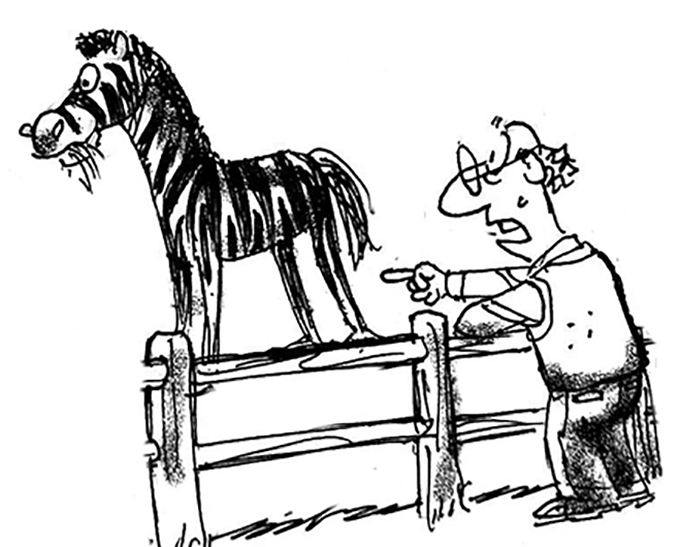 Running Out of Ink is Horseplay – Berto Muses
Running Out of Ink is Horseplay – Berto Muses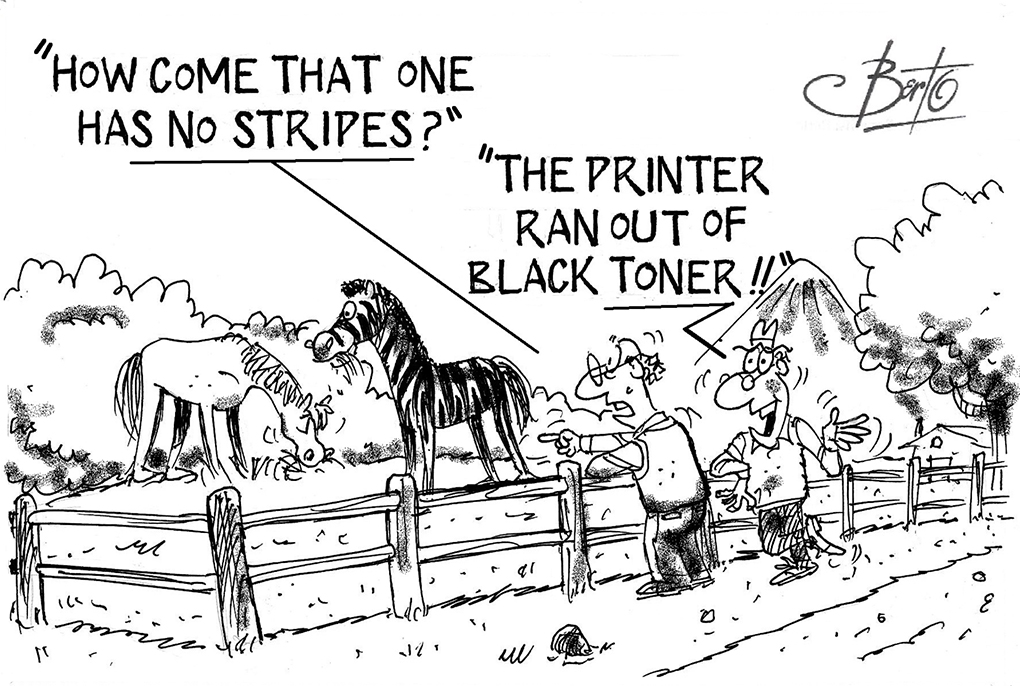 Running out of ink in the middle of an important print job can be incredibly frustrating for any printer owner and it is easy to feel like the printer is holding a grudge every time a low ink message unexpectedly pops up on the machine.  In truth, many different factors could be the source of a printer's low ink issue.
RT Media's resident cartoonist Berto has had some fun with this idea in this month's cartoon.
According to LD Products, there are five reasons why end-users run out of ink:
1. Inefficient cartridge page yield
Page yield is the approximate number of prints you can get from one cartridge.  Yield can vary greatly depending on the cartridge series that is compatible with your printer.  If you recently purchased a new printer and are not getting as many prints out of the machine as your previous printer, it is likely due to the page yield of your new printer cartridges.  Two similarly priced printers can use cartridges with very different yields.
2. Frequent printer cleanings
Proper upkeep of your printer ensures your machine and your printer cartridges are in top shape.  Most printers include built-in software that regularly performs scheduled cleanings to maintain consistent print quality, which helps prolong the life of your machine.   Your printer will often prompt you to run a printer cleaning if the printer has been inactive for an extended period of time, or you may be inclined to manually initiate a cleaning if you are experiencing spotty or light prints.  This process primes the cartridges before you print, preventing clogs and preserving your print quality so they can operate at peak performance.  Running a printer cleaning is a great resource if you are looking to clear up your print quality, however, multiple cleanings in a row can slowly deplete the ink in your cartridge.
3. Occasional printer use
How often you print can also influence the longevity of your printer cartridges.  Ink cartridges that have been sitting idle in your machine for more than a couple of weeks will eventually dry out.  You might be able to bring them back to life by running a cleaning on your machine, but if the pattern continues, you will eventually be placing an order for a set of replacement cartridges.
4. Type of documents printed
The type of documents you print can have a major impact as well.  If you print in mostly black, your black cartridge will naturally run out faster than the color cartridges.  However, some printers will pull a bit of ink from the color cartridges when you are printing solely in black, just to keep them primed for future use.  Colour-rich print jobs like photos and multi-graphic documents are another quick way to deplete ink cartridges.
5. Incorrect printer settings
Frequently using the wrong printer setting on your machine can quietly deplete your printer cartridge. You can reduce your ink use by adjusting those settings and most printers have a number of them that will adjust the print quality (and the amount of ink that is dispersed on the page), depending on what you need to print.  Many let you choose between draft mode, greyscale, photo printing and others, but settings vary from printer to printer.
---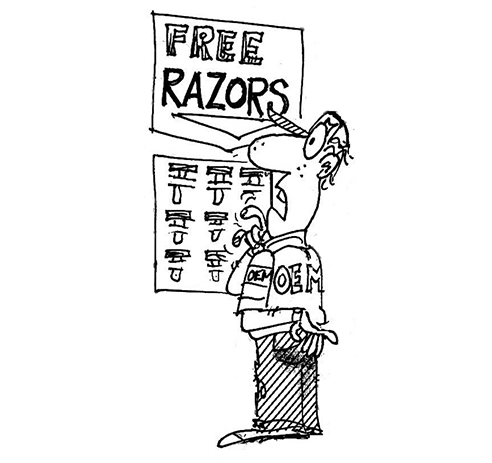 Cartoon #103: Running Out of Ink is Horseplay – Berto Muses
Berto's previous cartoon #102: OEMs Use Razor Model – Berto Sharpens Up
Who is Berto? And where can you see more of his work?  Click here.
https://o1.rtcdn.net/uploads/2021/11/Zebra-Berto-thumbnail.jpg
547
680
Berto Valenzuela
https://o1.rtcdn.net/uploads/2020/07/RT-logo-old-big-old-jiazi-3.png
Berto Valenzuela
2021-11-25 13:47:24
2022-07-15 13:16:08
Running Out of Ink is Horseplay – Berto Muses