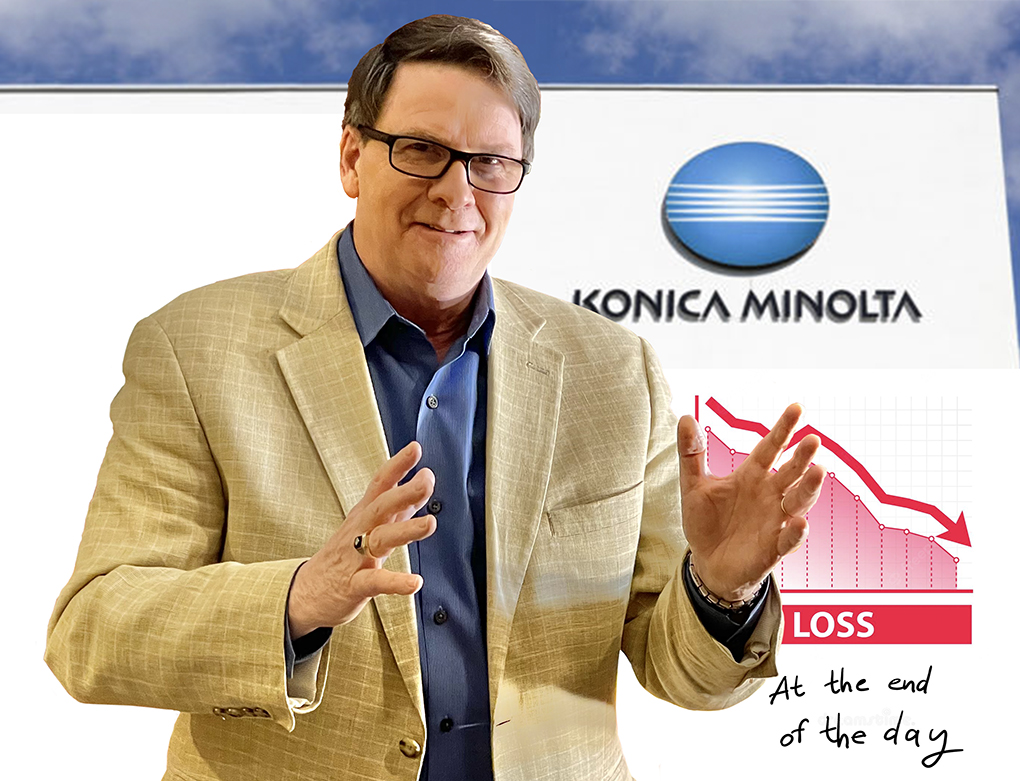 Tough Words Konica Minolta Needs to Hear
Tough Words Konica Minolta Needs to Hear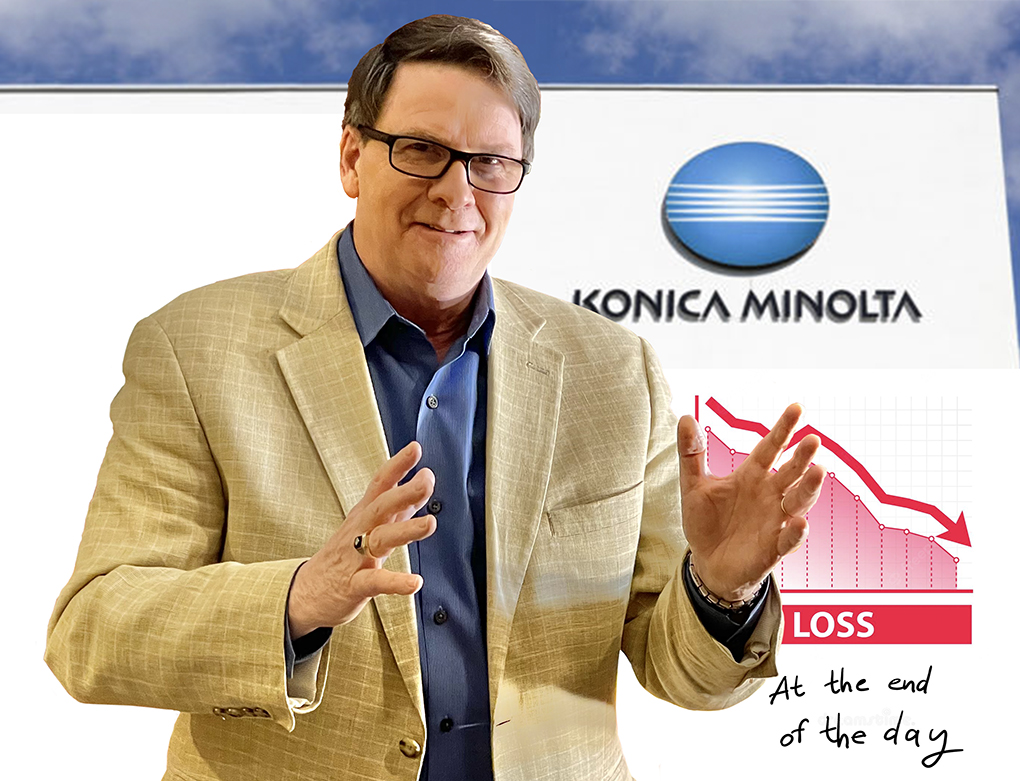 Well, it's time for Konica's year-end financials. Their year ended in March of 2022. I got the numbers in. I dissected them. I went through the financials.
I will tell you this, the numbers aren't good.
For those of you that can't stick around, it was over US$170 million in the hole. And for the last two years alone, a US$300 million loss. Things need to change over there Konica, there's no doubt about it.
The first thing I want to talk about is why you need to make sure as an OEM, or any business for that matter, that you actually have profit. And that you're doing everything you can to ensure that you have good operating profit.
Do you know why? Well, because you get into trouble sometimes with hacks and troublesome circumstances around the globe. And right now, the world is an unpredictable place.
Take the Yen which is at its weakest point for almost 30 years. This is going to cause more problems for operating profit for Japanese companies.
Then there's the scenario where COVID is blamed for the delay in patching some vulnerabilities in Konica Minolta printers. Many offices were shut down at a time when this particular vulnerability needed a human intervention at the machine. You can "google" this to get the updates. I share this because it's a good example of "how shit happens" as they say.
Yes. Things can go wrong. You must be prepared for that and if you don't have the right amount of money in the coffers, how many things can go wrong before you get yourself in real trouble?
Konica has had its fair share of bad things happening. It's not necessarily their fault, either, right, that there was an explosion and a fire at their toner factory back in August 2021.
I mean, that was a problem. And this is the point. This is the point when you're running a tight ship, as they say.
Looking at Konica's Performance
I'm often accused of being a little too abrasive. But, at the end of the day, if we don't pay attention to these losses—which are like cracks in the foundation—how are we going to move forward?
I have read the aspirations of Konica going forward. I have read the excuses as to why they lost money. To be frank, I'm not convinced they can be an ongoing concern. I'm not the only one that thinks this way either.
Let's just dig into the numbers here. They did US$7 billion in total revenue. The operating profit was a loss of US$173 million. That's a loss.
Put that together with their year ending for 2020, it's a chronic total of US$300 million lost in the last two years.
This is unsustainable. Things must change.
Let's look at this from another perspective. Some friends of mine sell supplies and services, print equipment, the digital workplace with professional print. These two business units have a combined revenue of US$5.1 billion. That's a big, big chunk of Konica's revenue. The operating profit for both of those units together was -US$40 million. When you put it with last year, that is a total negative of US$122 million.
A loss in both years. So professional print and the digital workplace experienced an operating loss for the last two years of US$122 million.
Let me say it again: Loss. These are cracks in the foundations. Serious changes are needed, right? This is, this can't continue.
What I do find interesting, and maybe Konica could add it to their comments, because I'd love to know what this category, "Corporate Etc" is. This category experienced a US$118 million loss. Over the last two years they had a US$236 million loss. An unexplained loss too. It'd be interesting to know exactly where that money was lost. Have they just pushed some workplace and professional print costs and hidden them down here in "Corporate Etc" to make the rest of the spreadsheet not look so bad? I'm just asking the question, because either way, a US$122 million loss over two years is not very exciting.
Let's look at some of the reasons they give for their achievements. They claim to have achieved increases in revenue and profits in line with initial targets in the industry business, driven by their lens businesses. If it wasn't for this business activity, then they would simply cease to exist. But it only "just" makes money. In the area of industrial print and health care, their initial targets were miniscule: just 0.5% operating profit. It's just not enough. If somebody sneezes and something breaks, they don't have enough money to fix it. In my view, they need to raise their aspirations.
Let's look at some things they didn't achieve. They mention "supply shortages" as their first point. The first thing, if they really wanted to be honest with the shareholders, should have been, "we did not achieve an operating profit." However, they blame supply shortages, mainly in office and production print, owing to the tight semiconductor supply prolong logistics.
The truth is these things aren't going to change over the next six months. They're almost into the end of their 1st quarter of the new year, and we haven't seen a whole lot of change in supply chains. It is still a problem.
It just seems they just don't get it. So, what is the real reason why you didn't achieve things? Konica, you didn't get rid of your direct operations and those high costs to run them.
Let's look at projections. When you look at their report, they reveal they are US$452 million off their projections. That's this year. Remember, they lost US$173 million this year. But they missed their projections by US$452 million. That's a lot of money.
So when they start talking about their aspirations in their forecast, it's hard for anybody to take it seriously. Why? Because you're not talking about doing anything differently than what you were doing when you had your last disaster.
Yes, they say the problems are all about the supply chain. But where is the inspiration that will get investors saying, what the hell's going to happen next year? I think they must be shaking their heads in disbelief.
Konica does mention it did have a one-time factor of ¥20 billion as an impairment loss. The question, however, must be asked, "Will there be a second-time factor loss in this fiscal year?"
What of those 17 acquisitions you made, Konica? I've been screaming at you for a long time now to share any of the successes with the world on your financials. For me, that means they have probably not been that successful, otherwise you'd have been bragging about them no end. I'm not talking about buying the awards and throwing those on your website. I'm talking about the actual details of how you're making money in IT services. When the whole world a print is screwed up, how has that helped Konica change the game and drive your revenue numbers?
So, I'm guessing that maybe this year, maybe next year, there'll be another impairment charge. OEMs are all going out there to buy up these investments, and they don't know how to transition those investments into a deliverable that makes money. Because if they did, they'd be bragging about it. Konica is one of the biggest braggers of all the OEMs in an industry that loves to brag. That's just my opinion and I'm not the only one that has it.
They can't wait to get the award. They can't wait to have the press release. I have said it before, but when you do a press release continuously about nothing, it's just to distract everybody from the non-action of the last press release you did.
But there's another problem coming for Konica. This is going to hurt them.
The yen.
The yen has gone off the charts. Jump online and have a look if you don't believe me. It was flat for some 30 years, but its currently at ¥129 to the US dollar. This exchange rate is going to hurt Konica. It may be fantastic for foreign buyers. But not for Konica.
I hope that Konica realizes that, despite me being tough, but it's the worst one in the group. At the end of the day, there must be a turnaround. We all must stop seeing things through rose-colored glasses. We must pay attention to the threats and challenges.
I will remind you, as I always do as I wind up, that status quo is the killer of all that will be invented. Don't get stuck in the status quo.
---
---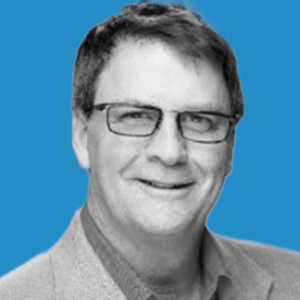 Have you found this article, "Tough Words Konica Minolta Needs to Hear" helpful?
Ray Stasieczko is a forward-thinking and often controversial writer and speaker. You may not want to agree with everything he says, but you are compelled to read and listen. To do otherwise could spell doom.
He has called the imaging channel home for nearly 30 years and served in various roles and has contributed nearly 100 articles to the industry's publications. Ray has also spoken at the RT Media Summits in Cairo, South America and China. You can contact him and watch him on LinkedIn.
Read Ray's other blogs:
Tough Words Konica Minolta Needs to Hear
https://o1.rtcdn.net/uploads/2022/05/Ray-Stasieczko-Konica.jpg
781
1020
Ray Stasieczko
https://o1.rtcdn.net/uploads/2020/07/RT-logo-old-big-old-jiazi-3.png
Ray Stasieczko
2022-05-18 18:51:41
2022-05-19 13:12:41
Tough Words Konica Minolta Needs to Hear