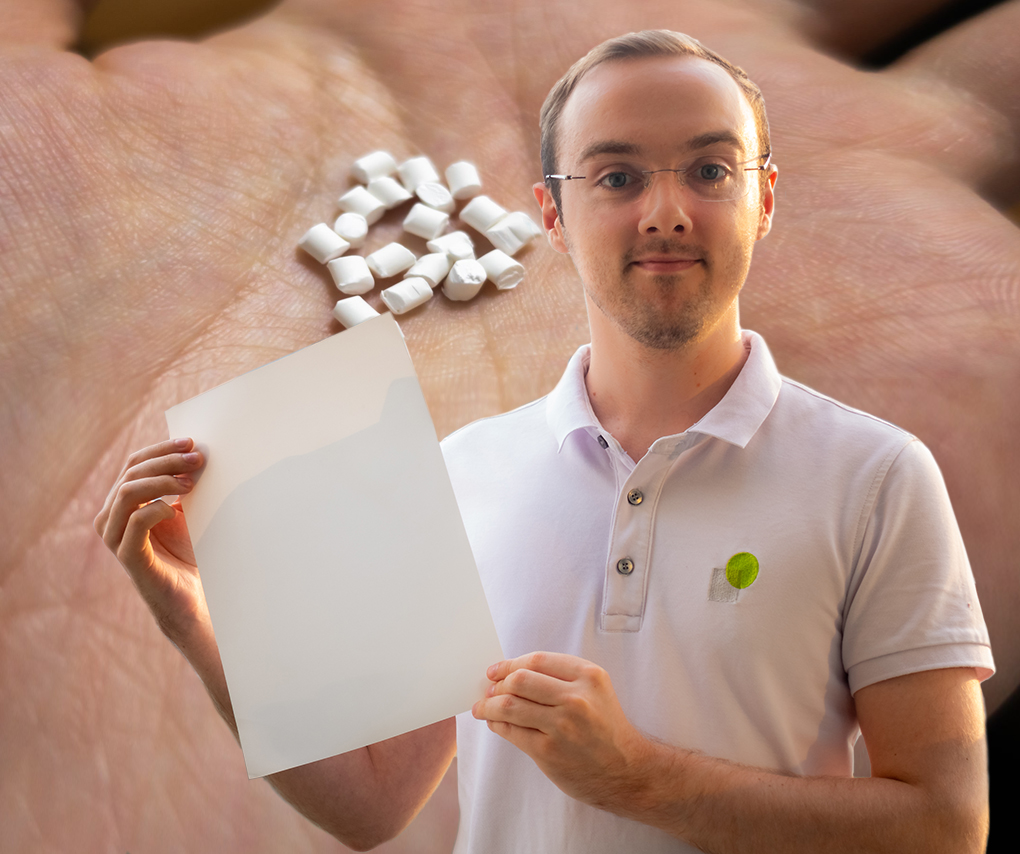 New Specialty Paper Made from Stone Proves Sustainable
New Specialty Paper Made from Stone Proves Sustainable
My name is Hunter Bliss, and I'm the founder of the Pebble Printing Group. I am one of China's leading experts on this material, and I will explain why this innovation is a game-changer for office and commercial digital printing.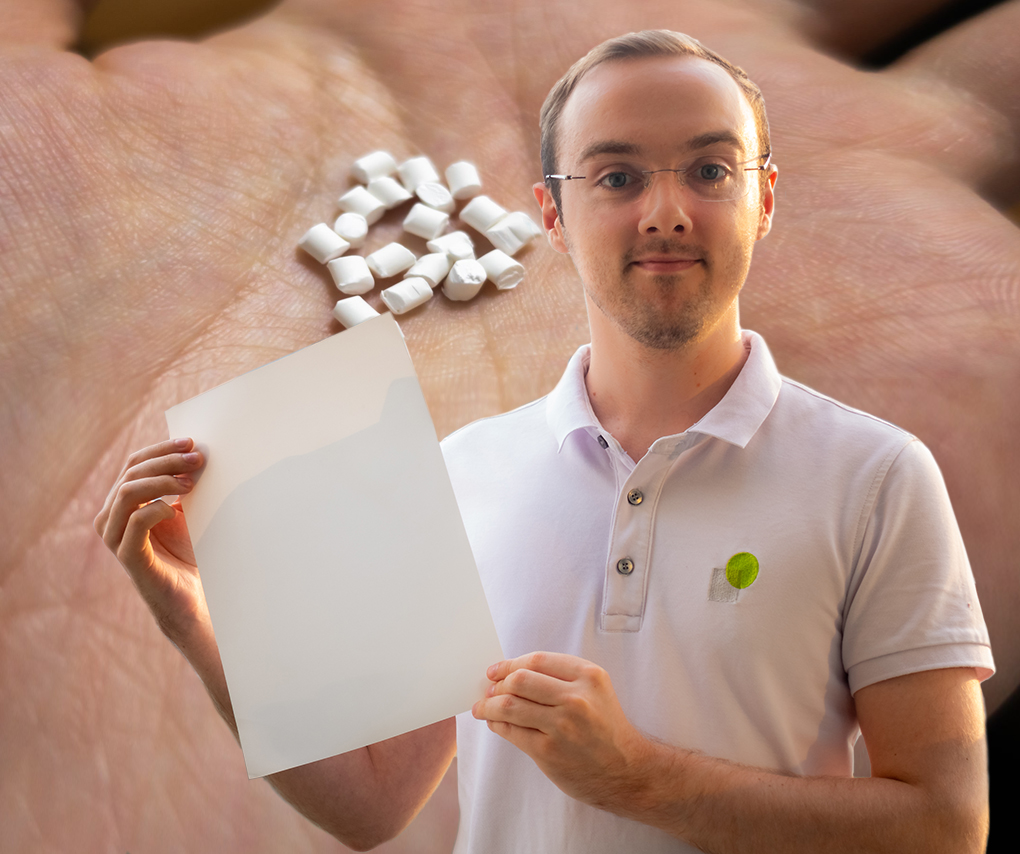 Twenty years ago, a fascinating new material called stone paper came out of the polymer labs and onto the commercial printing market. It was a quiet launch.
Today it is quickly becoming relevant for consumers who prioritize sustainability. By using mainly stone powder, no trees or water are required, a fraction of the energy is necessary for production, CO2 emissions are dramatically reduced, and poisonous chemicals are eliminated. Over the last decade, these sustainability credentials have been demonstrated as the worldwide manufacturing capacity has increased over 33,000% to nearly 200,000 tons per year.
Until now, however, this paper has been irrelevant for the digital and office printing market. That's because stone paper's original design was for commercial offset printing. This month, a breakthrough innovation has made this material accessible to digital printing systems.
The Basics of Stone Paper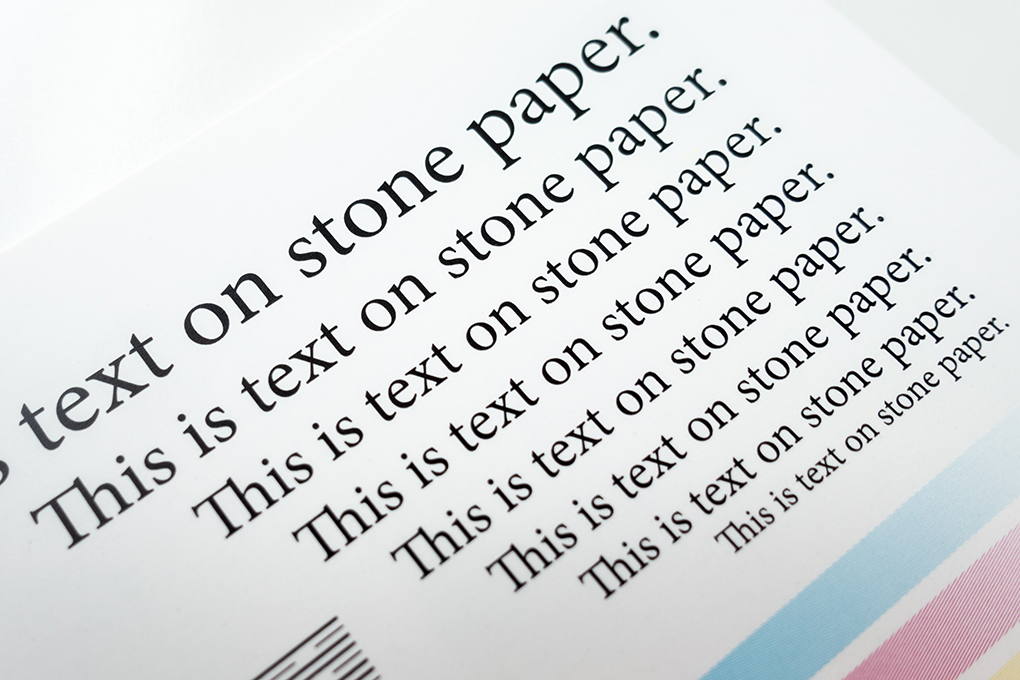 Stone paper is composed of 80% calcium carbonate and 20% polyethylene. In China, calcium carbonate is sourced from mining waste. Natural calcium carbonate is several million times more abundant than trees on Earth but is also a common byproduct of carbon-consuming industrial processes.
The polyethylene for the current paper is HDPE plastic. This may seem counterintuitive, but the extreme efficiency of this minor component reduces the overall fossil fuel consumption of paper production and completely eliminates wastewater and trees from paper production. The plastic component is actually the key to its extreme sustainability.
These two ingredients make a paper that is waterproof, non-toxic, tear-resistant, soft touch, and bright white without any chemical bleaching. The base material is photodegradable, meaning that it reverts back to calcium carbonate within 6 months under direct sunlight. It is highly recyclable, being easier to de-ink than regular paper. Its degradation does not affect its recycling quality. It can be both mechanically recycled and incinerated without producing high emissions or ash. Incinerating stone paper leaves only calcium carbonate for further use in a number of industries.
So What's New in Stone Paper 2.0?
The key to stone paper as a replacement for traditional paper is the innovative coating. The proprietary recipe makes it compatible with printing inks, without requiring them to soak into the paper. Until now, this coating has been optimized for offset printing. Any ink with heavy solvents or water could not dry.
After two decades of development, this problem has been solved with stone paper 2.0. It's a huge step for stone paper because it opens new possibilities for the largest segment of digital and office printing: inkjet.
The new stone paper can be printed with heavy inks and dries quickly. Due to its waterproof structure, it requires 50% less ink to achieve the same result as comparable office paper. It has a low dot gain which ensures image crispness, accurate colors, and deep saturation. It has a higher whiteness than the previous stone paper due to the upgraded coating.
Right now, this places the new stone paper 2.0 somewhere between office paper and high-quality photo paper. That's why it's initially being classified as a specialty paper. It has great potential for applications with children, like educational materials and children's books.
Could it be more than just a specialty paper?
At stone paper's current volume, it's fair to classify it as a specialty paper. There is still a lack of awareness that prevents it from being mainstream material.
The production of stone paper 2.0 only started in 2021. But its novel design makes it capable of more. Calcium carbonate, the main component of the material, costs less than 5% of wood pulp.
In fact, the production costs of this new paper, in general, are much lower than comparable office and coated printing papers. Not only could it save on ink costs, but paper costs too.
This is where things get very interesting. If this new paper is cheaper than traditional office paper, saves almost half of the ink of traditional paper, and has higher quality, what could stop it from being used everywhere?
This is an even more interesting comparison than offset paper, which was more or less the same price per ton. All of the important indicators say the digital market is a place for stone paper 2.0 to thrive.
---
This was just an introduction to this exciting new material. Over the coming months, readers can expect to see more important insights about stone paper 2.0 exclusively at RTM World. For any questions, go to pebbleprinting.com or send an email to info@pebbleprinting.com. We look forward to exploring this new material with innovative printers.
Related:
Comment:
Please add your comments below about this feature, "New Specialty Paper Made from Stone Proves Sustainable."
https://o1.rtcdn.net/uploads/2021/10/Hunter-with-paper-and-pellets.jpg
854
1020
Hunter Bliss
https://o1.rtcdn.net/uploads/2020/07/RT-logo-old-big-old-jiazi-3.png
Hunter Bliss
2021-10-11 15:09:00
2021-10-11 15:09:00
New Specialty Paper Made from Stone Proves Sustainable