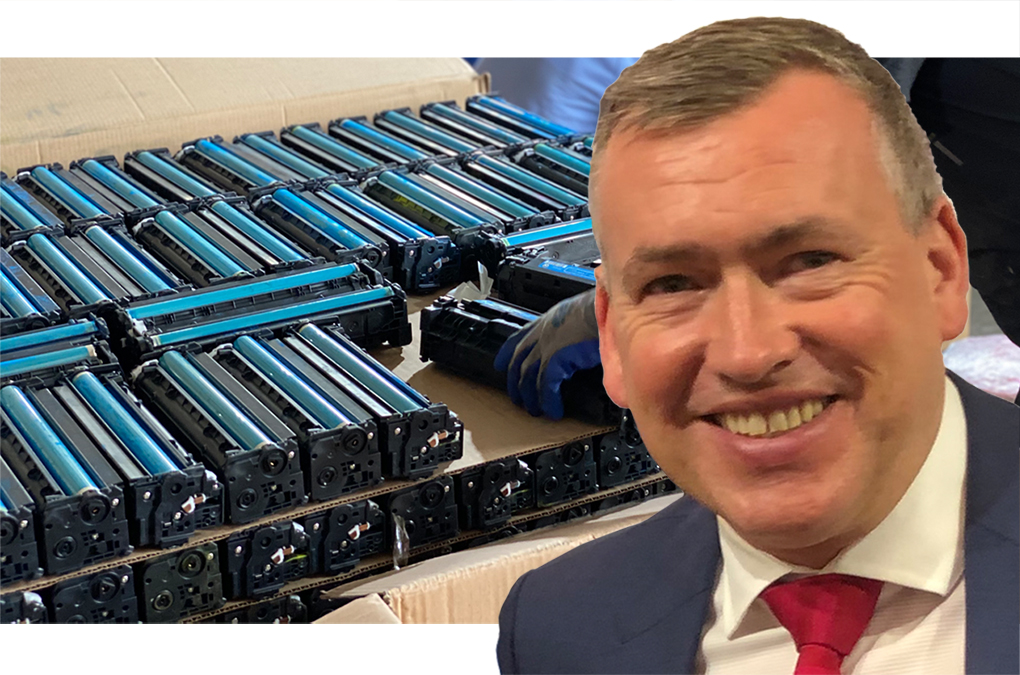 HP Endorses Remanufacturing – are you paying attention?
HP Endorses Remanufacturing – are you paying attention?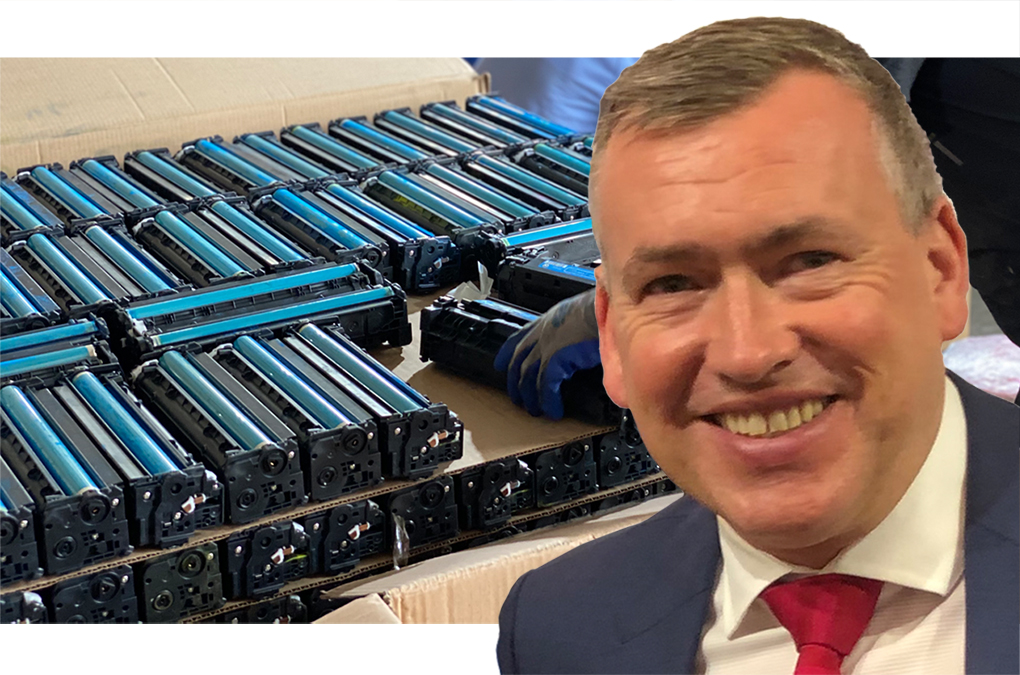 Just ahead of Earth Day on April 22, 2021, HP issued a press release with ambitious plans to combat climate change.
This impressive announcement drew applause from commentators in the aftermarket space. HP remains the dominant OEM, and the aftermarket needs HP to be successful. Ecology is, and always has been, central to the remanufacturing industry's value proposition. It was positive to see HP focussing on reducing its footprint.
Included in a bullet point list of initiatives, was the introduction of HP branded "renewed" inkjet cartridges for its Instant Ink program in Germany. Whilst the word "remanufactured" was not specifically mentioned, it is probably an accurate description of these cartridges.
As the world emerges from the COVID-19 pandemic, climate change will re-emerge as the most important issue of our time, and with a level of urgency not seen thus far.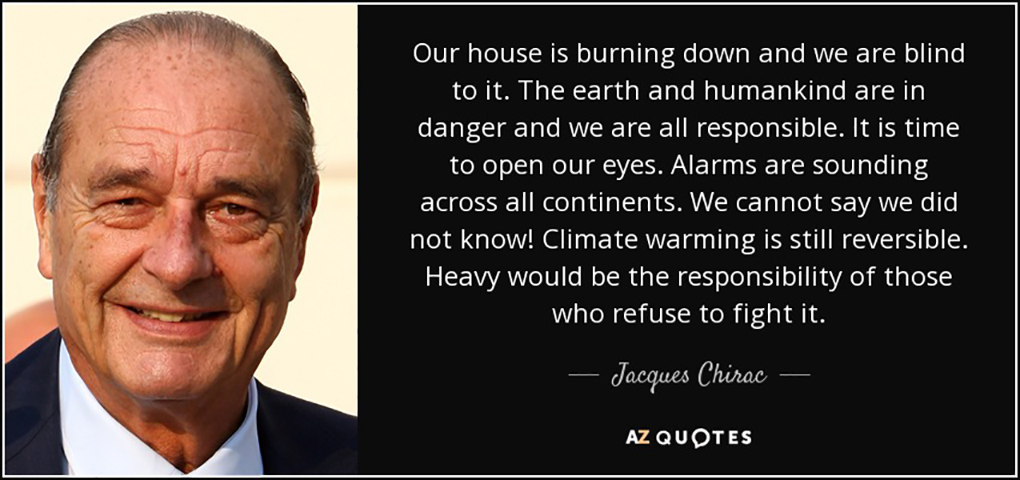 It is nineteen years since Jacques Chirac (pictured)—President of France from 1995 to 2007—told us our houses are burning and we continue to look away. We have procrastinated long enough and the time for action is now.
All major corporations need to enhance their CSR credentials. These will become crucial for competitive advantage. They will be challenged more closely than ever. Opportunities for greenwashing will be diminished. Claims of being good corporate global citizens will need to stand up to scrutiny.
Is HP stepping up to the plate?
Those in the printer cartridge remanufacturing industry know that re-use is better than recycling. They live and breathe that message every day. Has HP always known this too?
In their recycling model, following consumption, HP cartridges are removed from waste disposal streams, returned to their original raw materials which then serve as new raw materials for HP's manufacturing process. HP has promoted this for as long as I can remember. It has clear environmental benefits: reduced waste to landfill and added multiple lives for the Earth's raw materials.
However, the remanufacturing process offered by the aftermarket "recycles" the value originally added to those raw materials and therefore makes a much greater ecological and economic contribution per unit of product.
Recapturing value is what makes remanufacturing so beneficial. The raw materials, labour, and capital resources invested into the cartridge during manufacture are captured. By contrast, recycling reduces a product simply to its elemental value. Only the raw material constituents are recovered.
Remanufacturing is considered the ultimate form of recycling among environmentalists.
The printer cartridge remanufacturers have always understood it but have they done enough to effectively educate customers?
For years, almost unchallenged, HP has promoted messages suggesting "HP recycling" is better than "aftermarket remanufacturing."
HP has engaged "Quality Logic," "Spencer Labs," "Four Elements," "Info Trends" and other third parties for sustained attacks on the remanufacturing industry and its products. The goal is to convince consumers and resellers that remanufacturing delivers inferior quality cartridges with higher carbon footprints than HP branded cartridges.
"It's time to separate myth from fact. Don't be fooled by low purchase prices and exaggerated claims of reliability. Remanufactured cartridges don't always live up to their promises. Get the facts to make the right decision about how to spend your printing dollars—and protect your bottom line" – HP, November 2009.
"Used cartridges don't offer the advanced features and that the proprietary formulation of ColorSphere 3 toner which is stable, consistent and simply can't be matched" – HP, March 2015.
"Remanufacturing is not recycling. Remanufacturing can create waste and drain resources. Original HP cartridges have a lower environmental impact. Remanufactured toner cartridges can use 12 times the paper for reprinting compared to Original HP toner cartridges" – HP, February 2018 Revision 6: Remanufacturing is not Recycling: "There's a big difference between reusing cartridges and recycling them. Remanufacturers often claim that reusing cartridges is better for the environment—but there is more to the story."
HP Statement September 2007: How environmentally responsible are your print cartridges?

HP Statement September 2011: Debunking remanufactured toner cartridge myths
HP Attempts Remanufacturing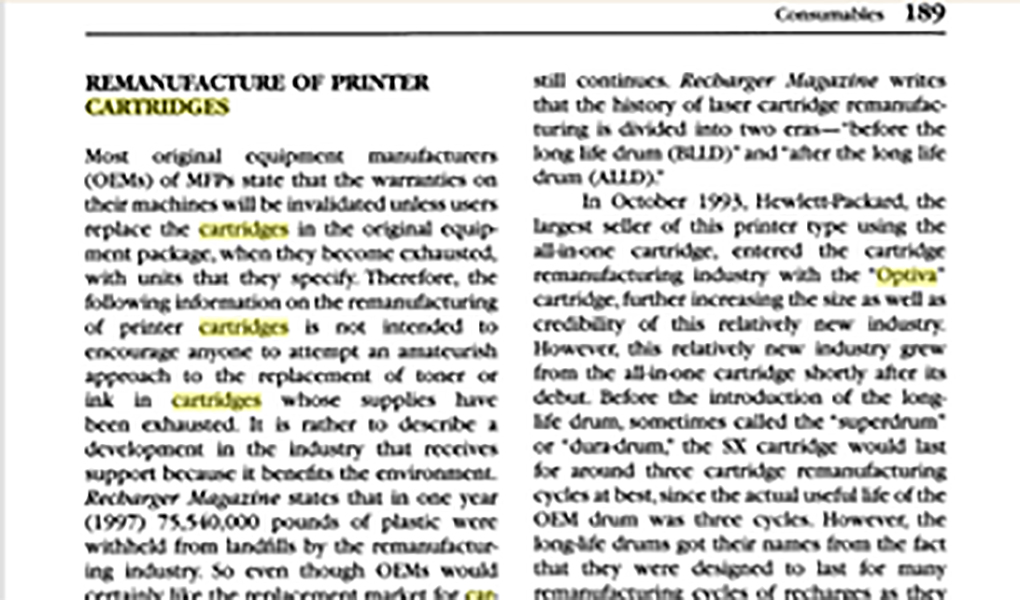 As far back as 1993, HP launched its own range of remanufactured laser printer cartridges for use in HP printers. Yes, you read that correctly. HP really did that.
The program was called "Optiva" and industry veterans will recognise the cartridge references. Optiva focussed on the three major cartridges dominating the market: SX, LX and NX cartridges were also known as 92295A, 92275A and 92291A respectively.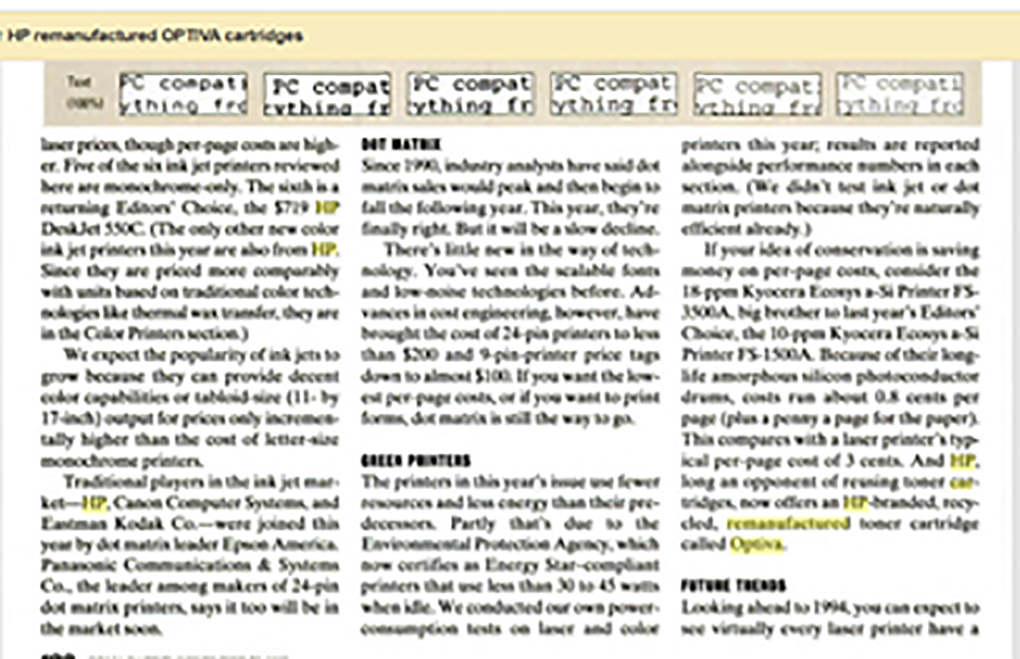 Given how the OEM competitive landscape has evolved since 1993, it is hard to believe that HP outsourced Optiva to Lexmark, but that is exactly what they did.
I wonder if Optiva was motivated by an HP desire to be green? Or was it created because of procurement policy in the USA, which at the time recommended all public sector organisations should use remanufactured toner cartridges?
As recently as 2008, HP partnered with toner cartridge remanufacturers to produce a range of white-box cartridges for use in MPS applications. This was probably motivated by efforts to reduce the cost-per-page for large corporate organisations so that HP could demonstrate price based competitive advantage against other more aggressive OEMs.
And now we have the new press release about the use of "renewed" inkjet cartridges for the German market in combination with Instant Ink.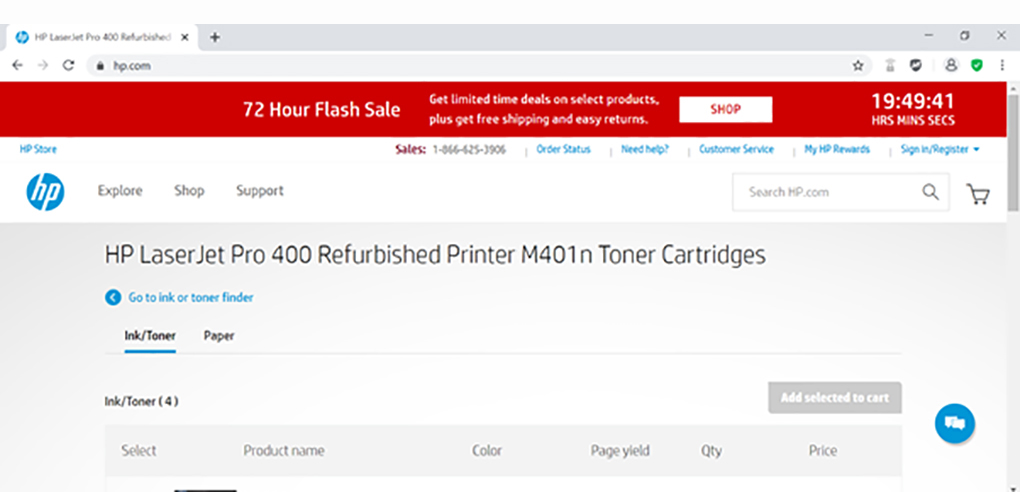 But HP "Renew" initiatives also have history. For many years, HP has promoted remanufactured hardware. You can find the following on the current HP web site:
"At HP, a refurbished solution is offered on just about all product lines: printers, notebooks, desktops, and more. They are products that have been returned to HP for a variety of reasons and then put through a rigorous refurbishment process." HP: Discover the Benefits of Refurbished Products
"Products that are refurbished are restored to their original condition and performance. Each unit is fully tested, any broken or defective parts identified in testing are replaced and the unit is tested again. Units are then cleaned, re-packaged and assigned to a new refurbished part number."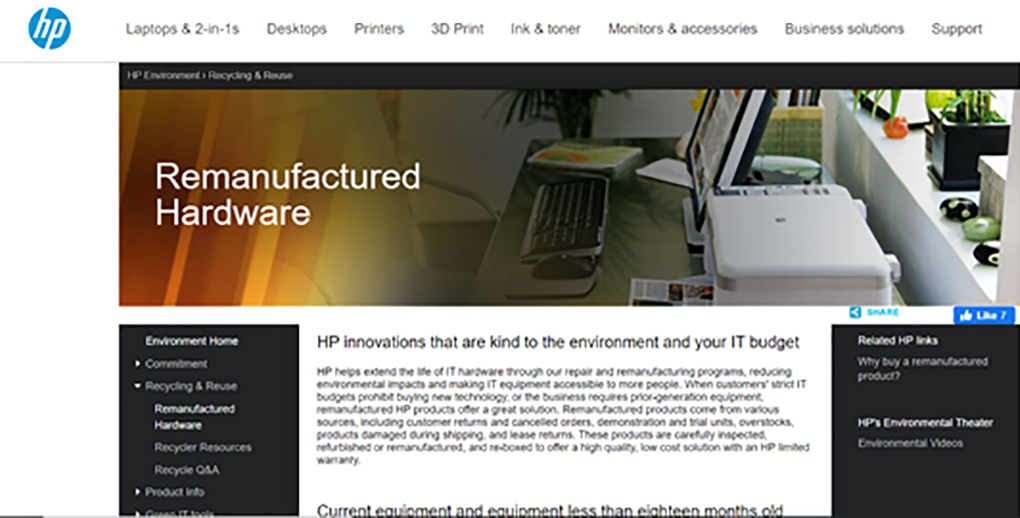 You would be forgiven for thinking that was written by an aftermarket cartridge remanufacturer.
Clearly, HP believes in remanufacturing when it is under an HP umbrella but holds a different view when the aftermarket offers consumers an alternative.
The HP cartridge warranty states: "For HP printer products, the use of a non-HP ink or toner cartridge or a refilled cartridge does not affect either the warranty to the customer or any HP support contract with the customer".
Yet, HP was recently fined €10 million (US$12.02 million) by authorities in Italy, who concluded that "HP had introduced significant limitations in many inkjet and laser printers sold to consumers. These limitations impacted the use of non-genuine ink and toner cartridges and have been happening for some years".
Much greater levels of reuse and repair are mission-critical if we are to succeed in our efforts to combat climate change and preserve the Earth's natural resources. Remanufacturing is the embodiment of reuse and repair.
HP Endorses Remanufacturing – Are you paying attention?
In summary, HP, the most important OEM in the space, continues to hinder the aftermarket with firmware and chips to lock out competition. At the same time, it is helping the aftermarket by endorsing remanufacturing.
Are cartridge remanufacturers paying attention? By its very existence, the remanufacturing industry helps to protect consumers from predatory business practices and helps to ensure fair competition. The concepts of reuse and repair are in the DNA of remanufacturing.
The OEM is inconsistent and contradictory in its messaging. The remanufacturing industry has an opportunity to promote a clear, simple, and consistent message. Will it take that opportunity? ■
References:
---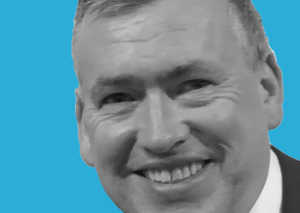 Mark Dawson is RT Imaging World's Regional Partner for Europe and the Middle East.
He joined the imaging supplies industry in 1987 and has held senior positions with both American and European corporations, including MSE and Clover. He is currently a director with Real Time Communication BV whose mission is to help independent resellers find new revenue streams and optimize margins.
Dawson is partnering with RT to bring VIP Expo one day intensive events to Europe and the Middle East. For more information please contact him at <mark@iopbv.com>
You can read more of Dawson's opinions:
HP Endorses Remanufacturing – are you paying attention?
Comment:
Please add your comments below about Mark's blog, "HP Endorses Remanufacturing – are you paying attention?" or join the conversation on social media at LinkedIn.
https://o1.rtcdn.net/uploads/2021/05/Mark-Dawson-remanufacturing.jpg
675
1020
Mark Dawson
https://o1.rtcdn.net/uploads/2020/07/RT-logo-old-big-old-jiazi-3.png
Mark Dawson
2021-05-05 12:56:21
2021-06-16 11:06:52
HP Endorses Remanufacturing – are you paying attention?