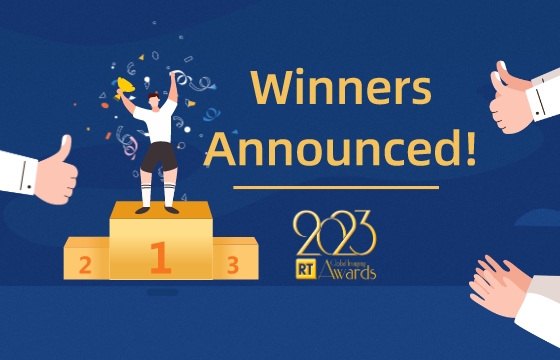 16 Winners Announced at RT Global Imaging Awards Ceremony
16 Winners Announced at RT Global Imaging Awards Ceremony
The RT Global Imaging Awards have been highly recognized by companies and individuals in the office equipment and print consumables industry since 2014. This year, the awards have once again received high attention from professionals in the industry.
Since nominations opened on July 1, individuals, organizations and companies have proactively participated from around the globe. In just one month, Comexposium RT (C-RT)—the organisers of RemaxWorld Expo and the RT Global Imaging Awards—received over 1,000 nominations from 15 countries and regions. After rigorous evaluation and assessment, 16 winners were carefully considered by a panel of 12 international judges. The honorable winners for each award were finally announced at the RT Global Imaging Awards Ceremony held on October 12, the first day of the RemaxWorld Expo at the Zhuhai International Convention & Exhibition Center.
At the ceremony, all winners were awarded trophies and citations in honor of their outstanding contributions to the printer and imaging supplies industry.
Premium Awards
The six premium awards were presented to finalists from the USA, Europe and China:
Diamond Pioneer Award to Graham Galliford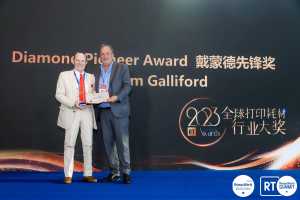 Graham Galliford was presented with C-RT's most prestigious Diamond Pioneer Award by Eve Diamond, the daughter of the late Art Diamond, for his world-renowned, valuable leadership, and professional guidance having authored many research papers and given over 80 presentations to industry gatherings in Europe, the Americas and Asia in the field of toner-based printing technologies since 1974 with an emphasis on the formulation, manufacture, application and marketing of these digital printing with electrostatic toner technologies.
Quality Leader Award to G&G Global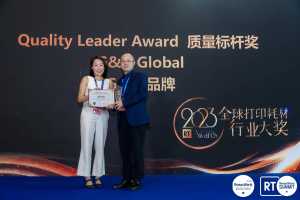 G&G is a well-known brand and it received this award for its commitment as an industry leader to provide its customers with the highest printing experience that meets or surpasses OEM standards with consistently clear, vivid text and images made possible by its professionally CNAS lab-qualified trained staff and state-of-the-art testing equipment in its ongoing pursuit of consistent quality, low-failure rates and patented safety products.
Technology Innovation Award to Zhuhai Mito Color Imaging Co., Ltd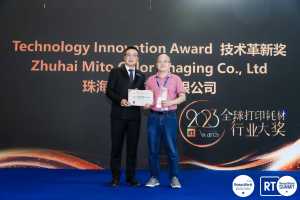 Mito Color Imaging was honored for its exemplary commitment to respecting intellectual property rights by proficiently researching and developing its own patented, compatible solutions including a color drum cleaning separation mechanism for use in HP printers, as well as toner and chip testing mechanisms crafted for printer cartridges utilized in Brother printers while upholding its steadfast dedication to product quality stability.
Environment Betterment Award to GM Technology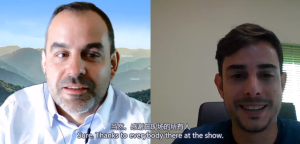 GM Technology was recognized for its consistent and tireless dedication to the principles of the circular economy, for achieving rigorous certification standards, and for the transformation of remanufacturing into a thriving, global enterprise in copier and printer machinery and consumables to exemplify its dedication to environmental sustainability and improvement.
Remanufacturing Achiever Award to ARMOR Print Solutions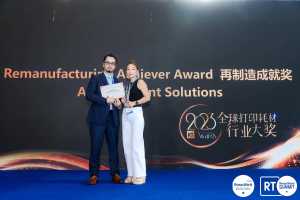 Armor, a century-old company, was recognized for its unwavering dedication to remanufacturing having become the foremost printer cartridge remanufacturer in Europe while also playing a pivotal role as a founding member in supporting the ETIRA trade association's advocacy for green solutions and the advancement of remanufacturing practices.
Excellent Service Award to Static Control Components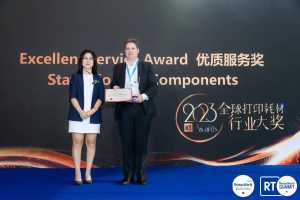 Presented in recognition of its exceptional global industry leadership and steadfast dedication to educating and supporting its customers with its pioneering technical support team and a user-friendly e-commerce platform to provide problem-solving solutions and the most profitable products for their customers' businesses to meet the needs and demands for a better end user printing experience.
 Regular Awards
Eight awards were presented to the following companies:
IP Safe Award to Print-Rite Unicorn Image Products Co., Ltd. of Zhuhai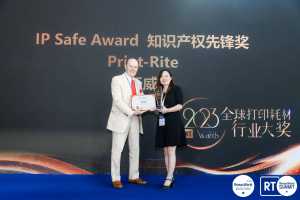 Print-Rite has been one of the industry's most enduring brands for more than 40m years. It was recognized this year for its steadfast dedication to upholding intellectual property rights as evidenced through its worldwide distribution of non-infringing products, its pioneering development of innovative compatible imaging supplies technologies, its impressive 3276 patent portfolio and its transparent, proactive approach to resolving intellectual property issues with others.
Best Supplier Award to Handan Hanguang OA Toner Co., Ltd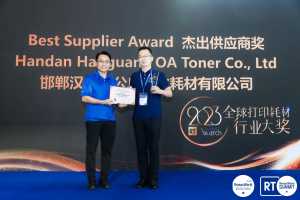 Hanguang OA Toner was recognised for its unwavering commitment to crafting premium-quality toner, for being a versatile and reliable supplier for both original and compatible consumable markets, and for boasting an impressive annual capacity of 25,000 tons of toner.
Outstanding Awareness Campaign to Anycolor Computer Consumables Co., Ltd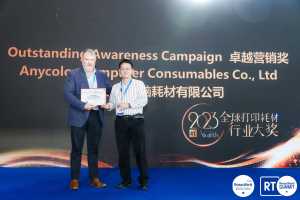 Anycolor received this award for its exceptional achievement in effectively promoting its premium brand of rigorously, quality-controlled, consumables and comprehensive aftersales support, both nationally and globally, to medium and large private enterprises and governmental entities through its successful offline and online marketing channels.
E-commerce Leadership Award to Zhuhai Juli Tongchuang Technology Co., Ltd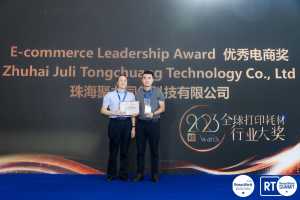 Juli Tongchuang Technology is recognized for its outstanding, high-reach e-commerce web platform having leveraged quality industry resources to offer top-tier customized services and support for its B2B customers across China.
Industry Breakthrough Award to Zhuhai Gezhige Digital Technology Co., Ltd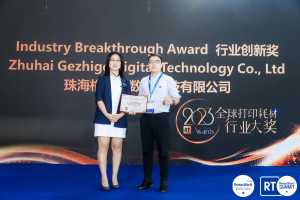 Gezhige was honored for its pioneering innovative, easily refillable, high-capacity printer cartridges along with their Unfading and Blue Diamond solutions for the domestic market in China as they continue to propel industry development and effective solutions to meet various industry challenges.
Global Brand Award to Zhuhai Megain Technology Co., Ltd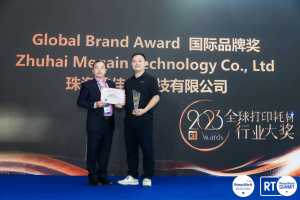 Megain was awarded for its remarkable ability to retain loyal customers and attract new ones while solidifying its global brand presence in a fiercely competitive market—a testament to its unwavering business philosophy to deliver quality, innovative products, and services at competitive prices. Its active presence in domestic and international exhibitions to showcase its chips and handheld printing device solutions has further solidified its global brand presence.
Components, Parts and Copier Awards
Four awards were presented to companies that specialize in the components, parts and copier segment of the imaging industry:
IP Safe Award to Guangzhou Zhono Microelectronics Co., Ltd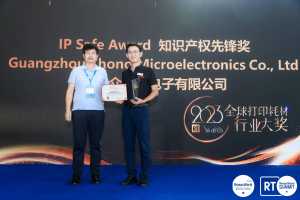 Zhono received this award for its unwavering commitment to safeguarding intellectual property rights. This commitment is exemplified through the development of an extensive portfolio of patented chip solutions and a rapid response to the demands of remanufacturers, notably through the creation of its cutting-edge "Progeasy" cartridge microchip system.
Industry Breakthrough Award to Kilider Technology Co., Ltd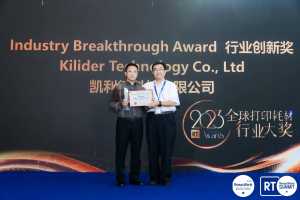 Kilider's pioneering work in developing a revolutionary three-point infrared vertical induction detection technology was the reason for winning this award. This groundbreaking innovation accurately identifies deviations in the vertical alignment of cylindrical toner cartridges within an incredibly precise tolerance of 0.01mm which effectively resolves issues associated with abnormal noise and irregular toner powder supply, marking a significant advancement in the industry.
Best Supplier Award to CET Group Co., Ltd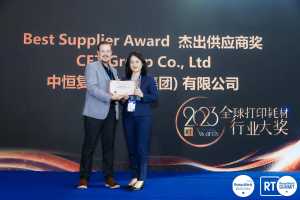 The CET Group has been hailed by its extensive worldwide customer base including governments, dealers, and consumers alike, who have unanimously applauded it for its exemplary service, exceptional, professional, and high-demand compatible consumables making it a standout supplier in the copier segment of this industry.
Global Brand Award to HK HAOYINBAO GROUP CO., LTD (HYB TONER)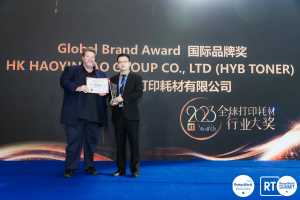 HYB is awarded for its high level of industry visibility, recognition and reputation in 105 countries brought about by its professional expertise in prioritizing customer needs and consistently providing high-quality, environmentally friendly, lab-tested and stable compatible consumables solutions and services for the A3 sector for 25 years.
We look forward to celebrating this meaningful event with you again next year.
---
Related
RemaxWorld Touted Premier Printer and Supplies Event Worldwide
Over One Thousand Nominations Received for Global Imaging Awards
Comments
Please add your comments below about this news story, "16 Winners Announced at RT Global Imaging Awards Ceremony"
https://o1.rtcdn.net/uploads/2023/10/winner.jpg
360
560
Monica Jing
https://o1.rtcdn.net/uploads/2020/07/RT-logo-old-big-old-jiazi-3.png
Monica Jing
2023-10-13 09:45:00
2023-10-30 17:58:09
16 Winners Announced at RT Global Imaging Awards Ceremony