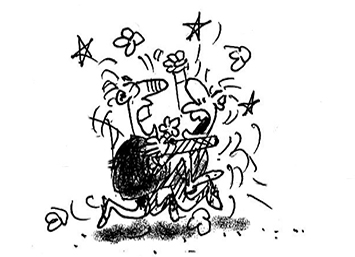 Berto Watches OEMs Enjoying Aftermarket Infighting
Berto Watches OEMs Enjoying Aftermarket Infighting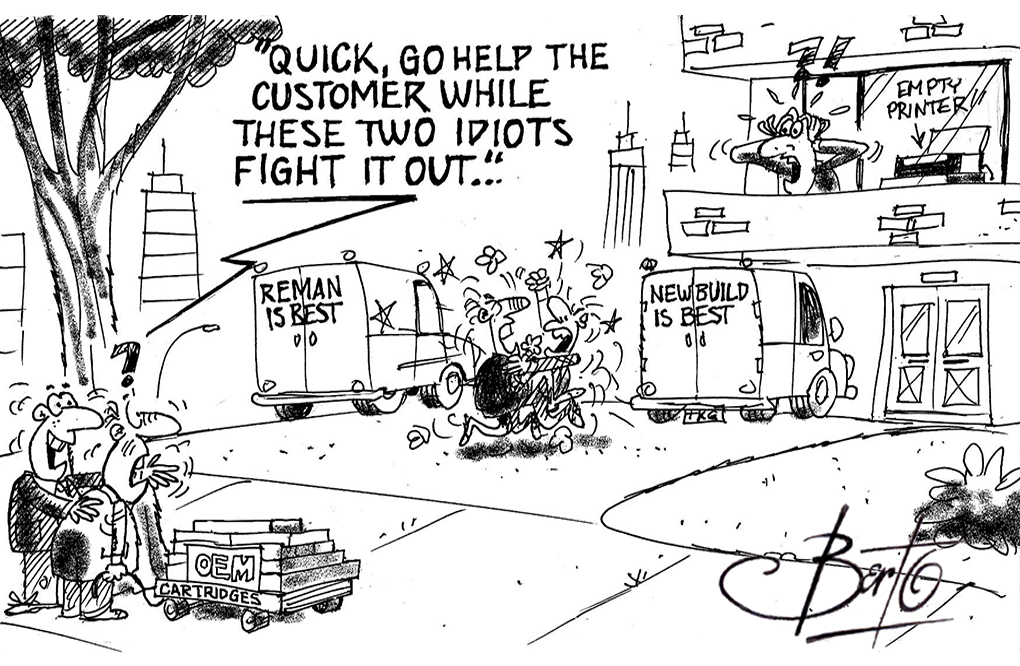 A speech by the outspoken speaker and presenter Ray Stasieczko at RemaxWorlod Expo in 2020 was the inspiration for Berto's cartoon this month.
"Over the last year, we've seen the world, in this pandemic, shift to a remote workforce. When that shift happened, for the very first time in our industry's history, our customers became aware that print equipment isn't quite as important as they thought it might have been. And it's in that awareness that sparks innovation. Not only innovation from within but innovation from without.
"This work from home thing is making our industry appear to be totally insane from the outsiders looking in.
"Yes. People have had printers in their houses for decades. Since the printer was invented. Maybe it took a few years before we put them in their houses, but printers have been in people's houses for a long, long time. People have been printing in their houses for a long, long time.
"But do you know what people don't do? They don't print a lot in their houses. But there is an opportunity is because people have been printing at home forever. People have printers in their houses.
"The opportunity is going to be the manufacturer that could deliver a printer to somebody's house cheaper than somebody else. However, do you honestly believe that people are sitting at home? Going through specs of printers like they are for a car? Like they would for a refrigerator? It's a printer. They all do the same thing for the most part. Some of them are in that place, some of them are printers, some of them are black and white, some of them are color.
"However, the world changed in 2020. If you believe that nothing's changed, you're nuts. There will be tremendous amounts of changes. And you can't go back to the way it used to be or think about why things didn't work. You have to start thinking about how things will work. It's so easy to think about how things won't work.
"We don't have control over holding back relevance. Nobody does. Progress always wins. Any time you try to hold back relevance, you end up in obsolescence. That's where you end up. We need to start thinking about what could happen …what could happen based on why it should happen. And when we start thinking that way, we get creative.
"The home office is like the escape of print management. Not to mention that print management wasn't very successful in the SMB space since its birth 20 years ago.
"There could be some huge opportunities: Do you realise that while the remans and new-builds were arguing with each other in the customer's parking lot, the OEMs were going to go in those customers offices to take away the business? What they're doing, that's what they're doing. They're in the process of taking away the business."
---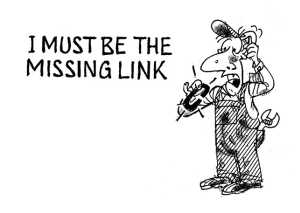 Cartoon #92  Berto Watches OEMs Enjoying Aftermarket Infighting
https://o1.rtcdn.net/uploads/2020/12/Berto-Cartoon-92-thumbnail.jpg
257
355
Berto Valenzuela
https://o1.rtcdn.net/uploads/2020/07/RT-logo-old-big-old-jiazi-3.png
Berto Valenzuela
2020-12-07 10:57:54
2020-12-22 11:55:38
Berto Watches OEMs Enjoying Aftermarket Infighting