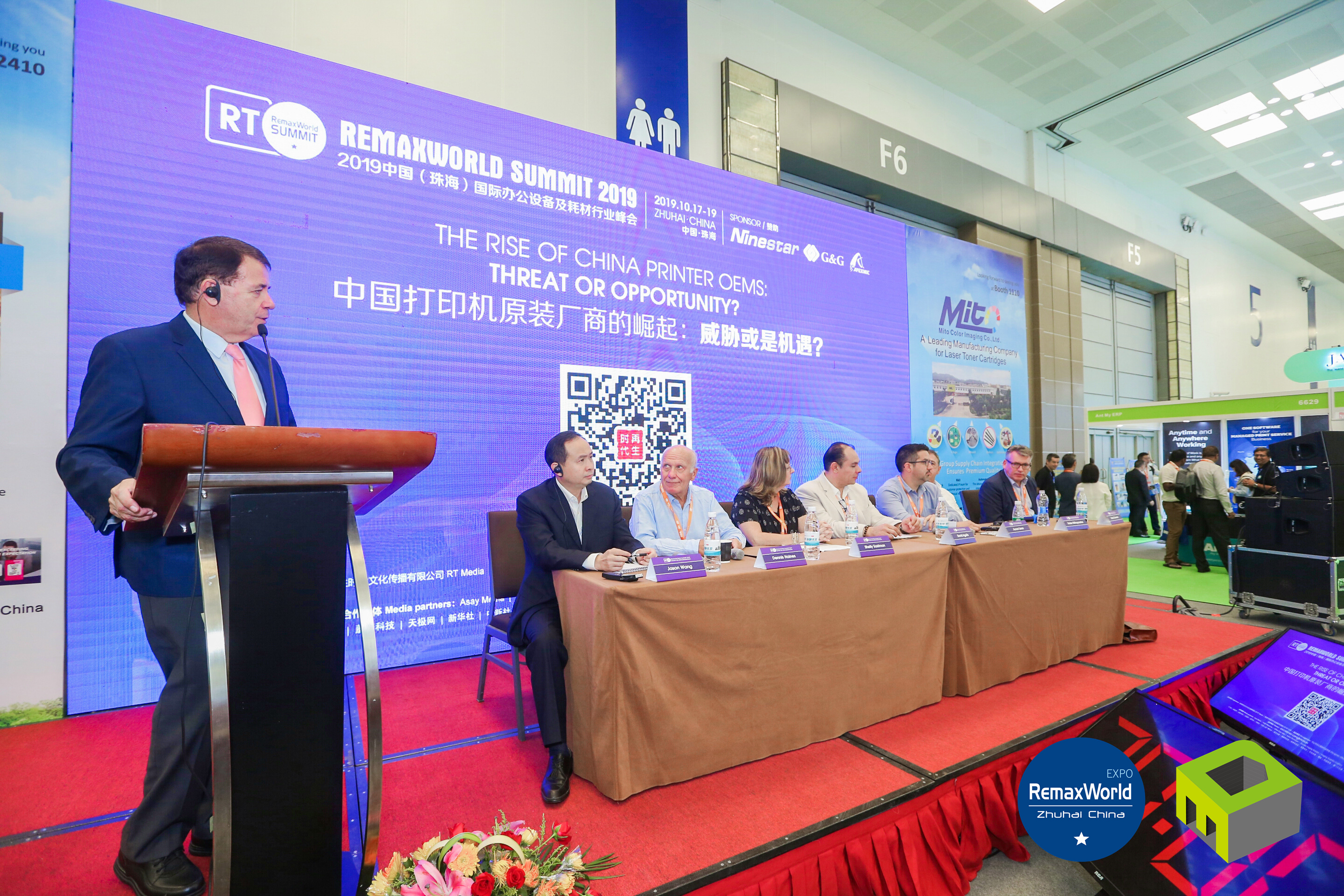 RemaxWorld Summit 2019: What's being left behind?
The Summit at this year's RemaxWorld Expo might be summed up in one sentence: the aftermarket is leaving money behind on the table. No less than 16 industry leaders shared their views on a host of topics, but chief among them was the need for aftermarket players to stop undercutting each other on price.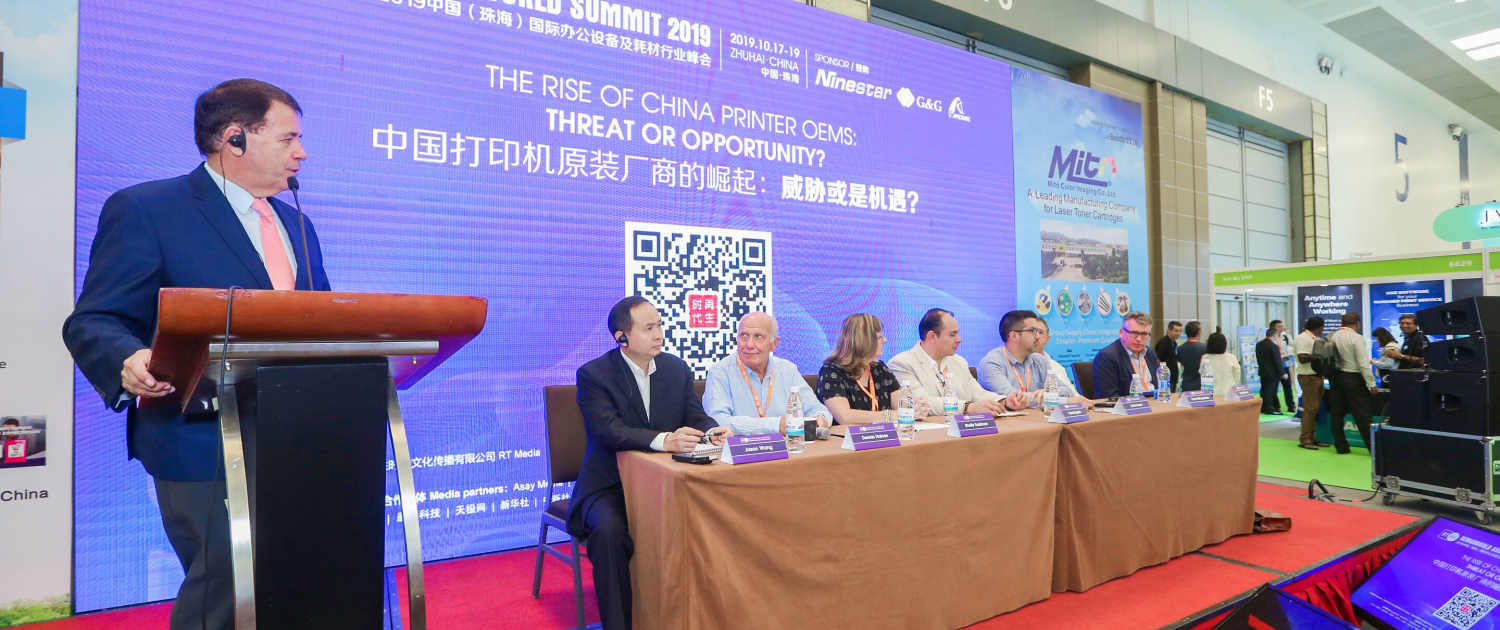 Another common theme in Zhuhai was the imperative for aftermarket remanufacturers and new-built cartridge manufacturers to stop doing battle for supremacy. The marketplace has ample room for both products, and often times, the best product offering for an imaging supplies dealer includes both.
These seminal points were raised in three presentations. The first time during the most lively gathering of the day, when seven CEOs from six countries shared their success stories (pictured). For example, Aaron Leon (pictured below) of LD Products, a highly-successful e-commerce seller of new-built and remanufactured cartridges, and Shelly Eastman of Liberty Laser, a well-respected cartridge remanufacturer, shared the position that the OEM is the true competition, not each other.***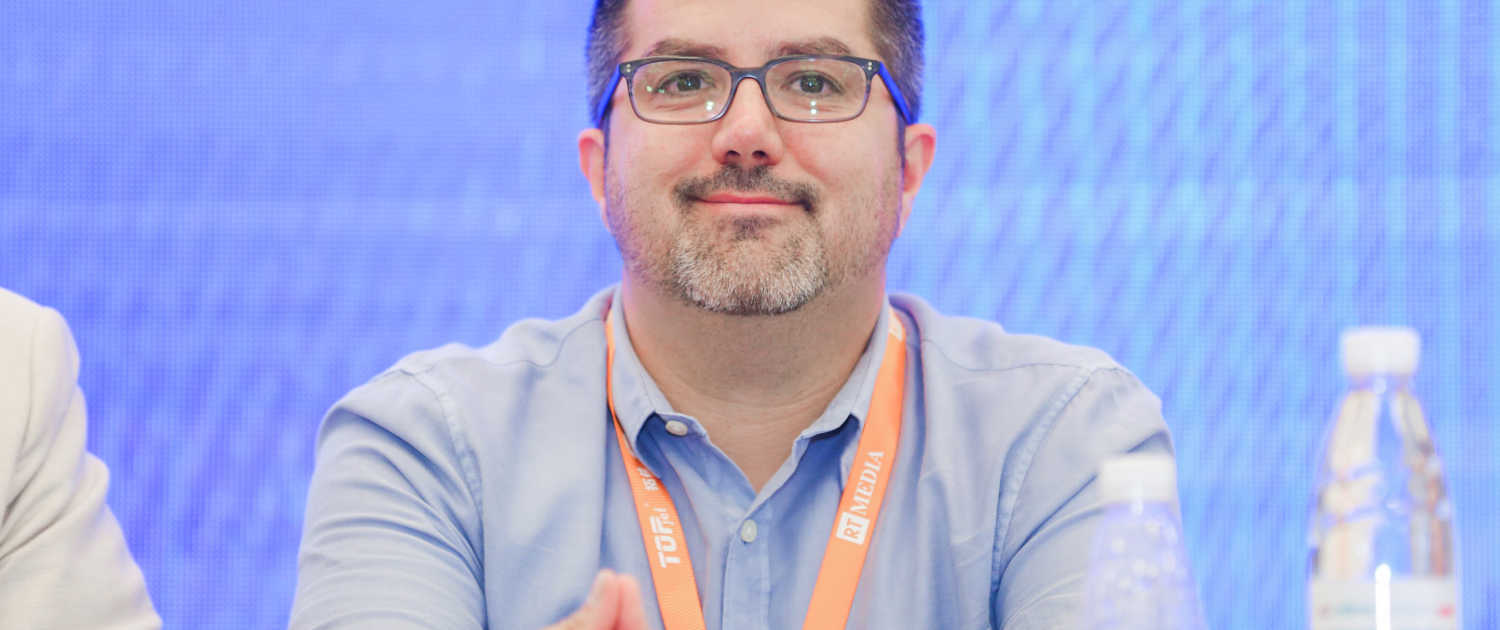 Ray Stasieczko turned all conventional wisdom on its side as he prognosticated about what the future will look like in the industry. Ray is a one-man standup show for the industry. Love him or hate him, he doesn't care. He does care that we understand where the industry quicksand is. He wants you to see his map around it.
John Shane (pictured below) is an analyst's analyst. He pores over the numbers that he and his Keypoint Intelligence people amass over hours of interviews with dealers, OEMs and consumers alike. "Get ready for charts," he said. "Lots of charts." And he delivered lots of charts. They demonstrated repeatedly that imaging supplies usage, and printer placements, are on the decline in the U.S. and Western Europe. And to no one's surprise, they are on the rise in the Asia-Pacific-Japan region.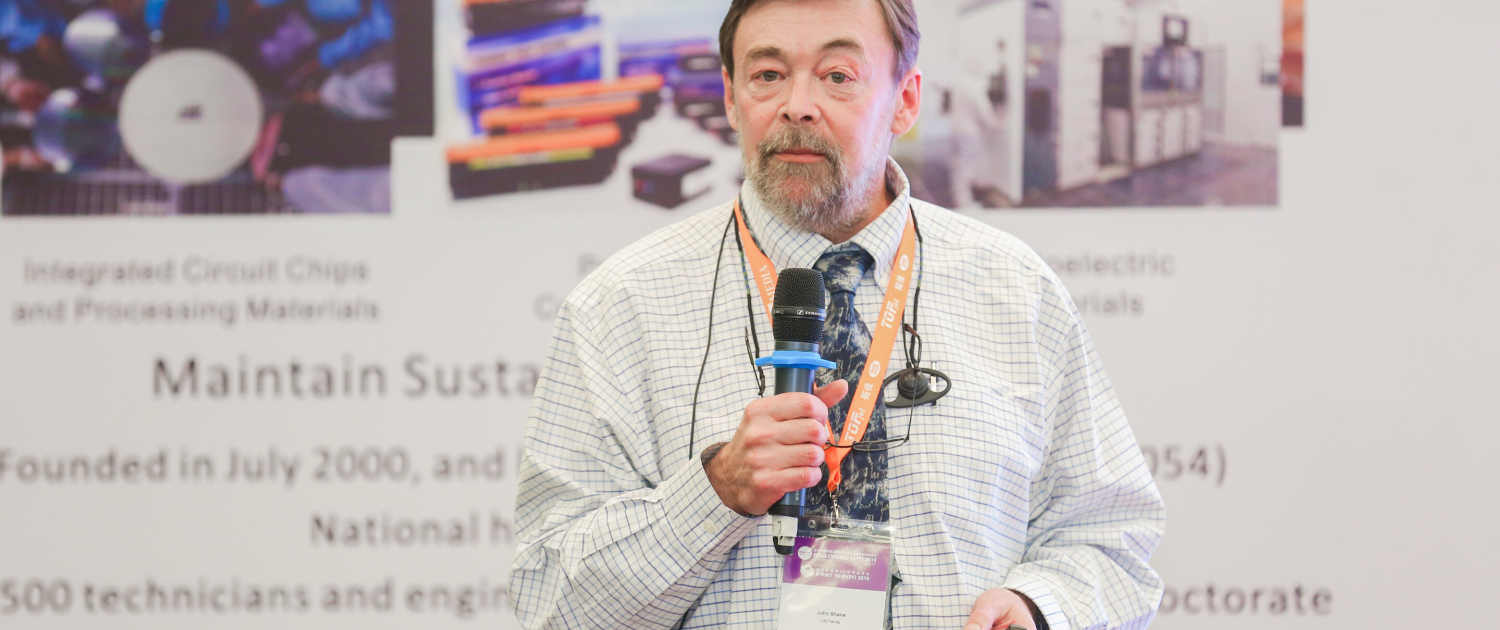 His charts led him to coin today's message that the aftermarket is "leaving money on the table." His research indicated that consumers' will switch from OEM or other supply choices when the price saving is 30 percent or more.
The aftermarket, in its fight to the bottom, often offers up to 80 percent off the OEM price. That is 50 percentage price points that the aftermarket is leaving on the table. That is an incredible amount of money the imaging supplies dealer doesn't need to forfeit.
The Summit offered many other speakers that addressed the fledgling printer market, as a representative from Pantum spoke. She was followed by an IDC analyst from IDC that outlined the future of this marketplace, which will be tumultuous before it is predictable.
The Summit began and ended with controversial discussions. Graham Galliford (pictured)addressed the hot topic of DecaBDE in the plastic of new-built printer cartridges. His position was two-fold, first that DecaBDE is ubiquitous and therefore not the explosive health threat from the cartridges that have been promulgated by some. He did, however, agree that the cartridges, and their plastic, must be in compliance with the regional laws of the markets into which they are being sold.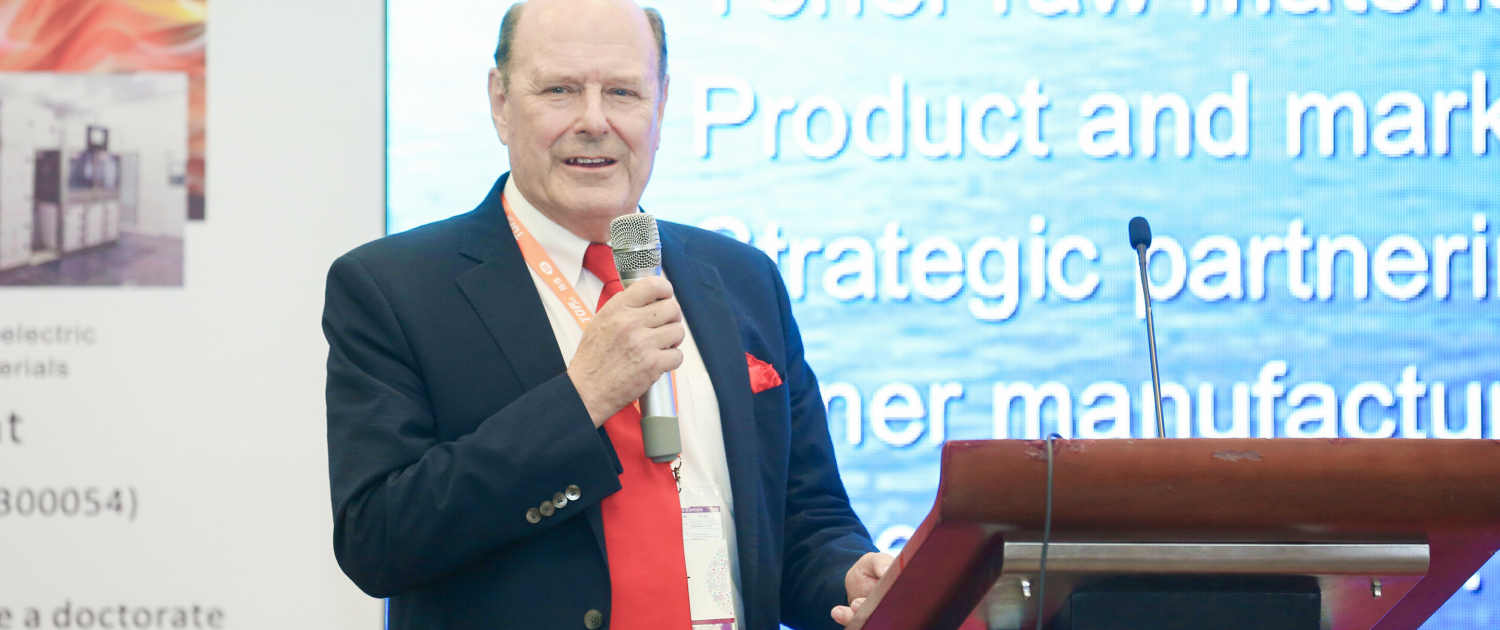 The hullaballoo over toxins found in cartridges began a year ago, after the release of several regional lab reports from Western Europe that cited large DecaBDE concentrations in cartridge and has fomented fear of the new builds. Some cartridge suppliers, such as Static Control, immediately addressed the problem. However, the fear remains.
The other controversial topic asserted was standards. Russian representatives presented their new "standards," which are a pass/fail program to which cartridge manufacturers or remanufacturers must submit if they wish to sell to the Russian government. Any pass/fail standard raises a host of issues, and many questions were raised at the Summit. Regardless, their standards resulted in four outright winners for quality being awarded to Dataproducts (Clover Imaging Technologies, USA), G&G (NineStar, China), Retech (Retech Tech., China) and Tonex (Tonex, Russia). Twelve other participants "passed" and received diplomas. A further 16 were failed.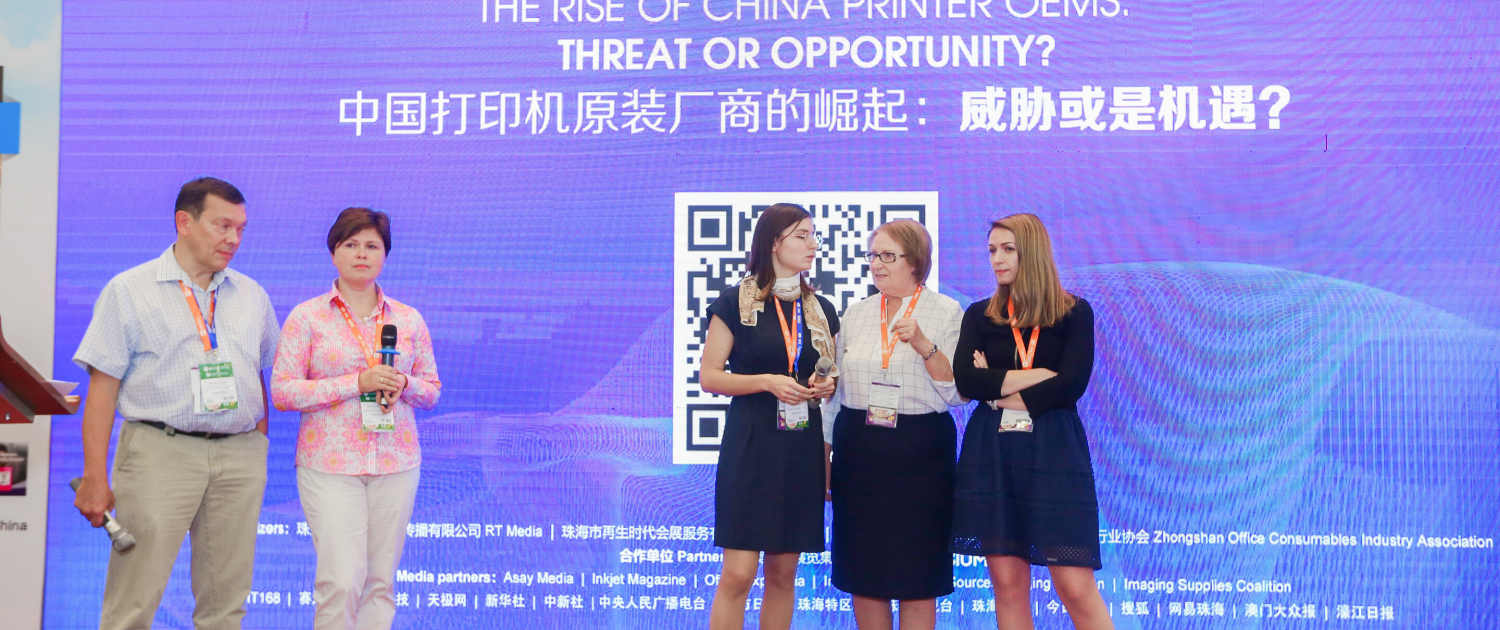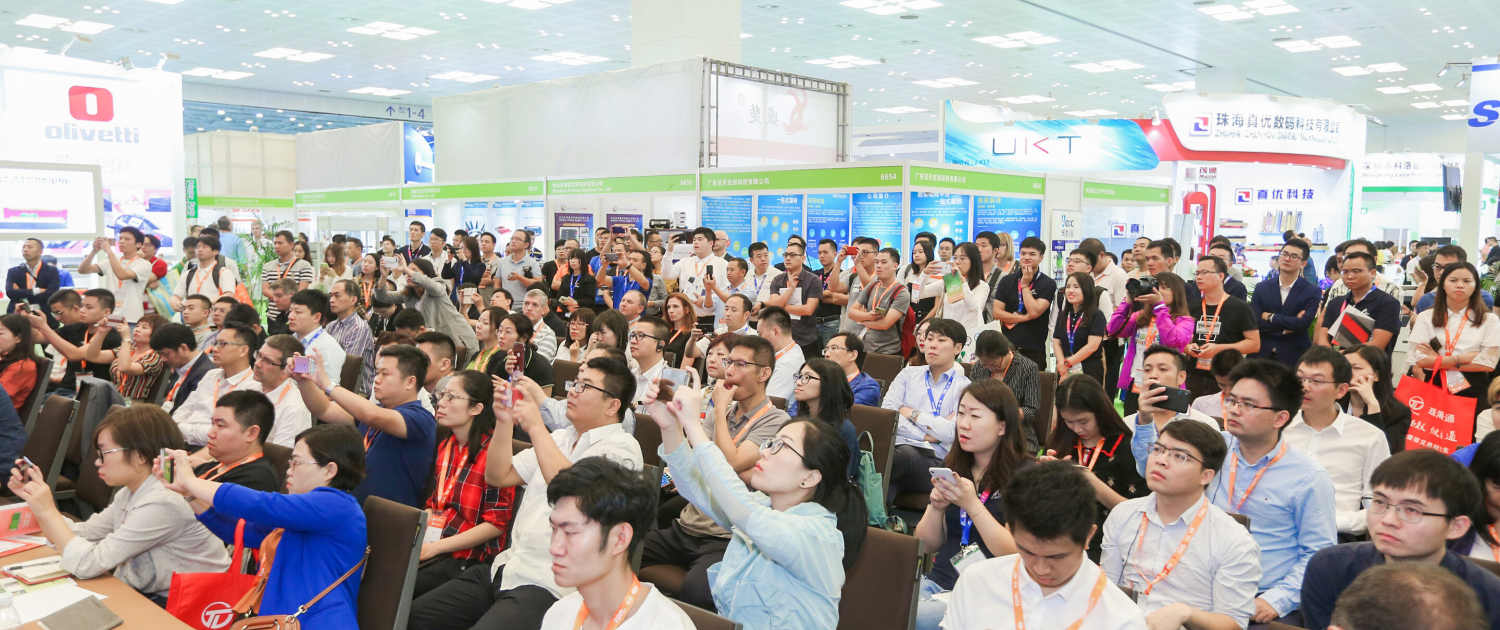 The Summit never fails to deliver quality information, timely news and yes, controversy. It's always good to get people to come to the table to talk, and perhaps, when they leave, take more money with them.
***For whole Meet the CEOs session, please click here to watch our Facebook pin post of the complete video viewing. A subtitled version is also coming on other platforms after October 28.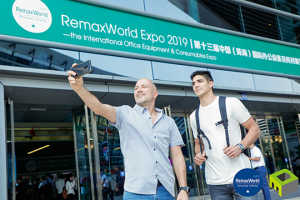 Were you there? Were you one of the 15 thousand to break Expo Records in Zhuhai?

Read more from Tricia:
15 Thousand Break Expo Records in Zhuhai
Read what others have to say:
Gustavo Molinatti comments from his experience as a veteran Latin American industry player on the Expo
https://o1.rtcdn.net/uploads/2019/10/115.jpg
1920
2880
Tricia Judge
https://o1.rtcdn.net/uploads/2020/07/RT-logo-old-big-old-jiazi-3.png
Tricia Judge
2019-10-25 09:51:51
2019-10-26 13:23:23
RemaxWorld Summit 2019: What's being left behind?