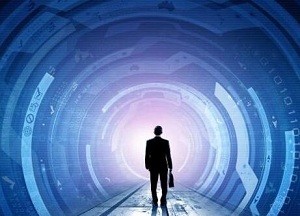 Global Hardware Trends Have Implications for Supplies Aftermarket
By Deborah Hawkins and Barbara Richards, Keypoint Intelligence-InfoTrends
AFTERMARKET SUPPLIES companies are encouraged to familiarize themselves with the hardware trends occurring in their various geographical markets. This article will focus on the shifts that are occurring in the different office print hardware speed segments within North American and Western Europe—for both ink and laser technology.
High-level view of North America and Western European placements
In 2017, the total North American single-function printer and multifunction printer (MFP) market declined 2.5% year over year, shrinking from 22.5 million units in 2016 to 22.0 million units in 2017. The Western European single-function printer and MFP market, meanwhile, declined 3.7% year over year— from 20.0 million placements in 2016 to 19.3 million in 2017.
The decline in both regions is associated with a drop in consumer or small office/home office (SOHO) inkjet shipments as well as the decline in single-function printers at the sub-20 ppm speed segment. There is a general shift away from printers for desktop and/or personal use, whether in the home or in the office, toward shared devices offering richer feature sets.
Inkjet placements
In 2014, InfoTrends updated its inkjet segmentation classification to better align with new technology enhancements and market trends. The new segmentation is shown below. Segmentation continues to evolve as disruptive technologies enter the office marketplace.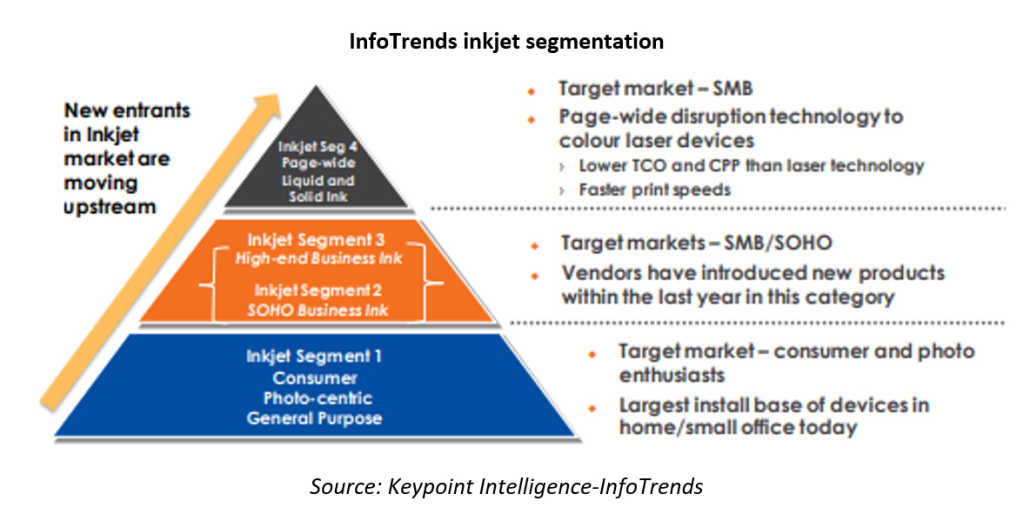 Inkjet segment 1/consumer inkjet devices are mostly targeted at the consumer market and are traditionally sold through the mass retail channel. In North America, this segment has been in decline for some time and total shipments dropped 2.9% from 2016 to 2017. This has been primarily due to consumers shifting upstream to more feature-rich products. In Western Europe, however, this segment has managed a small revival in the past two years, mostly attributed to the investment made by HP. Placements declined only 1.0% in 2017.
Moving upstream, inkjet segment 2 is known as the entry-level market of the business inkjet segment. It consists of serial inkjet printers and MFPs that are targeted at the small office/home office (SOHO) market. Traditionally, segment 2 inkjet devices are sold through the mass retailer channels. They have optional support for duplex printing and an automatic document feeder as well as offer a higher cost per page than inkjet segment 3 or 4 devices. The clear majority of business inkjet devices today are within inkjet segment 2. In 2017, total North American shipments declined very slightly (0.1%) year over year; similarly, Western European placements were flat.
Inkjet segment 3 devices are positioned at end users in small and medium businesses (SMBs), and are typically shared among three to six users. These new entries into the business inkjet segment offer comparable feature set to many traditional segment 1 and 2 monochrome A4 laser printers and MFPs at an attractive price point with the added benefit of color output. In 2017, total North American shipments of inkjet segment 3 devices grew 2.4% year over year. In contrast, Western European placements declined 4.1% from 2016 to 2017, suggesting there is a peak level and strong competition from page-wide as well as laser.
At the highest end of the office inkjet market, devices in inkjet segment 4 are positioned at business environments and characterized by their disruptive technology (e.g., solid ink or page-wide). The expected growth in this segment has been hampered by the decline of and recent exit of solid ink for office as well as the slow acceptance of page-wide inkjet. This contributed to a decline in placements in both North America (-17.5%) and Western Europe (-11.0%) from 2016 to 2017.
Laser placements
The erosion of the entry-level 1-10 ppm laser device segment continues as predicted. In 2017, North American shipments declined 65.3% year over year as speed creep into higher segments continued to erode this segment category. Western European placements, meanwhile, declined 17.4% year over year.
The 11-20 ppm laser segment represents the entry-level for black & white devices that are mostly single-function and used at the desktop. We have seen much erosion in this segment in recent years (-36.8% year over year in North America; -19.5% YOY in Western Europe) as the classical "desktop" printer has shifted to a shared resource.
The next laser segment up, the 21-30 ppm segment, has traditionally represented the bulk of laser unit shipments. But as speed creep continues to shift upstream, this segment has seen a slight drop in unit placements year over year. In North America, unit placements fell 14.7%, while they declined 9.6% in Western Europe. Shipments of color MFPs in this segment, however, are on the rise.
The 31-40 ppm laser segment has traditionally been considered the workgroup segment. These devices are typically employed in larger workgroup environments, and used for everything from print/copy/scan/fax to business process automation and workflow. In 2017, the segment saw placements decline 0.2% in North America and 4.9% in Western Europe. While single-function B&W printers represent the majority of devices in this speed class in both regions, their shipments continue to decline while color MFP shipments have seen positive year-over-year growth.
Regarding the45-69 ppm laser segment, while North American shipments declined slightly in 2017 at 0.3% year over year, Western European shipments grew 14.0% during this timeframe. This was driven by the continued upstreaming of devices. And despite the U.S. decline, color MFP (A4 and A3), A4 multifunction monochrome, and A4 single-function color and B&W shipments all saw growth. Indeed, while the trend to MFPs in the lower speed segments has already begun, the shift in this speed is happening at a much slower pace.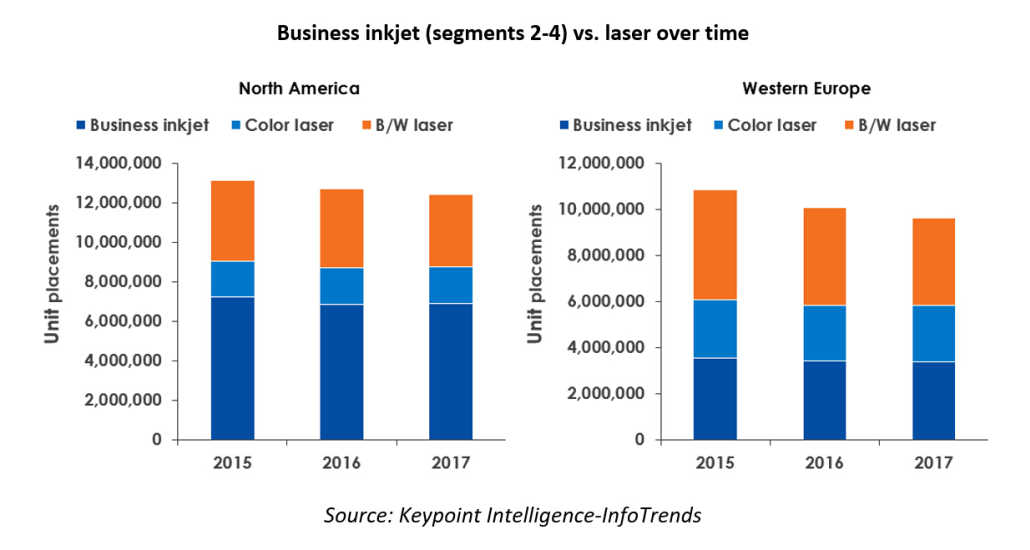 As U.S. and Western European offices move to higher-value devices, including products with faster speeds, more complex configurations, and higher value through color on the page, supplies vendors must consider the implications to their business. This may mean, for instance, a dwindling demand for cartridges for the lowest-end products and a need for higher-end supplies—including cartridges for business inkjet technology and faster color-capable laser products.
https://o1.rtcdn.net/uploads/2019/05/趋势.jpg
216
300
rtm.master
https://o1.rtcdn.net/uploads/2020/07/RT-logo-old-big-old-jiazi-3.png
rtm.master
2018-07-28 16:18:01
2019-05-28 16:25:48
Global Hardware Trends Have Implications for Supplies Aftermarket