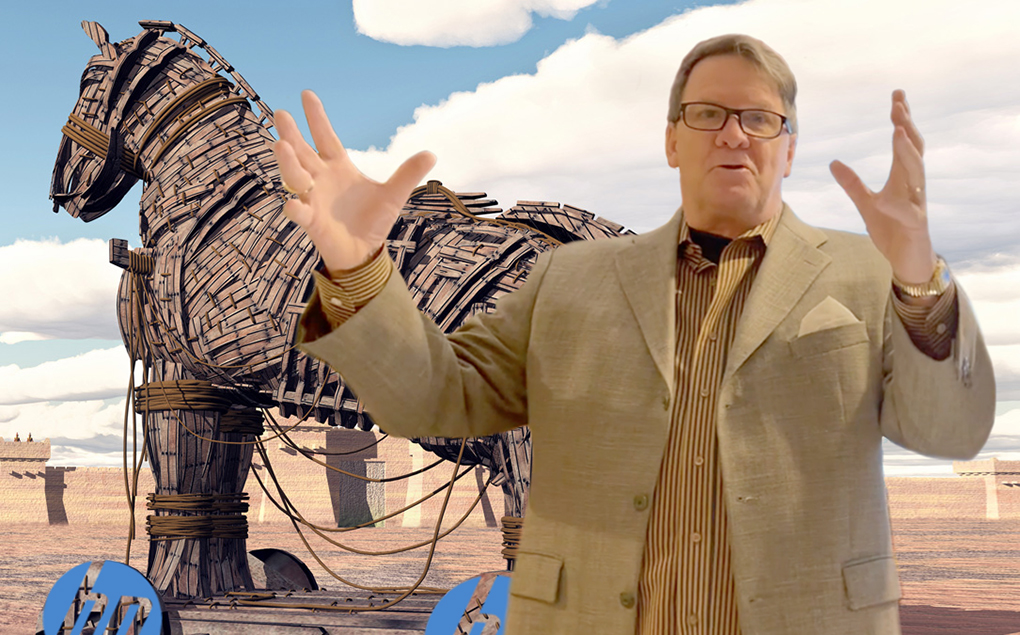 The HP Trojan Horse to Capture Your Customers
The HP Trojan Horse to Capture Your Customers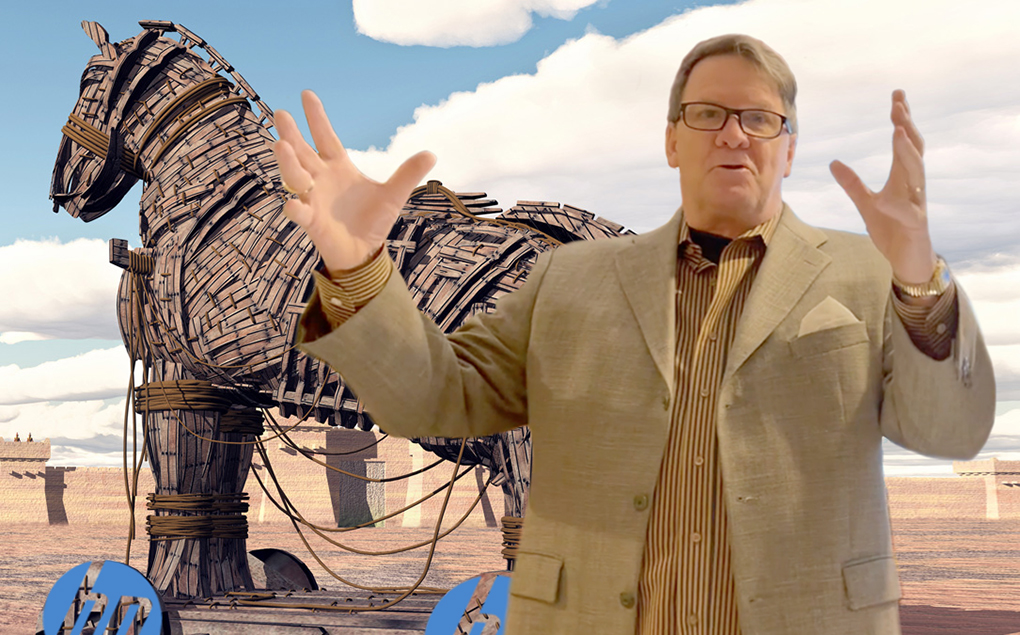 You know I've been thinking about HP in their quest to disrupt the A3 marketplace with their own A3s.
You know what? There could be more to this story.
I started to really imagine what HP could be up to.
I've got to be honest with you: sometimes I have wondered, what was HP on about when it talked about disrupting the A3 marketplace with their A3s?
Well, I was one of the loudest … the loudest … of everyone saying that strategy was delusional. I asked, "HP, what in the world are you doing?" The whole world shifting to A4. Why the hell would you go and disrupt A3 with your A3? Why don't you disrupt A3 with A4?
You know that's what I was thinking. It makes sense. It is logical.
So, I started thinking, "Maybe HP is not really delusional. Maybe they're being opportunistic. Maybe they see an opportunity by fooling everybody about A3."
Let's look at the facts:
Amplify: HP's got this massive contract with piles and piles of paper. It looks nice and it's got a nice name called Amplify;
BLI Awards: they also won some multiple year awards for reliability from 2018 through to 2021;
Partner Awards: HP has got a little bit of money so they have come out with some fantastic partner program awards. That's great for all those who want a beautiful award in your trophy closet.  I think a lot of people sign up with OEMs so they can put a trophy in their trophy closet. They look for the OEM that gives the brightest trophy but that doesn't mean that OEM will necessarily be the greatest partner.
Collecting Data from Dealers About End-Users
I want you to think about HP and another important word: data collection.
As I talk to dealers around the USA they tell me more about that HP Amplify contract. They say that HP is wanting to know a lot of information about their customers. "HP wants us to give a lot of data," they tell me. And they don't really like doing that. There's one thing I know about independent dealers and that is they like to stay independent. Otherwise, they could just go and work for HP.
They don't want to work for HP. They want to own their own company. They want to provide products, supplies and services to end-users on their terms. That's why they are entrepreneurs. They don't want some over-reaching OEM telling them what to do all the time… or taking their data. Sooner or later, that data could end up in HP's hands.

I could imagine when you go to the HP conventions, the executives stand on stage and say, "It's important to know your customers. It's important to know your customers."
What they're forgetting to add about 'knowing your customers' is what they really mean: "It's important for us to know your customers."
Of course, they could never say that at the convention. The dealers would want to know, "What do you mean by 'you want to know our customers'?"
At the end of the day, that Amplify contract looks more and more like: they want to know your customers. I have an issue with that and I call it the Trojan Horse Model.
The Trojan Horse
Is HP thinking about these A3s as being like the Trojan horse?
Think about this. HP wheels the giant A3 Trojan horse device into your customer's office. But inside are all the A4s. Inside is 'e-commerce capabilities'. That Trojan A3 horse is just sitting in that office, taking its time, collecting some data for HP. They are getting to know your customer and you don't even know about it. And they're in there selling supplies to your customers for their other programs that are outside of the contract. They're doing all kinds of things.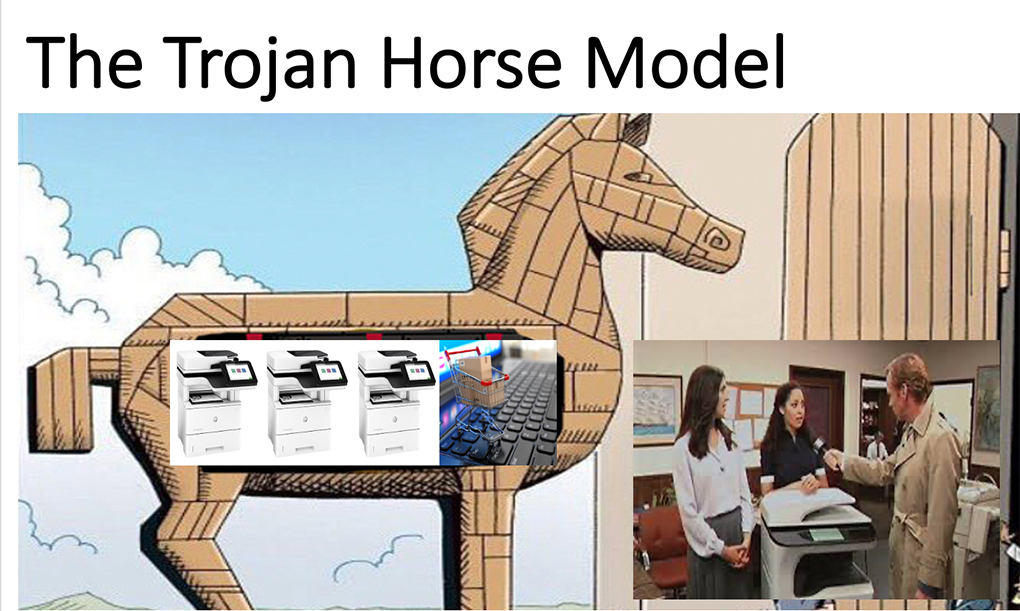 HP is just waiting for the time when those A4s, that have won all the reliability awards, and have so few parts they don't need the dealers to deliver them. The devices will be set up by simply pulling them out of the box and plugging them in.
Guess what? A lot of them can do that right now.
So that's the question: Is the HP A3 obsession really a Trojan horse to get inside those resellers accounts?
Just think about it because there are other manufacturers you can do business with. If you need A4, just call Lexmark, for example. It's that simple and I know they are not over-reaching. There are plenty of A3 manufacturers out there and you don't need to date the one that is going to disrupt the industry—especially when you know the industry's going from A3 to A4.
That ought to tell you right there they're not the smartest partner to deal with.
Just my opinion.
Let me ask you to think about it: in a competitive environment in a consolidated industry, do we really want to have a Trojan horse at our customer's office?
I will remind you, as I always do as I wind up, that status quo is the killer of all that will be invented. Don't get stuck in the status quo.
---
Watch Ray Stasieczko with his daily "At the End of the Day with Ray." 
---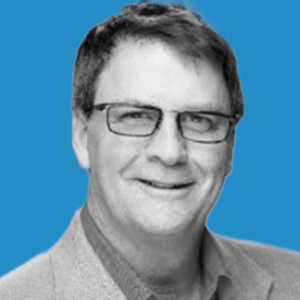 Have you found this article, "'The HP Trojan Horse to Capture Your Customers" helpful?
Ray Stasieczko is a forward-thinking and often controversial writer and speaker. You may not want to agree with everything he says, but you are compelled to read and listen. To do otherwise could spell doom.
He has called the imaging channel home for nearly 30 years and served in various roles and has contributed nearly 100 articles to the industry's publications. Ray has also spoken at the RT Media Summits in Cairo, South America and China. You can contact him and watch him on LinkedIn.
Read Ray's other blogs:
The HP Trojan Horse to Capture Your Customers
https://o1.rtcdn.net/uploads/2021/02/Ray-Trojanh-Horse-HP.jpg
635
1020
Ray Stasieczko
https://o1.rtcdn.net/uploads/2020/07/RT-logo-old-big-old-jiazi-3.png
Ray Stasieczko
2021-02-11 14:09:39
2021-02-11 17:22:48
The HP Trojan Horse to Capture Your Customers