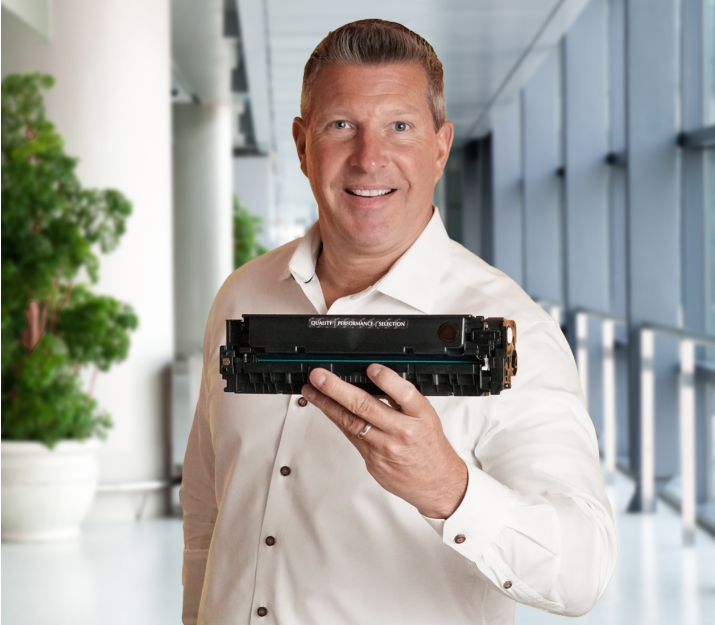 Clover Imaging Ready to Take Remanufactured to the Next Level
Any discussion of the remanufactured printer cartridge industry must include Clover Imaging Group.  With business spanning 43 countries, Clover is the global leader in producing high-quality, environmentally conscious remanufactured printer cartridges.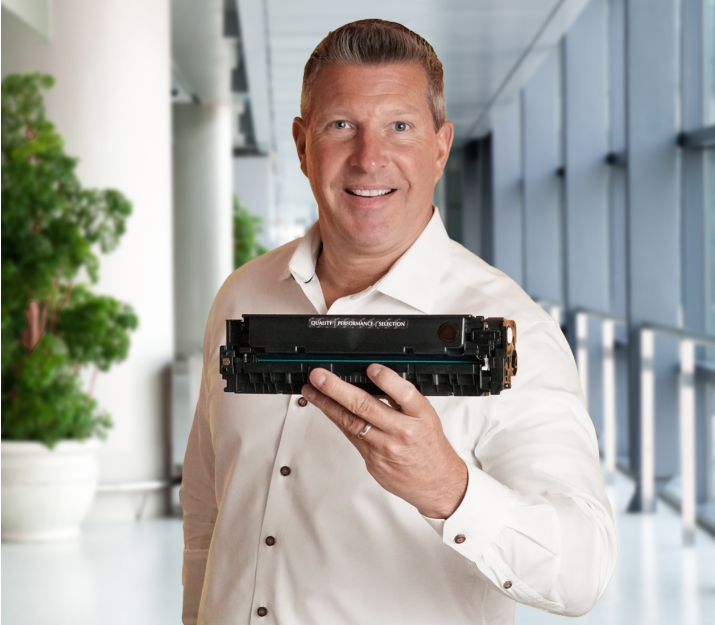 Remanufactured cartridges help businesses and consumers lower their printing costs while reducing their environmental impact. Compared to single-use OEM and compatible/new-build cartridges, Clover's environmentally friendly cartridges have been shown to use 79 percent less material and 44 percent fewer natural resources —representing a 51 percent smaller overall environmental impact.
On a monthly basis, Clover collects and recycles over 3.5 million cartridges and manufactures over 1.4 million cartridges. Lay those collected cartridges end to end, and the line of cartridges diverted from landfills each month by Clover alone would stretch from Chicago to New York City, roughly 700 miles!
Over the last ten years, Clover has collected 436 million empty cartridges and diverted 450 million pounds of waste from landfills. That's roughly the weight of two Nimitz-class aircraft carriers. In addition, through a partnership with PrintReleaf, Clover Imaging and its dealer partners have offset paper consumption by reforesting over 600,000 trees.
And although there have been ups and downs over the years, Clover has remained unrivaled as the largest cartridge remanufacturer on the planet. Competitors have fruitlessly tried to spread rumors of its demise, but Clover always rises to the challenge of world domination in the imaging supplies marketplace.
At no other time has Clover bounced back from a financial hit stronger than over the last few months. Last year, losses in its wireless remanufacturing division coupled with the impact of a new partnership between HP and Xerox, set industry rumors blazing of Clover's imminent death.
But in December, almost as a Christmas gift to the U.S. aftermarket, Clover announced a new partnership with Norwest Equity Partners (NEP), and that the old executive team that built Clover from nothing in the 2000s to its premier place in the world would be returning to the helm of the company. The deal was purported to be in the area of $215 million. (It also separated from its wireless division, along with its former holding group, 4L.)
The new deal restored its renowned founder Jim Cerkleski (pictured) to the position of Executive Chairman. It likewise meant Clover's management team, George Milton, CEO; Eric Martin, President; and Cerkleski, would continue to lead the business. Clover would also physically remain headquartered in the Chicago area.
Cerkleski responded to getting the transaction closed. "The monkey is off our back and we are now able to focus 100 percent of our efforts solely on the imaging business," he said. "We believe in the strength of our business model and consumers' escalating demand for a high-quality, low-cost alternative to environmentally damaging single-use printer cartridges. Our new, very conservative capital structure provides much greater financial flexibility and we could not be more excited for the opportunities in front of us."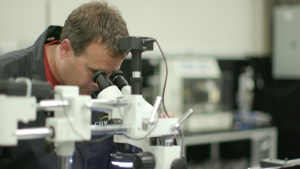 Clover Imaging's new financial partner, NEP, was founded in 1961 and is well-regarded for its collaborative investment approach and commitment to partnering closely with the management teams of its portfolio companies to create long-term success and stakeholder value.
Tim DeVries, NEP Managing Partner, had this to say about its newest portfolio company, "We are excited about our investment partnership with Clover — it is a well-run business with a highly experienced, nimble management team that knows how to innovate and execute. We look forward to collaborating with them to leverage the company's strong position in the marketplace and put our capital and resources to work to further expand and grow the business."
The new partnership with NEP has brought speculation that Clover might be partnering with Minneapolis-based megadealer Marco, another entity funded by NEP in 2015. However, such a rumor was quickly dispelled by Clover. Although Marco and Clover have the same equity partner, any relationship ends there. "While Marco is a valued Clover Imaging dealer partner and we now share the same financial partner, our companies remain separate, independent entities," Cerkleski said. "There is no management or business crossover."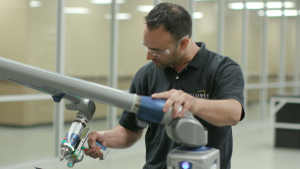 Clover still must compete in a tight marketplace. Printing is declining, albeit at a slow rate of roughly two percent each year. New build compatibles have taken a big bite out of the price-sensitive lower end of the market. And the original equipment manufacturers (OEMs), HP Inc. in particular, are fighting mightily to retake lost sales of their new supplies. What's the strategic plan moving forward?
Far from its early beginnings as an ink and toner remanufacturer, Clover has evolved into a global enterprise backed by world-class engineering, manufacturing and distribution infrastructure. These expansive capabilities enable Clover to provide a level of partnership unmatched in the aftermarket imaging space and were the genesis for Clover's new tagline, 'Success in Partnership'. "Our Success in Partnership philosophy reflects our unwavering commitment to supporting our channel partners with not only a wide selection of superior products, but with revenue and profitability-enhancing services and solutions to help them achieve their business goals," President Eric Martin said.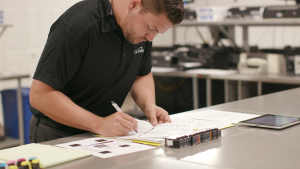 Clover's Silver Bullet program, for example, takes direct aim at OEM customers and gives dealers the tools needed to successfully compete against the likes of HP. This relatively new undertaking has quickly achieved success. "Our message to dealers is that 80 percent of the marketplace is still OEM," Martin said. "Convert that to remanufactured and put an additional 20 to 30 points of margin in your pocket. With our Silver Bullet program, dealers are actually getting higher margins and their customers are winning. We've already converted hundreds of end-users from multi-year contracts."
And, that's just one of the solutions Clover has recently rolled out to its dealer partners. "We developed our own auto toner replenishment tool that is easy to use and implement – essentially MPS-in-a-box," Martin said. "It makes it very easy for our partners to sign up their customers for an automated program that helps them manage their printing costs. Ease of use has been the big hurdle in the past; the smaller dealers have been afraid to sell MPS because they think it's complicated. Our system is proprietary and helps our partners lock in their transactional business."
Mostly, however, Clover plans on riding the environmental wave that has gained such popularity from the board room to the home office. Increasing public awareness of environmental issues has led to a demand for products with low or zero environmental impact. From Greta Thunberg to climate-change scientists, environmental activism is prevalent. Remanufacturing which is reuse, the highest form of recycling, has now ballooned into a $160 billion industry.
One customer is certainly listening: the U.S. government. It represents a $700 million sales opportunity, and Clover wants to see its dealer partners get a big piece of that. "The federal government is a massive opportunity for us," Martin said. "We are focused on helping our dealers get in front of the decision-makers within the various branches of the government and show them that there is a high-quality, legal solution that also offers significant cost savings. They are a $700 million customer and if Clover can work with its partners to win just 25% of that business, we will all see massive growth."
Single-use compatibles from overseas may be dirt cheap, but they end up in the dirt too, in landfills.  Over the past few years, some of the plastics used in these cartridges have been found to contain decaBDE, a known carcinogen outlawed in several countries. Concerns about these products, such as quality issues, infringement allegations and international trade concerns, have slowed the acceptance of these products. The desire to avoid such "single-use" plastic products is building among individual and corporate consumers. Clover recently rolled out an environmental calculator on its website that enables consumers to quantify the positive impact they can have on the environment when they switch from single-use cartridges to remanufactured cartridges.
A recent survey from Accenture backup the unprecedented environmental sustainability movement. More than 6000 consumers were surveyed around the globe and "72 percent of respondents reported that they were actively buying more environmentally friendly products than they did five years ago, while 81 percent said they expected to buy even more over the next five years."
Clover believes that the desire for a reduced environmental impact coupled with costs savings will make its products the preferred ones moving forward. "The beautiful thing about remanufacturing is it's not just about the environmental benefit, it's also about the cost savings," Cerkleski said. "Recycled copy paper costs more than standard copy paper. Businesses have to incur additional costs to lessen their environmental impact. With remanufactured printer cartridges, you actually reduce costs by being environmentally responsible. That's a big benefit to corporate America. The OEMs are going to have a hard time playing the green card. Remanufactured cartridges are highly superior to single-use cartridges in terms of their environmental impact."
Clover's plans for growth come at a rapid-fire pace from Cerkleski, its leader. A formidable business dealer with a quick mind and an eloquent tongue, Cerkleski grew Clover from nothing in the fields of Ottawa, Illinois. Now Clover is the cartridge remanufacturing industry's flagship and standard-bearer, and Cerkleski knows it. "For over two decades, the remanufacturing industry has provided consumers with an alternative which in turn has helped keep prices in check and the OEMs from controlling the entire marketplace," he said. "We're proud to be a big part of that and are confident in the future of the industry."
No discussion of the cartridge remanufacturing industry would be complete without including Clover Imaging Group. Its environmental impact and its future are rising. And as a rising tide lifts all boats, Clover's victories raise up the entire industry.
What do you think of remanufactured printer cartridges from Clover Imaging? of Clover's commitment to the environment?  Please add your comments below.
Download the full magazine and this front cover feature story or go to the archive section where you can access any recent editions of RT ImagingWorld magazine.
https://o1.rtcdn.net/uploads/2020/03/Jim.png
625
715
Tricia Judge
https://o1.rtcdn.net/uploads/2020/07/RT-logo-old-big-old-jiazi-3.png
Tricia Judge
2020-03-06 14:21:43
2020-03-11 17:36:01
Clover Imaging Ready to Take Remanufactured to the Next Level