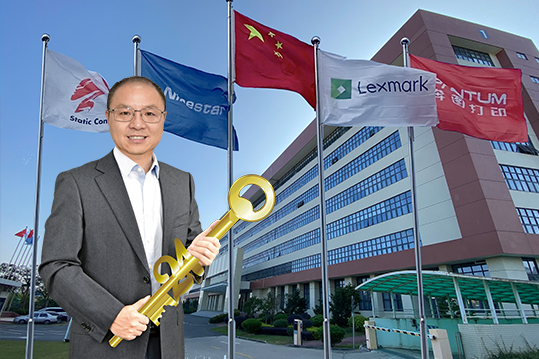 Ninestar Celebrates 21st Birthday by Sharing its "Key to the Door"
Ninestar Celebrates 21st Birthday by Sharing its "Key to the Door"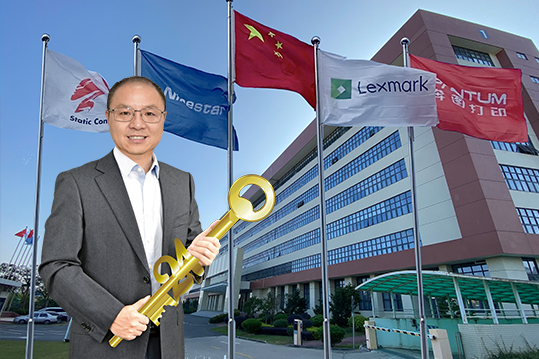 China-based Ninestar celebrated its "Key to the Door" anniversary on June 28, 2021 by announcing a five-pointed strategy for customers, suppliers, partners, staff and friends.
Recognising twenty-first birthdays had its roots in ancient Greco-Roman traditions. 21 was viewed as an important "coming of age." In the Middle Ages, a man could become a knight at 21. In many places it's still customary to give a "key" to a 21-year-old symbolising the opening of the door to maturity. Keys are symbols of independence, responsibility, and possibility.
According to Eric Zhang (pictured), General Manager of Ninestar Image Tech Limited, a subsidiary of the Ninestar Group, its key will open limitless doors for customers, suppliers, partners, staff and friends.
"It's hard to believe it's been 21 years since Ninestar was first established," said Zhang who has been with the company for 19 of those years. "We have enjoyed many successes and withstood our share of challenging times as well." Zhang said Ninestar has emerged all the stronger for it. "We owe our success to our clients, vendors, partners, staff and friends. Thank you."
"The 'coming of age' demands we take a more mature view than just obtaining corporate success. Turning 21 gives us the opportunity to fulfil our responsibility for society; to provide exceptional service for our customers; to help realize the dreams of our employees; and to create values for our shareholders," he added. "This is our mission."
Five-pointed Strategy
The Ninestar "key" to opening limitless doors was unveiled in June 2021:
Providing a deeper OEM printer technology & service for industry customers;
Opening a true "one-stop-shop" experience with a wider range of new and existing products and services;
Delivering consistent quality, non-infringing and bespoke supplies solutions;
Solving frustrating problems caused by unreasonable OEM firmware updates; and
Taking a greater level of responsibility and leadership for the environment, needy communities, and staff.
Passing on OEM Printer Technology & Service
Ninestar is the only industry player to be both an international hardware device manufacturer and a leading third-party supplies vendor, at the same time.
The deep OEM expertise and understanding of printer technologies it has acquired enables the company to better understand the working principles of each component in the printer system and passes on that knowledge through supplies that are comparable with OEM quality.
Ninestar's investment of 9 billion RMB (US$1.4 billion) into its new, hi-tech, 900,000 square meter printer manufacturing base will have the capacity to produce four million printer units per year.
A Bigger Range at the One-Stop-Shop 
Ninestar understands the business needs of end-users, and is expanding its range of products and services so its partners can pass these on to them. Its commitment to innovation now offers the industry's broadest, comprehensive product portfolio including A4 printers and A3 refurbished copiers, IP safe new-built and eco-friendly reman inkjet & toner cartridges, inks, ribbons and label cassettes, managed print service software solutions, and an exciting new range of value-added products like label printers and portable photo printers.
Consistent Quality Hi-tech Products
Ninestar was the first aftermarket company to find a more cost-effective and consistent method to provide stable, quality cartridges. It currently operates 37 automated production lines: 32 for inkjet and ink products and the other five for toner cartridges. The transformation to high-tech, high-input, high-threshold manufacturing reduces failure rates and can also provide a truly bespoke or tailor-made solution where necessary, thanks to innovation and automation working hand-in-hand.
Firmware Upgrade Solutions
Data reveals Ninestar released first-to-market update solutions for solving unreasonable firmware upgrades more than 70 times since 2014.
It has innovatively taken further steps by developing its UFU (Unismart for Firmware Upgrade) solution, where updates can be made seamlessly in a matter of seconds without having to remove the cartridge from its packaging to save time and return freight costs and to minimise the frustration experienced by end-users.
Stronger Commitment to Social Responsibility
Ninestar has a long history of remanufacturing and continues to take additional steps to reduce its carbon footprint.
It offers a broader, eco-friendly, comprehensive range of alternatives including remanufactured toner cartridges and inkjet cartridges.  With their stable quality and cost-effectiveness, its remanufactured range of products are widely used in hospitals, banks and government sectors.
In addition, Ninestar spends millions on treating sewage generated by cleansing used inkjet cartridges as part of its "going green" strategy. This is coupled with the free, close-the-loop, return-your-cartridge recycling service for consumers.
Way back in 2007, Ninestar's Chairman Jackson Wang signed a collaboration with the Chinese Red Cross—Ninestar Angel of Love—to establish a special fund for helping poor children suffering from leukemia, with a significant annual contribution being donated to the fund every year. Ninestar also provides training support to break the cycle of poverty in rural villages. By teaching skills and commencing enterprise projects, parents can afford to educate their children and hope is delivered to poor communities.
Additional high standard, comfortable apartment accommodation is provided for staff in China close to their workplaces to reduce travel time and expenses. At the same time, more women continue to be targeted for leadership roles after identifying, training and empowering staff.
Stable Supply Chain
Having control over its own supply chain and distribution network removes all fear over potential disruptions due to product shortages. Being a world-class, vertically integrated manufacturer, Ninestar is not exposed to the supply chain vulnerabilities that hamper so many of its competitors.
Employing enhanced inventory-management techniques, the company monitors production of all its cartridge components and finished goods to protect its customers from shortages. In addition to its supply chain, Ninestar has established an extensive worldwide distribution network that serves customers in 170 countries.
Steps to Maturity and Trust
Founded on June 28, 2000, the Ninestar Group has grown through strategic acquisitions and organic growth. On December 2013 it was successfully listed as a public company (Stock Code: SZSE 002180) and enjoys an annual revenue of US$3 billion. As a leading innovator and eminent print solution provider in printer and imaging supplies markets, its 18,000 employees, located in 60 countries, provide a quality, environment-friendly and cost-saving user experience for some 200 million users.
The company invests more than 6% of its annual revenue in R&D and has more than 3,000 engineers worldwide.  Its enormous portfolio of 4,661 granted and 934 pending patents (as of December 31, 2020) is in printer, chip, ink, and toner cartridge technologies.
Nothing gives the thousands of employees and their leaders more satisfaction and pride than seeing clients delighted with the products and services that build success in their respective businesses. The company's goal is to help accelerate the growth potential and build the competencies that empower them. For Ninestar, the best label is the business partner you can trust.
---
Related:
*This article, "Ninestar Celebrates 21st Birthday by Sharing its "Key to the Door" is also published on pages 6 to 9 of RT ImagingWorld magazine which can be downloaded for free.
Comment:
Please leave your comments below for the story "Ninestar Celebrates 21st Birthday by Sharing its 'Key to the Door.'"
https://o1.rtcdn.net/uploads/2021/12/Ninestar-final-2.jpg
359
539
David Gibbons
https://o1.rtcdn.net/uploads/2020/07/RT-logo-old-big-old-jiazi-3.png
David Gibbons
2021-12-09 11:10:36
2021-12-22 09:53:24
Ninestar Celebrates 21st Birthday by Sharing its "Key to the Door"