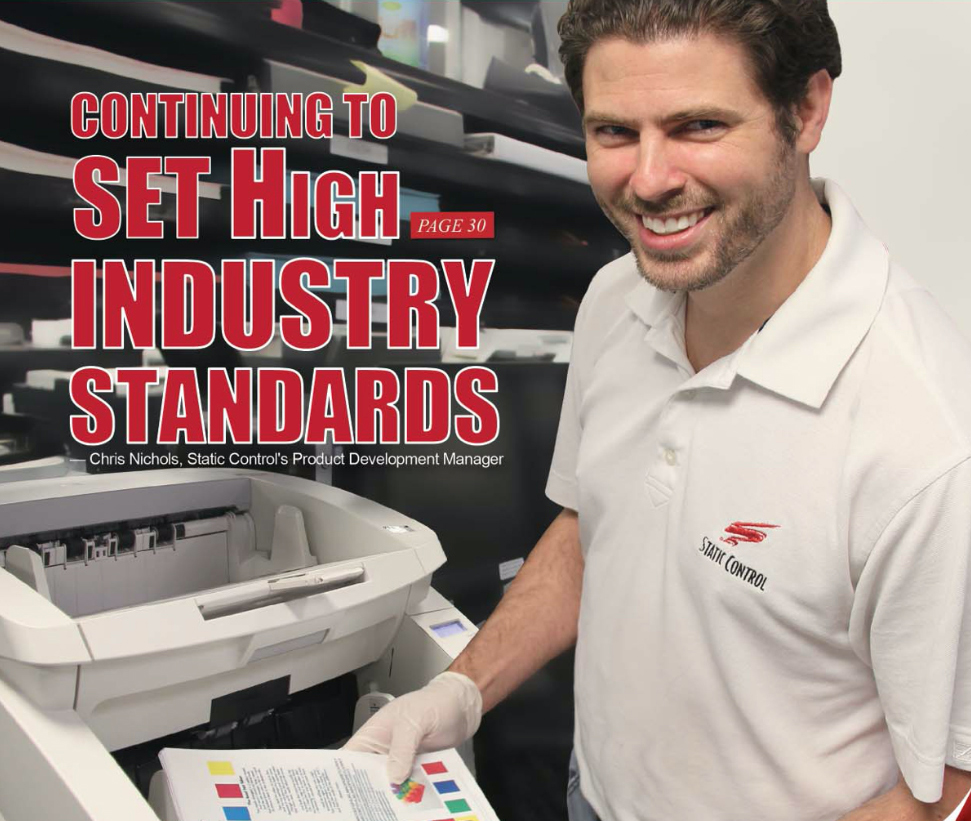 Static Control Continues to Set High Industry Standards
Static Control Continues to Set High Industry Standards
Static Control Components (SCC) has been an industry leader in the production of quality imaging supplies products since its inception in 1987. Its technology is present in nearly every high-quality aftermarket inkjet and laser cartridge in the world.
But SCC never ended its quest of leadership at its own doors. It's been an industry leader on all fronts. It has committed an ocean of resources to all the important legal and lobbying efforts undertaken by the industry. And its employees have held leadership positions on every ASTM, STMC and other industry quality initiatives.
Times are tough…very tough. Instead of focusing inward and only on the bottom line, SCC has instead reached out to see how it can help its customers and its communities. It is once again setting the standard.
SCC is a cartridge and component manufacturer committed to providing the highest quality imaging solutions. It brings the highest value opportunities to the imaging aftermarket by delivering award-winning, localized customer support, global logistics, combined with a relentless pursuit of quality and unmatched expertise in cartridge research and development.
After decades of producing quality cartridge components, SCC knew it had amassed the expertise to build the best remanufactured and compatible cartridges available. Its engineers knew exactly the right combination for perfection in laser and inkjet, given their development of the internal components along with their vertically integrated manufacturing capabilities. SCC builds each cartridge to deliver a premium level of performance that delivers on its pedigree in the aftermarket.
"The decision to start with cartridges truly started with demand from our customers," said Static Control's CEO Ken Lalley. "As the variety of printer models available has continued to increase, most remanufacturers were pushed into a 'make some/buy some' model to avoid prohibitive overhead investment. This put them into the position of having to rely on others to provide reliable, high-quality cartridges and led to the overwhelming demand to Static Control to fill that role. Our remanufacturing customers knew that with Static Control assembling the cartridges, they would be built with the best components and undergo stringent quality assurance steps throughout the process."
SCC's system-matched approach to imaging systems allows it to understand and consider every detail within a cartridge, from the electrical charge variances of components to the microscopic additives added to toner, and how it all must work together to deliver beautiful prints from start to finish.
Highest Standards in the Industry
SCC's state-of-the-art print lab is where cartridges and components are tested and qualified. Each product is developed using the Advanced Product Quality Planning (APQP)-defined process, a system developed to maintain reliable quality in the automotive industry. Quality tests in environmental laboratories are conducted to ensure that SCC cartridges deliver superior performance no matter the weather, climate or humidity of the printer's location.
Comparative testing of OEM and other aftermarket offerings are a critical part of our APQP standard. That data guides SCC when setting performance requirements for its cartridges to meet and exceed its customers' expectations.
SCC'S Total Cartridge Approach Means Higher Quality
As a vertically-integrated manufacturer, SCC engineers research, develop and manufacture the components used to build cartridges. Even before they test their cartridges, SCC's quality control team have designed the parts to meet exceedingly high quality and performance standards. Each component, microchip, toner and ink goes through rigorous quality control processes and is system-matched. The cartridges are then assembled using the most advanced techniques to deliver optimal performance. Those cartridges are tested again through a demanding program of quality assurance. This unique approach allows SCC to control every step of production to meet the highest quality standards.
SCC's AllPage cartridges are an example of SCC's solutions-oriented, quality-driven product development. AllPage technology is a cartridge, chip and software combination that accurately reports the number of pages remaining throughout the entire life of an extended yield cartridge. To create AllPage cartridges, SCC has teamed up with software solution provider ECI FMAudit to develop an exclusive opportunity to end toner waste and increase MPS profitability. MPS analysts have found that 15 to 30 percent of toner remains in so-called empty standard cartridges, and even more in jumbo or extended yield cartridges. AllPage Technology reclaims that wasted toner. AllPage Cartridges truly lets the consumer "get what he paid for" and recapture lost margins.
By offering the aftermarket a wide product catalog, components, remanufactured and compatible toner and inkjet cartridges, it is the industry's one-stop-shop for all their imaging needs.
"We offer a very unique solution. We can provide remanufactured cartridges for areas where there may be increased concern for IP or our engineers haven't been able to qualify a suitable product through compatible offerings," said Lalley. "That being said, we also accept the fact that compatibles offer many first-to-market opportunities. Remanufacturers shouldn't lose business because they have to wait for a system of components to be developed and qualified, or for costly empties to become available. We looked at the industry and saw that there was room for massive product improvement in the compatibles available and this is where we saw our opportunity. We can bring a quality solution to market for those seeking a high-quality product at a competitive cost through the use of our industry-leading componentry in our compatible line."
In addition to its cartridge line, Static Control is still the industry leader in providing components to remanufacturers around the world. The company regularly releases new chips, toners, drums, blades, and even other items that are necessary like felts, foams and seals.
"We have and will continue to support our remanufacturer customers through the development of new components, such as chips, toners and drums," he said.
SCC Sets the Standard for its Team as Well
After 30 years of being at the forefront of the industry, SCC employees are dedicated to providing the best solutions. From its engineers, sales support staff and manufacturing employees, SCC has built a reputation as the quality leader of the imaging aftermarket. The team has been devoted to bringing products to market swiftly and efficiently.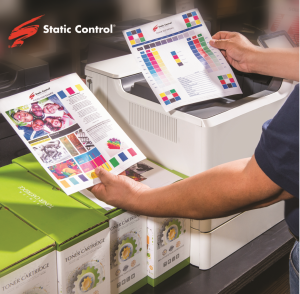 Customer support is delivered by an experienced SCC representative familiar with his customers' needs, in a personable, dependable manner. SCC's customer service members routinely win industry awards for the top-notch support they provide. SCC's technical support team is also ready to assist with any product needs. Their in-depth knowledge of all things printing helps customers troubleshoot common – and uncommon – problems. Recently, that has meant being familiar with unwanted firmware upgrades and relevant solutions.
More Support: Laptops, Masks for North Carolina
SCC's team members bring a heart to their work, and now they are bringing heart to their workplace. Since 1987, SCC has been a dominant employer in the Sanford, NC area. It is no surprise that when COVID-19 showed up, SCC stepped up to help its community. SCC donated 25 used HP laptops to Lee County Schools to help provide computer access to children who otherwise wouldn't have access to a computer during the coronavirus.
Also, in the wake of the coronavirus outbreak, Static Control has donated masks to area medical facilities. In general, there has been a huge shortage of masks, gloves, gowns and other personal protection equipment (PPE) to medical facilities throughout the United States and world.
The closest hospital to Static Control's headquarters is Sanford-based Central Carolina Hospital. Static Control sent 650 masks to its emergency room department to help combat the disease in the area. It also donated 650 masks to FirstHealth Moore Regional Hospital, another area hospital about 30 miles from Static Control; 150 masks to FastMed Sanford, an urgent care facility; 150 to Sanford Pediatrics; and 150 masks to Pinehurst Medical/Sanford Medical Group. All of these medical facilities help provide services to Static Control's employees and families.
In addition to donating to medical facilities, Static Control provided masks to employees and their immediate family members who worked in the medical field or had a high risk for contracting COVID-19. More than 700 masks were sent to employees to help protect themselves in the wake of the virus.
A Guiding Presence in the Aftermarket
At the crossroads of SCC's giving philosophy and commitment to industry leadership is SCC's legal department. Since the industry's inception, SCC lawyers have been involved in every major industry legal battle. SCC took on Lexmark in 2000 over Lexmark's prebate program and battled the OEM for more than a decade. SCC was one of only a handful of aftermarket players that took part in setting federal environmental purchasing guidelines in the EPEAT process. SCC has been instrumental in all the dongle gear litigation with Canon.
SCC recently secured a key win in the U.S. Court of Appeals for the Federal Circuit with the decision made on April 20, 2020, in Canon Inc. v. ITC.
"We see this as another huge win for the aftermarket," said Static Control's General Counsel Elizabeth McKee. "This decision upholds the ruling that Static Control's products did not infringe the asserted Canon patents. Specifically, this was a Rule 36 affirmance, which means the evidence presented to the Federal Circuit was so clear that the Court did not believe it necessary to issue a formal opinion." For Canon to pursue this matter further they would either need to seek review en banc with the Federal Circuit or file a petition for certiorari to the United States Supreme Court.
"As always, Static Control will continue to defend the aftermarket and remain vigorous in our defense of designs which do not infringe valid claims of OEM patents," McKee said.
Future Standards
In these troubling, tumultuous, uncertain times, it's important to have companies like SCC leading the aftermarket into its next chapter. The industry can count on SCC to set high standards for the rest to follow.
"We are excited for what the coming years will bring to the industry," said Lalley. "Our research and development team have the latest and greatest in high-tech equipment to help them remain at the top of their game. We will continue to innovate and bring new solutions to market, and we will do all this while providing top-notch service to our customers."
---
Related:
Comment:
Is this front cover story, "Static Control Continues to Set High Industry Standards" important for your business? Please comment below or join the conversation at LinkedIn
https://o1.rtcdn.net/uploads/2020/06/Chris-Nichols-SCC-front-cover.jpeg
821
971
Tricia Judge
https://o1.rtcdn.net/uploads/2020/07/RT-logo-old-big-old-jiazi-3.png
Tricia Judge
2020-06-10 16:19:43
2020-06-11 17:38:02
Static Control Continues to Set High Industry Standards