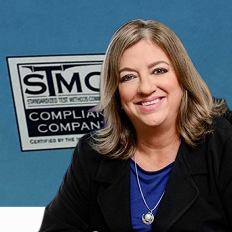 STMC Logo Misuse Now Being Aggressively Confronted
STMC Logo Misuse Now Being Aggressively Confronted
Our industry events, from Frankfurt to Zhuhai, are wonderful opportunities for companies to showcase their products, and to set themselves apart from the competition.  Sometimes though, participants are helping themselves to a competitive edge that they didn't earn.
STMC certification is conferred upon those companies that have proven they've earned it.  STMC certification proves that the company certified uses the highest industry-approved test methods in manufacturing its cartridges. The STMC logo means that the cartridge in the box has been remanufactured by a company that cares about quality.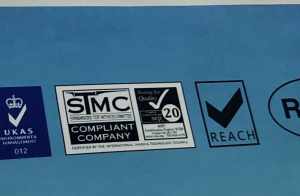 For twenty years, the International Imaging Technology Council (Int'l ITC) has evaluated and monitored the STMC program, fighting for those who use it proudly and against those who misuse it.  Customers have learned to trust STMC and they demand STMC. It is recognized and used in more than 80 countries.
However, there were many STMC logos on display at recent trade shows that that aren't legitimate. As trademarks of the Int'l ITC, we must protect them, as well as the rights of those that use them correctly.
In Zhuhai at RemaxWorld Expo and in Frankfurt at Paperworld, I handed out more than two dozen cease-and-desist letters.  I was assured by the recipients that they would either come into compliance or prove they already were.
A Cautionary Tale: Asconn/Anpoll
On October 17, 2019, I visited Asconn at their booth (#2425) at the RemaxWorld Expo and confronted them about their misuse of the logo.  I took a photo of the STMC logo they had on display, which claims certification through 2020.  It also has an ID number that is NOT issued to Asconn, or even a company from that continent. The number they were using was assigned to a now-defunct company from Eastern Europe.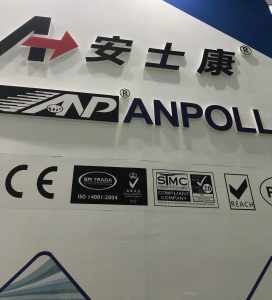 Upon my return, I reviewed the evidence I collected in Zhuhai and their history with STMC Coordinator Katie Bandle.  We determined that Asconn was knowingly violating our trademarks and manipulating the STMC certificate to mislead us and their customers.
The last time Asconn was certified was in 2012, which at that time allowed for certification for four years. (The certification period has since been shortened by the board of directors to two years.)  They therefore received a certificate that was valid until September 2016. That was the last time they were legitimately certified.
Then they provided us with an altered certificate.  The certificate appears to indeed be their original certificate, but with the dates adjusted so the expiration date is September 2020.
Since this abuse has been ongoing since the correct expiration date, Asconn has agreed to pay for recertification for the entire period and a penalty for every incident of misuse.  I applaud Asconn for their compliance and willingness to be forthright about their mistakes.  As a result, we reduced the penalties.  They have yet to pay these fees, but we believe that is most likely due to the problems China is currently, and unfortunately, experiencing.
This misuse of our logos and certificates must stop, and this will be the year that we go after the companies that cheat. Make sure your certification is up to date.  If you are a reseller of certified cartridges, please do the following to make sure your supplier is legitimately certified:
Check for the company's name on the list of certified companies on our website (https://i-itc.org/companies.php.)
If the company is not on the list, you can still verify the number (a four-digit number) on the label with STMC Coordinator at katie@i-itc.org.
Start watching our (new!) website for the names of people that are or have misused our logo.
If you suspect someone is using our logo inappropriately, PLEASE contact Katie.  The Int'l ITC fights for the industry every day, and STMC certification helps us accomplish that.  Please help us police this important program.
This article is also published in our RT ImagingWorld magazine. Click here to download the whole edition.
---
Related News:
Comments:
Are you aware of STMC logo misuse? Please share your comments below.
https://o1.rtcdn.net/uploads/2020/04/Judge-STMC.jpg
232
232
Tricia Judge
https://o1.rtcdn.net/uploads/2020/07/RT-logo-old-big-old-jiazi-3.png
Tricia Judge
2020-04-02 17:37:01
2020-04-26 11:44:00
STMC Logo Misuse Now Being Aggressively Confronted