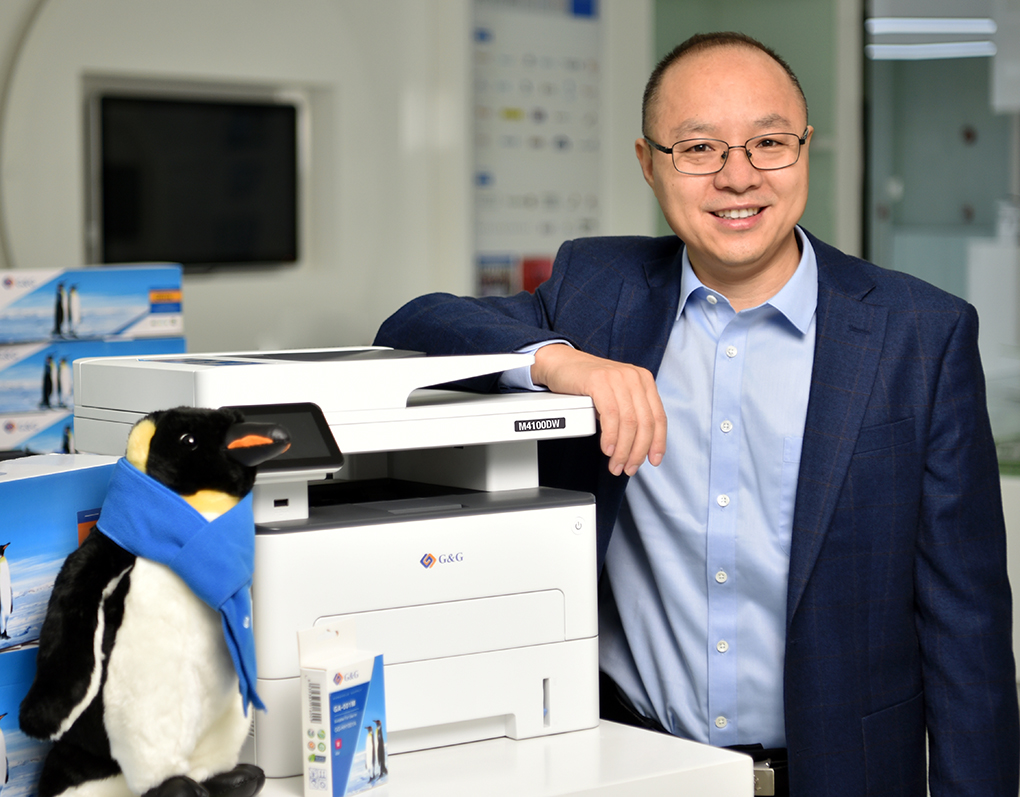 Industry Issues Solved Thanks to Partnerships
Industry Issues Solved Thanks to Partnerships
When you arrive at the gates of the Zhuhai headquarters for the Ninestar group, you cannot help but see the Chinese flag flying proudly in the midst of the Ninestar G&G Image, Apex, Pantum, Static Control and Lexmark banners.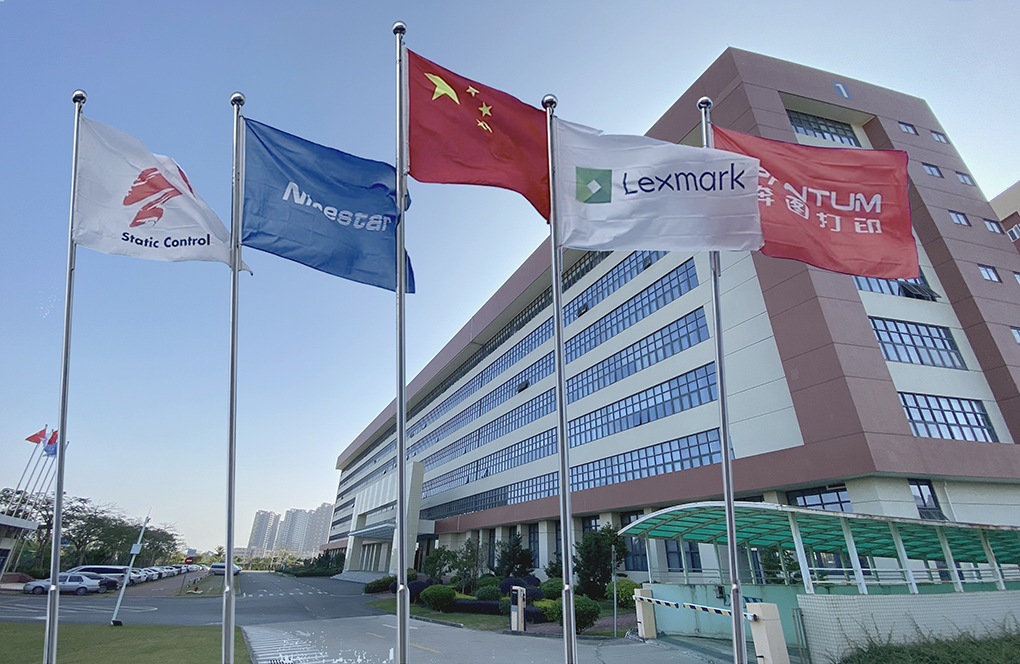 Nor can you help but think how meteoric the rise of this company has been in just 20 years. It hasn't happened by accident.
Jackson Wang (pictured right) is the Chairman of the total Ninestar Corporation, which includes Ninestar Image, Apex, Static Control, Pantum and Lexmark. This group of companies, along with various other shareholdings and partnerships is what gives the Ninestar Group such leverage.
Eric Zhang replaced Jason Wang (pictured left) as the general manager of Ninestar Image G&G. The restructure has Wang heading up the Ninestar Consumables Business Unit for both domestic and international sales. Eric Zhang also holds the position of vice general manager of this same unit.
Jason Wang will continue to head up Apex Microelectronics (Apex), which is a sister company to Ninestar Image and will continue in his role as senior vice president of Ninestar Corporation.
On October 13, 2020, Eric Zhang (pictured right) was appointed the new general manager of Ninestar Image which includes the G&G brand. Zhang has spent an 18-year career with Ninestar in which time he has built up extensive experience and knowledge of the company group and the global imaging industry.
When I met up with Zhang, I could sense a mixture of concern and excitement.
On one hand, he is fully aware of the big issues confronting the global industry. "Our customers are fed up with the OEM firmware updates being pushed through to printers that lockout third-party supplies. They are also looking for additional products to sell to their existing end-user customers as a way to grow their businesses," he said.
On the other hand, he is excited about the opportunities afforded as a result of the strong relationships Ninestar Image has with its vertically and horizontally integrated partners. The divide between OEM and the aftermarket was crushed with Static Control and Lexmark joining the Ninestar group in 2014 and 2016, respectively. Each brought its own skillset that has provided new opportunities for the group.
Further, Zhang's appointment was based on his educational background as an engineer, his abundant work experience and his familiarity with the operations and management of supply chains.
Excitement Over Firmware Update Solution
Zhang is visibly confident about a new solution for the current wave of OEM printer firmware updates that cause the printer to reject any third-party supplies being used. "This is an immense frustration for our dealers, distributors, as well as end-users, and I am committed to delivering quick, effective and practical solutions," Zhang said.
Zhang has a solid sisterhood of companies to fall back upon. Apex, for example, is a market leader in the development and manufacture of chip solutions. Ninestar Image has partnered with Apex to develop, manufacture and introduce the Unismart for Firmware Upgrades (UFU) solution.
"UFU is revolutionary," said Zhang, who is holding a box-like device that has been engineered through the strategic relationship between Apex and Ninestar Image and its G&G brand. "This simple device will allow our partners and distributors to update a chip on a cartridge in its unopened packaging in a matter of seconds," he said.
Zhang is obviously excited. As an engineer, he can understand the amount of work that has had to go into the research and development of such a device. As he demonstrated the device to me, he said, "The G&G branded package containing the cartridge is specially designed so the UFU device can touch the cartridge chips without you needing to open the box." This means there is no downtime involved in the opening of thousands of packages in warehouses. No need to physically remove and replace chips. No need to repackage the cartridge ready for the end-user.
The UFU device is connected by WiFi to the internet and is able to download the latest coding needed to update the cartridge. A thermal printer, attached to the UFU, prints out a new QR code sticker that can be placed on the packaging to show the version of the chip inside. A camera can scan the code to verify the updated cartridge. The solution is being rolled out now.
Excitement Over One-stop-shop Solution
Zhang's enthusiasm is palpable. "I know OEM products very well and I want to deliver a one-stop-shop with a range of OEM quality products for our global customers. This includes printer solutions as well as finished goods and components," he said.
Ninestar Image is the first aftermarket brand to provide branded printers and copiers as well as consumables and supplies for the global market. G&G has the OEM experience of its Pantum and Lexmark sister printing companies to draw upon.
The Ninestar group's new hi-tech printer park investment in Zhuhai, when completed, will be the largest plant in the world to manufacture printers for a wide variety of brands including its own Lexmark and Pantum printers. And it will roll out Ninestar Image G&G's own-branded devices there as well. It has already launched the P4100 A4 monochrome, single-function desktop printer and the M4100 multi-function laser printer. The P4100 and M4100 series are designed to benefit the SOHO and SMB market sectors by offering an efficient, convenient and money-saving printing experience. The company will soon have a series of refurbished copiers as alternatives as well targeting MPS markets.
Despite predictions that the post-COVID demand for printing in the office will decline, Zhang noted that office staff will not disappear even if they are not seen physically at the office. "Those working remotely from home still need printers and our solution uses a smaller footprint with the ability to be centrally managed in terms of security as well as supplies." Zhang added, "G&G will keep our partners ahead of the game by extending our product portfolio with a hardware and supplies combo. This is a tempting and value-add solution to help our global partners to grow their businesses."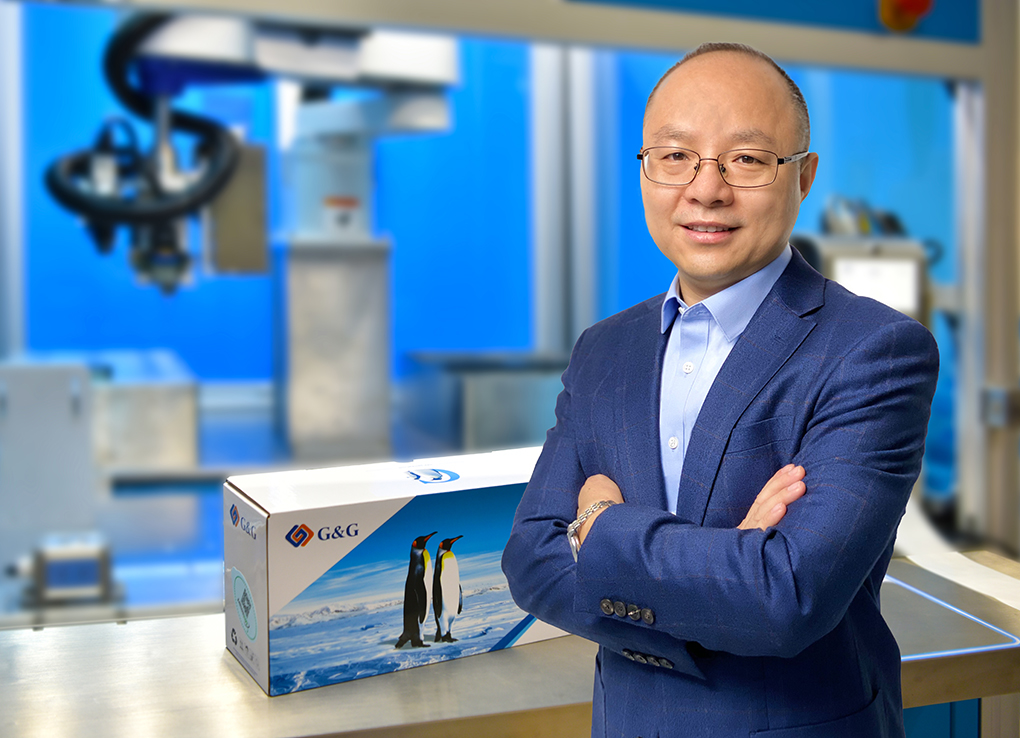 Zhang said he has been honored to be appointed as leader of the Ninestar Image team. "I'm confident my understanding of customer needs coupled with my experience in this industry can help the company and our customers to evolve and capitalize on the changing market conditions," he said.
Jason Wang, General Manager of Consumables Business Unit, Ninestar Corporation, said, "The breadth and depth of Eric's experience with our group partners and the industry, along with his passion and commitment to our customers, places him in an excellent position to drive our business growth and sustainability."
---
Ninestar Corporation: www.ninestargroup.com
Ninestar Image: www.ggimage.com
Apex Microelectronics: www.apexmic.com
Pantum: www.pantum.com
Static Control Components: www.scc-inc.com
Lexmark: www.lexmark.com
---
Related:
Industry Issues Solved Thanks to Partnerships
Comment:
Please add your comments below about this feature article, "Industry Issues Solved Thanks to Partnerships" or join the conversation on LinkedIn social media.
https://o1.rtcdn.net/uploads/2021/04/M4300DW-Eric-Zhang.jpg
797
1020
David Gibbons
https://o1.rtcdn.net/uploads/2020/07/RT-logo-old-big-old-jiazi-3.png
David Gibbons
2021-04-23 10:07:49
2021-04-26 17:46:14
Industry Issues Solved Thanks to Partnerships