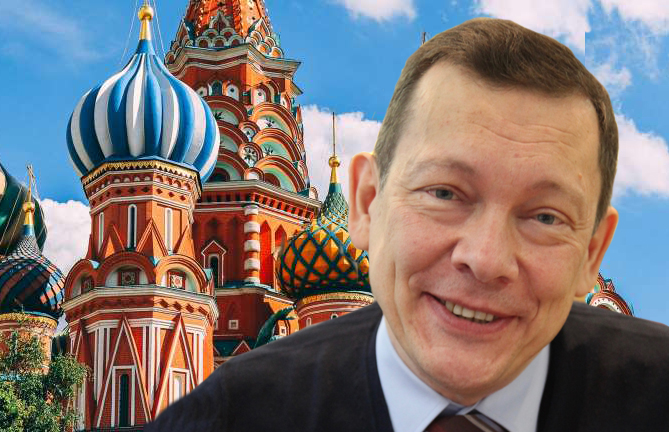 The Distribution of International Brands in the Russian Market
The Distribution of International Brands in the Russian Market
Roman Samoilov, Director-General of Office Assistant Company, answers questions from Information Agency Business-Inform's Dr Stanislav Malinskiy.
*Business Inform is a partner with RT Media and work jointly to publish the Russian Edition of RT ImagingWorld magazine also known as Business Inform magazine.
Your company, Office Assistant, is a successful distributor of Cactus, Static Control, Pantum and CET products. Each of those brands is well-known on the Russian market and has its own resellers and buyers. And now you are about to undertake MSE and G&G cartridges distribution. What is the cause of such a decision to manage the distribution of international brands in the Russian market? Ambitions or economic calculations? How do you plan to position them?

As we once said a year and a half ago, when Office Assistant was just a start-up project, our main aim is to provide our partners in the Russian market with the set of brands each of those has its own unique features and characteristics, together though all those brands produce a synergy effect in terms of sales and fit in with 99% of customers and users requests in the field of printing compatible. For us, MSE and G&G cartridges distribution is a logical broadening of our recent product range. Each brand from our portfolio will receive clear and accessible from the market's point of view positioning not only in terms of price but in terms of technical features of products, marketing and promotional support as well.

MSE and G&G cartridges fall into the quality category, they are well-known internationally. It is exactly those brands that have many times become the winners of our Agency's and AQCMS's contests in the "Best Quality" nomination. However, the prices on MSE and G&G are quite high. What advantages does each of those two brands do you consider to be primarily important for the Russian market?

Industry professionals know well that the product having stable quality extra features and own patent solutions just cannot be the cheapest on the market. Unfortunately in Russia, the share of low-quality cartridges is still considerable, often it is the so-called "Noname" with the quality and yield below any acceptable criticism. For the most part, it is due to such products that buyers and users form their negative attitude towards compatible materials. On the other hand, we think that in Russia there is an already formed pool of customers and users who know what level of quality they need for products to fulfil their printing tasks and who realize the adequate price for such consumables, at the same time not being ready to overpay for using OEM products. Both MSE and G&G have a large number of their own patents and technological solution, but the most important advantage for the buyer in the presence of the stably high performance in terms of prints quality and cartridge yield for a reasonable price. G&G and MSE are the brands with a successful history of development globally that have proved the stability of their quality comparable with the quality of OEM compatibles during multiple tests and comparative trials. We wish to repeat the global success journey of those brands in Russia.

 Your company is a successful distributor of Static Control cartridges. These cartridges already enjoy the established circle of buyers oriented towards the products of high quality. However, could it be that the volume of procurement that potential buyers have been planning for Static Control cartridges they would simply divide between the two brands, Static Control and G&G, but the volume itself will remain the same?

We are counting on the notion that each brand from our portfolio will find 'its own' buyer. To keep partners interested in working with our brands, we'll be using individual marketing tools and programs for each brand.

 For a long time, the distributor of G&G cartridges in the Russian market has been ROSCO Company. Many resellers and corporative buyers have gotten accustomed to the fact that it is necessary to ask ROSCO regarding the procurement of G&G cartridges. What will happen now? Will there be two distributors of G&G cartridges? Is there a plan for some kind of coordination between Office Assistant and ROSCO?

You are absolutely right, ROSCO has for a long time been the first and the only G&G products distributor in the Russian territory. Our colleagues have made a considerable contribution to bringing the brand to the market and its recognition among consumers. We think that Office Assistant resources will allow the enlarging of the channels and the geography of sales of G&G brand, and improve the service scope within the Russian territory which have successfully provided warranty services for other brands from our portfolio such as Cactus and Static Control. Of course, we will count on the close cooperation and interaction with G&G head office as with a vendor, as well as with ROSCO as with a distributor for performing unified strategy of brands development in Russia.

In which segment of the Russian market are you counting on to offer MSE cartridges? Since those cartridges are more expensive than Static Control's and G&G's. However, there is a wide range of cartridges for color laser printing as well as high yield cartridges oriented towards MPS-contracts. If you are oriented towards MPS-segment, will you be supplying also the solutions for remanufacturing of MSE cartridges?

During the first year, we will provide for the Russian market with extended yield MSE cartridges. Those cartridges are made by Clover with the use of its uniquely owned, patented SCS (Secondary Cleaning System) technology, which allows to considerably enlarge the yield of the cartridge without any damage to the quality of prints. This decision is especially interesting for the lines of color cartridges for the middle and heavy segment of laser printing machines since there is no analogous solution anywhere in the world. That is why those MSE products in our view will be especially interesting for companies providing cost per copy print services, as well as for customers who are not just evaluating the price of consumables but complex costs including consumables, servicing of printing devices, logistics of spare parts and consumable materials. According to the results of the year, we will evaluate the achieved results and make a decision regarding the necessity of broadening of MSE brands assortment and bringing other Clover products on the Russian market.

 How environmentally friendly are G&G and MSE cartridges? Which certificates testify their eco-safety? To what extent are they in line with the requirements of Stockholm Convention (ratified in Russia in 2011), as well as RoHS and REACH?

Since the cartridges of both brands are widely known and demanded globally they satisfy the strictest world standards and possess all the documents and certificates testifying the high level of production culture as well as environmental safety, including RoHS and Reach certificates.

Is your company planning on the promotion of quality products or are you expecting each reseller should solve this problem individually depending on its potential buyers?

Of course, as a distributor, we will do everything to provide our partners and users with most complete on our products on the market and its difference from analogs. We are ready to provide informational support for our partners during talks with customers as well as to provide samples and participate in product testing on customer's technical base in case of necessity.

Right now our Agency, together with AQCMS, promotes the Russian remanufacturing industry. Since this industry is focused primarily with the remanufacturing of quality products, it is (though indirectly) it stimulates the procurement of quality cartridges. The idea presented by AQCMS to create remanufacturing centers in Russian higher educational establishments implies not only the teaching of the students but also the good this brings to each university. It also changes the economic model in providing printing equipment with consumables from the one oriented towards the cheapest products to the one oriented towards more valuable products. To what extent are you interested in such initiatives?

Undoubtedly the promotion and support of cartridges remanufacturing industry is an important initiative. It seriously reduces the impact on the environment, creates jobs and forms the right perception of the remanufactured products with the consumer. It is not a coincidence that all MSE branded products are remanufactured and the Cactus brand as well has a considerable share of such cartridges in its range. Of course, the market introduces its corrections and we see that not all the cartridge models make economic sense in terms of being remanufactured; there is more demand for it within medium and heavy segments of printing equipment. However, in those segments, the quality and workability of remanufactured products often equal or even exceeds the new-built cartridges performance parameters. Therefore we from our side are ready to support the initiatives in developing cartridges remanufacturing in Russia.

 All the world now is facing the coronavirus pandemic, which will undoubtedly hit the economy of all countries. How do you evaluate the consequences of the pandemic for the Russian market of consumables? In the conditions of funding absence will the buyers choose low-quality cheap cartridges or still more expensive higher quality ones. Will the perspective of creating new jobs become the argument for developing the remanufacturing industry and therefore the argument for buying quality MSE and G&G cartridges?

The coronavirus pandemic made significant adjustments to the economy as well as to everyday life across the whole world. Quarantine measures and restrictions hit the business and the economy in absolutely every country affecting more or less all market segments. Talking about the consumables market, in my view, the hardest impact has been received by smaller countries lacking financial reserves and being not ready for 2-3 months of a business lockdown. It is possible some companies will be forced to close or restructure their business. Speaking of users and customers, the market of consumables in Russia has been already formed and has its supporters both in the segment of using OEM-materials and in the segment of compatible production. Undoubtedly within crisis times all the companies and organizations search the ways for optimization and decreasing the costs including printing costs, so some shift towards cheaper products is possible. But I do not think it will be significant in the present situation on the Russian market. Today we see a gradual withdrawal of restrictions in Russia, regions are returning to normal life. Following it, the businesses will start being restored. We believe that the set of brands and the strategy presented by Office Assistant on the market will be required and will bring us partners for the mutual implementation of our ideas into reality. We would like to thank Business-Inform Agency for their interesting questions and the opportunity to share our ideas and opinion, as well as for all this long educational and analytic work of many years, which you are doing in such complex segment as the market of printing consumables in Russia.
---
Related:
The Distribution of International Brands in the Russian Market
Comment:
Please add any comments you have about this blog, "The Distribution of International Brands in the Russian Market" below
https://o1.rtcdn.net/uploads/2020/07/st-basils-cathedral-Stanislav-malinskiy.jpg
432
669
Stanislav Malinskiy
https://o1.rtcdn.net/uploads/2020/07/RT-logo-old-big-old-jiazi-3.png
Stanislav Malinskiy
2020-07-25 15:27:18
2020-08-02 17:16:02
The Distribution of International Brands in the Russian Market