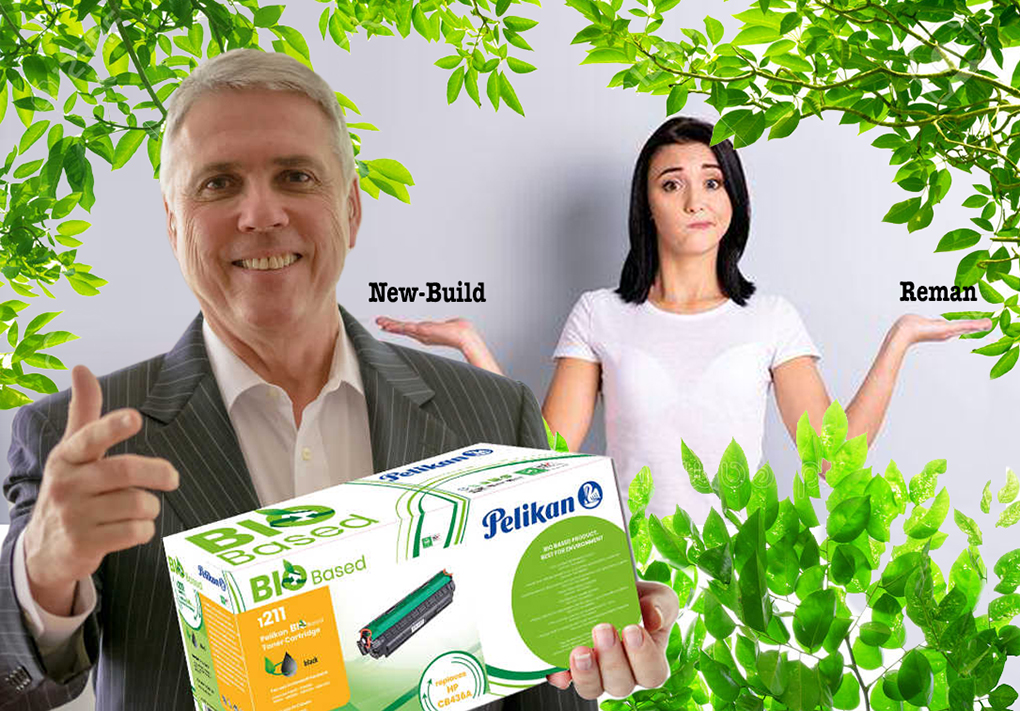 Making NBCs Remanufacturable
Making NBCs Remanufacturable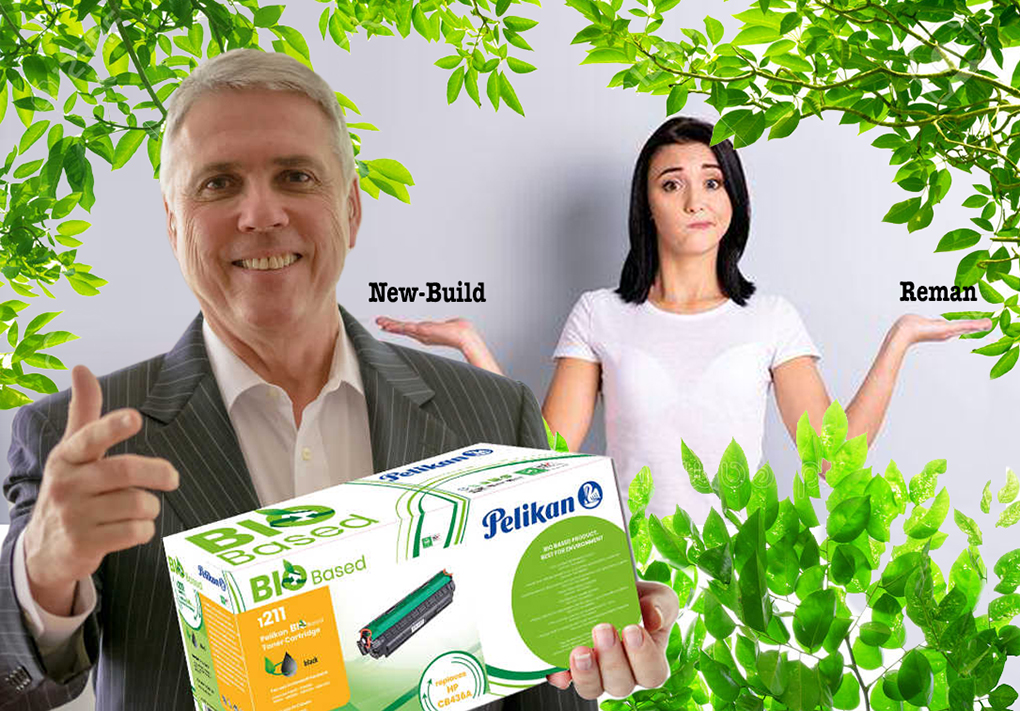 From the outset, every company decides its position, its principles, its standards and its environmental responsibilities.
There's usually a short, well-crafted paragraph headed "Mission Statement." The succinct message lets the world and your employees know where you come from. The mission statement is out there for all to see and all to comment upon.
Remanufacturers have mission statements usually striving for customer service excellence and to recycle for reuse. There are many remanufacturing industries basically saying the same thing in their mission statements: recycling for reuse, eco-friendly companies collecting used products for recycling, remanufacturing and resale, usually cheaper than buying new originals. It is a great sales pitch: cheaper for the customer, better for the planet, no need to buy another expensive original, comes with warranties and everyone wins.
New-Build Compatible (NBC) cartridge manufacturers also have mission statements.
These messages also decide the company's position in the marketplace, its standards and its environmental responsibilities. These are companies that have reverse-engineering expertise and a perfectly legal process—providing you came by the sample to reverse engineer legitimately.
When you think about it, where would the world be without reverse engineering? It is the way we continue to improve. Reverse engineering discovers the technology, science, materials and patents showing how to make it better, faster, cheaper without infringing valid patents. If you can do it well, you could have a tiger by the tail.
There is, of course, good and bad in everything. There are good remanufacturers and bad ones. Similarly, there are good new-build compatible makers and bad ones.
In our industry good remanufacturers started out collecting used OEM virgin cartridges and remanufactured them time and time again. The model meant that the remanufacturer owned the end-user relationship so he could recover the cartridge and recycle it again and again. Using long-life components meant fewer components needed to be replaced on the second or subsequent recycling cycles.
However, when remanufacturers began focusing on selling to resellers and not end-users, they lost control of the end-user relationship and the cartridge was lost to them. Collection companies pick them up and broker virgin empties and non-virgin empties to those that want them. Most remanufacturers only want virgin empties since they are cheaper to recycle and the eco benefit of multiple times recycling has, as a consequence, been vastly diminished.
In our industry, good NBC makers are those who invest in reverse engineering talents, redesigning to produce a high-quality performing alternative to the OEM original without creating a product that infringes valid registered patents held by OEM. "IP-safe" products are not new, in fact. In our own industry, "IP-safe" imaging products pre-date inkjet and laser cartridges and were first introduced in 1984, long before the first laser cartridge remanufacturer started.
Remanufacturing
What makes a good NBC maker a great NBC maker is when the "IP-safe" cartridge is also designed to be remanufactured using standard parts and supplies, just like an OEM original can be remanufactured.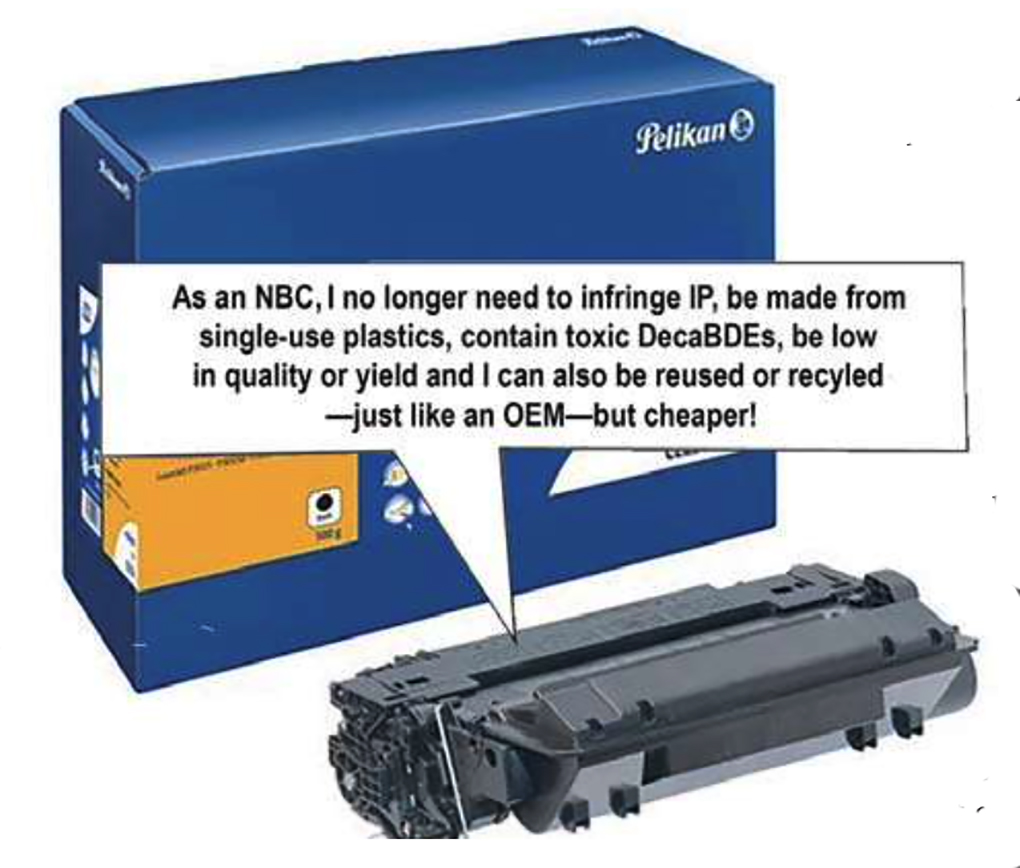 So, credit due where credit is due: the IP-safe compatibles from the Print-Rite Group have always been designed to be remanufactured using standard replacement parts and supplies.
Quality, non-toxic, "IP-safe" NBCs do not happen by chance. You cannot achieve these results by making a "clone" cartridge—defined as an exact replica of the OEM.
Nor does it happen, by definition, when a manufacturer infringes any valid patent owned by an OEM. That's pretty easy to do and not much talent is required. Such companies are focused on cutting costs and growing revenues and hoping not to get caught. These companies feed the counterfeit trade that cost the OEMs millions of dollars each year. These are bad NBC makers who certainly don't have any interest to make their cartridge to be remanufactured.
There are good remanufacturers just as there are good NBC makers who have good mission statements containing meaning, intelligence and integrity. It is a mistake for remanufacturers, no matter how big or small, to make non-sensical claims that all NBC makers are bad. It's an even bigger mistake for their customers whether resellers, dealers or distributor alike, to blindly believe these statements as being factual when they are nothing but fiction. It seems some remanufacturers have nothing else to say or offer.
NBC's can be manufactured using technologies and patented work-around solutions so as to not infringe valid OEM patents. They are made to a standard so they can be good candidates for reuse and remanufacturing, under the right to repair doctrine since they are, IP-safe and remanufacturable.
It is a matter of what is your "Mission?"
** This article appeared on page 29 of RT ImagingWorld magazine which can be downloaded free.
---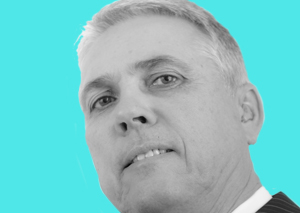 Steve Weedon is an award-winning CEO who has held senior management positions at various OEMs as well as Katun Corp and SCC. He is the Chief Executive Officer of Print-Rite Europe Limited.
He was the original founder of The Recycler Magazine and of trade shows in Europe. He also established Static Control's Worldwide Subsidiaries and relocated to the US to become executive vice president. Weedon headed up the global Cartridge World network after it was acquired in 2016. He can be contacted on LinkedIn.
Weedon is a popular columnist in RT ImagingWorld Magazine and speaker at RT Summits and events. You can read his other blogs:
Making NBCs Remanufacturable
https://o1.rtcdn.net/uploads/2021/05/Weedon-Reman-vs-NewBuild.jpg
711
1020
Steve Weedon
https://o1.rtcdn.net/uploads/2020/07/RT-logo-old-big-old-jiazi-3.png
Steve Weedon
2021-06-15 11:03:28
2021-06-17 16:36:28
Making NBCs Remanufacturable